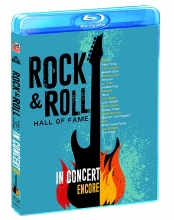 Last week the Rock and Roll Hall of Fame released their Rock and Roll Hall of Fame: In Concert: Encore DVD/Blu-ray featuring highlights from the Rock Hall's induction ceremonies from 2010-2013, including Rush's 2013 induction. The video complements their earlier release of the Rock and Roll Hall of Fame: In Concert DVD/Blu-ray back in April that featured highlights from the Rock Hall's induction ceremonies from 2014-2017. From the editorial review:
Each year, the Rock & Roll Hall of Fame honors rock music's pioneering figures during a prestigious black-tie ceremony. As the Hall of Fame enters its third decade, it's these singular induction ceremonies-featuring the biggest names in classic rock from the '60s, '70s and '80s-that have become nearly as epic as the artists they celebrate. This 2 Blu-ray Disc set features poignant reunions, moving and often hilarious induction speeches, and 44 iconic performances.
Among the highlights from the 2010, 2011, 2012, and 2013 induction ceremonies:

* The legendary Canadian power trio Rush performing fiery classics Tom Sawyer and The Spirit of Radio for their fervent fans.
* Red Hot Chili Peppers leading a searing all-star jam session of Higher Ground anchored by Slash and Ron Wood.
* Heart going Crazy on You before being joined onstage by fellow members of Seattle rock royalty from Pearl Jam and Alice in Chains.
* Alice Cooper ripping into ferocious versions of Eighteen and Under My Wheels before closing the set with Rob Zombie on School's Out.
* The Hurdy Gurdy Man Donovan is joined onstage by John Mellencamp for a chilling performance of Season of the Witch.

Features complete Hall of Fame induction speeches, including:
* Don Henley inducting Randy Newman
* Neil Young inducting Tom Waits
SeattlePI.com posted a review of the video earlier this week and gave it 3.5/4 stars. The review seems to indicate that the all-star jam of Crossroads from Rush's 2013 induction ceremony was excluded from the video, but Rush's full induction speeches and performances are included. The video can be ordered now as 2 Blu-ray discs or on 4 DVDs (Blu-ray, DVD).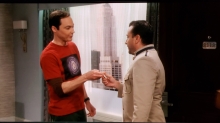 This past Monday night's season premiere of the CBS comedy The Big Bang Theory featured a Rush 2112 reference. Sheldon and Amy go on their honeymoon and end up staying in room number 2112 as seen in this screenshot.
Anthrax bassist Frank Bello recently sat down with the Music Experience's Squiggy to talk about the bass players and bass lines that inspired him, and the first song he mentioned was Rush's Freewill as seen in this video. He also cited his holy trinity of bassists as Rush's Geddy Lee, Iron Maiden's Steve Harris and Black Sabbath's Geezer Butler, saying, "They were instrumental in making me pick up the bass, specifically".
Eddie Trunk announced via his Trunk Report Wednesday that he'll be featuring Rush on his Sirius XM Volume show next week (thanks Bob B):
Today I announced the next Trunk Top 20 for the Volume show. The 20 greatest Rush songs! This one should be huge! My list revealed 10/4, yours 10/5 on Volume. Can't wait for this. Please call your lists in on 10/5!

This year's Rush Eucon European Rush fan convention kicks off tonight at The Box in Crewe. The 2-day event will feature Rush tribute bands Machines tonight and Bravado tomorrow night. Other activities include Rush Fans Got Talent, the legendary Rush Quiz and the famous Eucon charity raffle and auction. Proceeds from the event will go to support Jessie's Fund. For all the details and to purchase tickets visit the Rush Eucon 2018 Facebook page and also follow them on Twitter.
Here's the video trailer for the Rock and Roll Hall of Fame: In Concert: Encore DVD/Blu-ray featuring Rush's 2013 induction:
As the month of September comes to a close this weekend, we'll mark the 42nd anniversary of the release of Rush's first live album All the World's a Stage tomorrow, capping off a big month of Rush album anniversaries. October kicks off on Monday and was also a busy month for Rush releases; Counterparts, Rush in Rio, Power Windows, Exit ... Stage Left and - of course - Hemispheres, which will celebrate it's 40th anniversary, were all released in October. Speaking of which, although there hasn't been an official announcement yet, a 40th anniversary Hemispheres box set is in the works and is expected to get released in late November or early December just in time for the Holidays. The release of last year's A Farewell to Kings 40th anniversary box set was announced on October 19th, so we should expect some kind of Hemispheres announcement within the next several weeks - maybe even coinciding with the 40th anniversary later in the month. That's all for this week. Have a great weekend!!