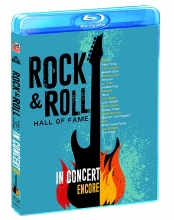 Back in April, the Rock and Roll Hall of Fame released their Rock and Roll Hall of Fame: In Concert DVD/Blu-ray featuring highlights from the Rock Hall's induction ceremonies from 2014-2017. The video included last year's induction of YES by Geddy Lee and Alex Lifeson, along with YES' performance of Roundabout featuring Geddy Lee and the all-star jam which both Geddy and Alex participated in. To complement this release, the Rock Hall will also be releasing a Rock and Roll Hall of Fame: In Concert: Encore DVD/Blu-ray later this month on September 21st that features highlights from the Rock Hall's induction ceremonies from 2010-2013, including Rush's 2013 induction. From the editorial review:
Each year, the Rock & Roll Hall of Fame honors rock music's pioneering figures during a prestigious black-tie ceremony. As the Hall of Fame enters its third decade, it's these singular induction ceremonies-featuring the biggest names in classic rock from the '60s, '70s and '80s-that have become nearly as epic as the artists they celebrate. This 2 Blu-ray Disc set features poignant reunions, moving and often hilarious induction speeches, and 44 iconic performances.
Among the highlights from the 2010, 2011, 2012, and 2013 induction ceremonies:

* The legendary Canadian power trio Rush performing fiery classics Tom Sawyer and The Spirit of Radio for their fervent fans.
* Red Hot Chili Peppers leading a searing all-star jam session of Higher Ground anchored by Slash and Ron Wood.
* Heart going Crazy on You before being joined onstage by fellow members of Seattle rock royalty from Pearl Jam and Alice in Chains.
* Alice Cooper ripping into ferocious versions of Eighteen and Under My Wheels before closing the set with Rob Zombie on School's Out.
* The Hurdy Gurdy Man Donovan is joined onstage by John Mellencamp for a chilling performance of Season of the Witch.

Features complete Hall of Fame induction speeches, including:
* Don Henley inducting Randy Newman
* Neil Young inducting Tom Waits
The editorial review only highlights a few of the included 44 performances but it's assumed that Rush's entire induction will be included, including Dave Grohl and Taylor Hawkins' speech and the band's acceptance speeches (especially Alex's infamous blah speech). We should be able to confirm this once a complete tracklisting becomes available. The video will be released on Friday, September 21st and can be pre-ordered now as 2 Blu-ray discs or on 4 DVDs (Blu-ray, DVD).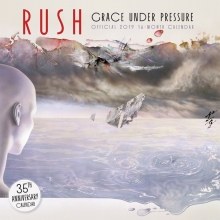 The official 2019 Rush wall calendar, celebrating the 35th anniversary of the 1984 release of Rush's Grace Under Pressure album is now available and shipping from Amazon. This 12"x12", 16-month calendar features the album's iconic cover image, and includes 13 live photos of the band from the Grace Under Pressure era as seen here. You can order the calendar at this location.
The season finale of AXS TV's Top Ten Revealed aired a couple of weeks ago and the subject was The Top 10 High Note Hitters. Rush's Geddy Lee made the cut at #10 (thanks Randy F).
LouderSound.com posted their list of The 20 best albums from 1982 this past week and Rush's Signals made the cut:
An album that split the Canadian band's following clean down the middle, Signals saw the trio beginning to experiment with keyboards, played by bassist/vocalist Geddy Lee. It meant that the potency of Alex Lifeson's guitar was sometimes sacrificed. For some, this was tantamount to heresy. However, the sheer quality of songs like New World Man, Subdivisions, The Analog Kid and Countdown render such quibbles pointless.

Eden Kaill of the Toronto law firm Babin Bessner Spry wrote a post on the company's blog last week discussing some of the eclectic artwork on the walls of the firm's offices at 65 Front St. East. When the office was first designed, an OCAD student was commissioned to paint a cityscape mural above the office doors. One section of the mural depicts the Ontario Parliament building along with the Rush Moving Pictures album cover movers as seen here. Very cool!
Here's the video trailer for the upcoming Rock and Roll Hall of Fame: In Concert: Encore DVD/Blu-ray featuring Rush's 2013 Rock Hall induction:
September is a busy month for Rush album anniversaries. Sometime in September of 1975 Rush's Caress of Steel was released. This past Monday, September 3rd was the 27th anniversary of the release of 1991's Roll the Bones, and three other Rush releases will celebrate anniversaries in the upcoming week; Hold Your Fire (September 8, 1987), Signals (September 9, 1982) and Test for Echo (September 10, 1996). Later this month on September 29th, the band's first live release All the World's a Stage celebrates its 42nd anniversary. Also, Neil Peart and his wife Carrie Nuttall are celebrating their 18th wedding anniversary this coming Sunday, September 9th, and Neil will also be celebrating his 66th birthday on September 12th! Have a great weekend everybody!