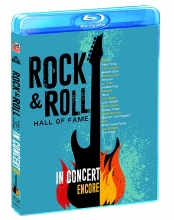 Back in April, the Rock and Roll Hall of Fame released their Rock and Roll Hall of Fame: In Concert DVD/Blu-ray featuring highlights from the Rock Hall's induction ceremonies from 2014-2017. The video included last year's induction of YES by Geddy Lee and Alex Lifeson, along with YES' performance of Roundabout featuring Geddy Lee and the all-star jam which both Geddy and Alex participated in. To complement this release, the Rock Hall will also be releasing a Rock and Roll Hall of Fame: In Concert: Encore DVD/Blu-ray later this month on September 21st that features highlights from the Rock Hall's induction ceremonies from 2010-2013, including Rush's 2013 induction. From the editorial review:
Each year, the Rock & Roll Hall of Fame honors rock music's pioneering figures during a prestigious black-tie ceremony. As the Hall of Fame enters its third decade, it's these singular induction ceremonies-featuring the biggest names in classic rock from the '60s, '70s and '80s-that have become nearly as epic as the artists they celebrate. This 2 Blu-ray Disc set features poignant reunions, moving and often hilarious induction speeches, and 44 iconic performances.
Among the highlights from the 2010, 2011, 2012, and 2013 induction ceremonies:

* The legendary Canadian power trio Rush performing fiery classics Tom Sawyer and The Spirit of Radio for their fervent fans.
* Red Hot Chili Peppers leading a searing all-star jam session of Higher Ground anchored by Slash and Ron Wood.
* Heart going Crazy on You before being joined onstage by fellow members of Seattle rock royalty from Pearl Jam and Alice in Chains.
* Alice Cooper ripping into ferocious versions of Eighteen and Under My Wheels before closing the set with Rob Zombie on School's Out.
* The Hurdy Gurdy Man Donovan is joined onstage by John Mellencamp for a chilling performance of Season of the Witch.

Features complete Hall of Fame induction speeches, including:
* Don Henley inducting Randy Newman
* Neil Young inducting Tom Waits
No complete tracklisting has been released yet, so it's unclear whether Rush's full induction, including Dave Grohl and Taylor Hawkins' speech and the band's acceptance speeches, will be included, or if it will just include Tom Sawyer and The Spirit of Radio. The video will be released on Friday, September 21st and can be pre-ordered now as 2 Blu-ray discs or on 4 DVDs (Blu-ray, DVD).