UPDATE - 8/27@5:54PM: Geddy wished his bandmate and best bud a happy birthday via Instagram:
I am celebrating my BFF's 65th (ach!) Birthday by enjoying just a few of his many, many faces... HAPPY B-DAY LEKE - remember buddy, you're only as old as you feel, which makes you like.. about a hundred right?
#funniestmanalive #bigalrules #LDP #toomuchslivovitz
#tisidobartechko
----- snip -----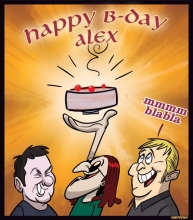 On this day back in 1953, our favorite guitarist - Alexandar Zivojinovich (aka Alex Lifeson) - was born in Fernie, British Columbia to Serbian immigrants, Nenad and Melanija Zivojinovich. He turns 65 years young today which catches him up with his bandmates; Alex is the youngest member of Rush, being born about a month after Geddy Lee and just under a year after Neil. In celebration of this occasion here's some video of a teenage Alex arguing with his parents over his future as a musician back in 1972. It's taken from the Alan King documentary Come on Children. Happy birthday Lerxst!! May you have many more, blah, blah, blah.