Geddy Lee's much-anticipated book project, Geddy Lee's Big Beautiful Book of Bass now has a new release date of December 4th according to publisher Harper Collins, who also revealed several new details about the 400-plus page book (still no cover though):
"Its not surprising that sooner or later I'd dive down the proverbial rabbit hole into the world of vintage bass guitars."-Geddy Lee

From Rush frontman Geddy Lee's personal collection of vintage electric bass guitars, dating from the 1950s to the 1980s, comes the definitive volume on the subject.

Geddy's love of the bass has been nurtured over a lifetime spent in the limelight as one of the worlds premier rock bassists. For the past seven years, hes dedicated himself to studying the history of the instrument thats been so essential to his career, collecting hundreds of basses from around the globe, 250 of which are presented here in breathtaking detail with specially commissioned photography by Richard Sibbald.

Representing every tone in the bass palette, every nuance of the rock and roll genre as well as blues, jazz, pop, and country, this one-of-a-kind collection features so-called "beauty queens"-pristine instruments never lifted from their cases-as well as "road warriors"-well-worn, sweat-soaked basses that proudly show their age and use. Complete with personal commentary from Geddy that showcases his knowledge both as a musician and an aficionado, this luxuriously produced volume is a revelatory look at the heavy hitters in the world of bass-Fender, Gibson/Epiphone, Rickenbacker, Höfner, Ampeg-and lesser known but influential global luthiers such as Antonio Wandr Pioli, Dan Armstrong, and Tony Zemaitis.

The book also features interviews with John Paul Jones (Led Zeppelin); Adam Clayton (U2); Robert Trujillo (Metallica); Jeff Tweedy (Wilco); Bill Wyman (The Rolling Stones); Les Claypool (Primus); Bob Daisley (Rainbow); Fender expert and owner of the legendary Gibson Explorer, Bass Ken Collins; veteran guitar tech for The Who, Alan Rogan; plus comments from many other great players across three decades of rock and roll.

Written in Geddy's singular voice, this book reveals the stories, songs, and history behind the instruments of his inimitable collection. Complete with an index and a graphically designed timeline of the history of the bass, as well as an up-close look at Geddys basses on Rush's final R40 Tour, his stage and recording gear from 1968 to 2017, and forewords by author and respected vintage expert, Terry Foster, and Rush band member, Alex Lifeson, Geddy Lee's Big Book of Beautiful Bass is the ultimate compendium for the consummate collector, musician, Rush fan, and anyone who loves the bass guitar.
When he's not working on his book, Geddy is finding time to attend baseball games and concerts in his hometown of Toronto. This past Wednesday night Bad Company frontman and founding member Paul Rodgers stopped in to YYZ as part of the Stars Align Tour, which also features Jeff Beck and Ann Wilson of Heart. They played a show at the Budweiser Stage in Toronto where Geddy was in attendance and visited Rodgers backstage as seen in this photo Rodgers posted to his official Instagram:
Backstage last night in Toronto with @geddyimages ~ [TeamPR]
Photo: Warren Cracknell
Geddy also attended the Foo Fighters show in Toronto a couple of weeks ago.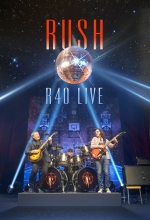 Speaking of concerts in Toronto, Rush's 2015 R40 Live concert video has been certified Gold by the RIAA in the Video Longform category. The 2015 live concert video was filmed during Rush's tour stops in their hometown of Toronto on June 17th and 19th as part of their R40 Live tour, and was certified last month on July 19th. Gold certification indicates sales of 50,000 or more units. Back in March Rush's 2016 Time Stand Still tour documentary - which followed Rush and their fans during the R40 Live tour - was certified Gold, and back in December Rush's R40 40th Anniversary Collectors Box Set was certified Gold, nearly 3 years after its release. The last Rush studio album to be awarded Gold or Platinum status was Roll the Bones, which was certified Platinum back in August of 2001.

Neil Peart and the R40 drum kit are featured in the Edge Factor documentary Masters of Resonance. The film had its first pre-release theater screening as part of the Rush Family Reunion event at the Fox Theatre in Toronto back in June, and the documentary's official world premiere will take place at the GRAMMY Museum at LA Live this coming Wednesday, August 8th, with tickets available at this location. The premiere will include a post-screening conversation with storyteller and founder of Edge Factor, Jeremy Bout, DW's John Good, and drummer Paul Wertico, moderated by GRAMMY Museum Artistic Director Scott Goldman. The film will then hit the festival circuit this fall and be released to video-on-demand streaming channels, beginning with iTunes, later this year. For more information about the film and to keep up on the latest news, visit the website at mastersofresonance.com, and follow them on Facebook and Twitter. You can watch the trailer on YouTube at this location.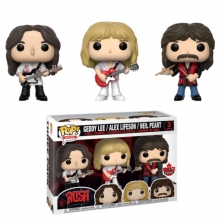 Canada's largest comics, sci-Fi, horror, anime, and gaming event - Fan Expo Canada - takes place later this month at the Metro Toronto Convention Centre from August 30th through September 2nd. Earlier this week Funko revealed their list of Fan Expo exclusive items, which will include a set of limited edition Funko Pop! Rocks Rush vinyl figurines. The 3-piece set will be available as a 2018 Fan Expo Limited Edition collectible. For those not familiar with Funko, their Pop! Vinyl line are figures modeled in a style similar to the Japanese Chibi style, typically depicting licensed characters from franchises and other pop culture entities. You can find out more about Funko and their Pop! vinyl figures at funko.com. To find out more about Fan Expo Canada and how you can get your hands on one of these sets, visit the website here.
Reader Bill R let me know about a 2016 children's book from author Mike Grosso titled I Am Drums about 6th grade girl Sam who wants to be a drummer. The book contains several references to Rush and Neil Peart, such as this one:
... Neil Peart looks calm in comparison [to Keith Moon], but he still sounds like he's playing the entire kit at once. I'm convinced he has eight arms and the energy of a border collie herding sheep. Neil Peart and Rush also have a few songs that fit into a genre Mr. Warner mentioned - math rock. Some websites call it "progressive," but the ideas are pretty similar. ...
Geddy Lee reached retirement age over this past weekend, turning 65 years young on Sunday. Ged received birthday wishes from across the web and in the online music press. One such article from Colby Cosh at the National Post garnered a good bit of attention, where Ged reaching retirement age got Cosh lamenting the fact that Rush has also retired. Speaking of Rush's apparent retirement, this past Wednesday, August 1st was the third anniversary of Rush's last show of the R40 tour, and possibly their last show ever. August marks yet another major milestone in the history of Rush, although the exact date is not known. 50 years ago this month back in 1968, the very first incarnation of Rush was formed. From the Rush biography Visions:
... The first band formed by Alex and John [Rutsey] in the Spring of 1968 was called The Projection. By the end of the summer that band had broken up.

In August, Jeff Jones came in as bass player and lead singer and a formal line-up of John, Alex and Jeff was formed. They spent their evenings and weekends trying to learn the hard rock songs of the day and scheming for an opportunity to play outside their basements.

The boys were soon able to work out an agreement to play in another basement, but this time they would be paid. Their salary was $25. The gig consisted of playing on Friday nights at an oddly named coffee-house located in the basement of an Anglican Church. The Coff-In served coffee, doughnuts and music to local teens for 25 cents a head.

The band was excited, but they had a big problem. While they had been dreaming of playing, they had neglected to come up with a name for their group. So a few days before the gig they sat around in John's basement trying to come up with an appropriate monicker. They weren't having much luck when John's older brother Bill piped up, "Why don't you call the band Rush" and Rush it was. ...
Back on July 25th and for the second year in a row, Jacob Moon and David Barrett performed a free concert of Rush and Rush-inspired music at the Lee Lifeson Art Park in Toronto's Willowdale neighborhood. Rush the Art Park is a crowdfunded event that will also see the duo record a cover of Rush's New World Man to be made available exclusively to those who helped fund the concert (last year they did a cover of Rush's Time Stand Still). To learn more about the event and the crowdfunding campaign, go to this location. Moon posted a video of his performance of Subdivisions from the concert which you can watch below or on YouTube at this location.
That's all for this week. Have a great weekend!