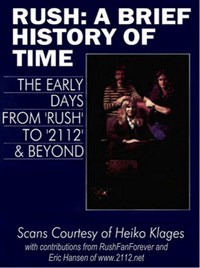 John at Cygnus-X1.net has just posted the fifteenth installment of his Rush: A Brief History of Time series where he compiles scans and transcriptions of old Rush articles, reviews, interviews, and advertisements. This installment has been dubbed the Ohio Files due to the entire collection of articles and advertisements coming from newspapers situated in the Ohio Valley. From Cygnus-X1.net:
... As most fans know, Rush's early rise to fame in the United States began in the Cleveland, Ohio area where then-DJ Donna Halper first started spinning the band's debut album on Cleveland's WMMS radio station. Since that time, and throughout their career, the Ohio area remained an important part of Rush's history. So much so that the band recorded their 2010-11 Time Machine Live Album in Cleveland, Ohio. Not only does this installment focus on articles from the Ohio area, but nearly half of the 69 totals entries come from the 1970's, with 18 alone coming from the band's 'debut' year of 1974. ...
You can see this latest batch on John's website at this link. Also be sure to check out his chronological listing of all the collected articles from the series at the bottom of the page. Thanks John!