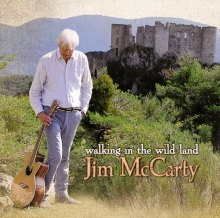 Yardbirds drummer Jim McCarty's latest solo album Walking in the Wild Land has several Rush connections including being co-produced and mixed by former Rush producer Terry Brown, featuring Alex Lifeson on the track Soft In A Hard Place, and Hugh Syme adding keyboards and orchestration to three of the album's tracks. McCarty was recently interviewed for Metal Express Radio and addressed the album's many Rush connections (thanks Eric at Power Windows). Here he talks about how Alex Lifeson became involved:
... Alex is a big fan of the Yardbirds and Rush did covers of Heart Full of Soul and Shape of Things on their Feedback EP a while ago and he also worked with Terry Brown who produced some of the older albums. Terry thought it`d be a good idea to ask him and Alex thought it`d be a great idea to do it. ... He recorded his parts in his own studio and sent them over. ... [Soft in a Hard Place is] a softish song and he put that hard edge into it which worked well with the song. He basically did what he thought would go with the song and I think it turned out great. I`m really happy with it. ...
Longtime Rush album artist and occasional pianist/keyboardist Hugh Syme added some keyboards to the tracks Changing Times, Dancing Leaves and So Many Questions. Here's what McCarty had to say about Syme's involvement:
... It was Terry`s idea as I wanted some string parts and he said Hugh was very good at that. Hugh is actually an artist rather than a professional musician and he did a great job. I wanted something quite subtle and he did it just the way that I wanted. Hugh is English and he brought a real English feel to it. ...
You can listen to Soft in a Hard Place below or on YouTube at this location, and order the album via Amazon here. Alex has 2 solos in the song; one at the 2:20 mark and another at the 4-minute mark.