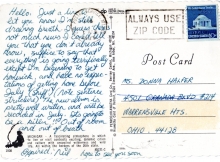 Rush's "discoverer" and unofficial "big sister" Donna Halper recently uncovered a rare, never-before-seen piece of Rush history among her things, and was kind enough to share it with Rush fans yesterday via this Facebook post:
If you are a Rush fan, you may want to see this one of a kind piece of memorabilia. NOBODY (except me) has ever seen it, and I thought it was lost, since I moved a number of times after it was written. But yesterday, I found it, and having first asked whether Neil would be okay with my posting it (yes, it's OK), here it is. It's a postcard he wrote to me in April 1975, just before Rush recorded "Caress of Steel." There's a long back-story about how Neil and I came to be friends, but suffice it to say he kept in touch and wanted me to know all was well. So... a trip down memory lane, in Neil's own words. Enjoy.
Here's a transcription of the postcard:
Hello, Just a line to let you know I'm still drawing breath. I guess there is not much news I could tell you that you don't already know, suffice to say that everything is going terrifically except I'm beginning to get homesick, and have no expectations of getting home before July (sniff!) (note sentence structure) The new album is pretty well written and will be recorded in July. It's going to be a killer!! Out of room and out of breath

Expired, Neil

hope to see you soon

Donna's postcard inspired UK reader Craig E to pass along a letter he received from Alex Lifeson back in January, 1977 in reply to some fan mail he'd sent Alex in June of 1976. Alex's sense of humor is on full display in his response. Here's a transcription:
Dear Craig,
Forgive my "lateness" in reading your letter dated June 3rd but it is difficult to get into the office and catch-up on all there is. I'm glad to see that Rhonda, at least, managed to corresspond (oops, only one "s" in correspond) after your previous letter.
At this point in time, it looks like we'll be in Britain around the end of May or beginning of June. So far the Rainbow in London will be one date and possibly through Liverpool, Manchester and the North of England/Scotland. We also plan to record our next album there so we should be around for about six weeks.
I hope to take a writing improvement course then or chop my right hand off. One or the other.
Thank you for all your support.

Take care.
Alex Lifeson
Thanks Craig!!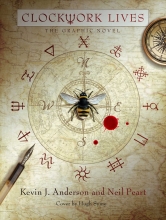 The graphic novel representation of Kevin J. Anderson and Neil Peart's 2015 novel Clockwork Lives - the follow-up to Clockwork Angels - officially released last week via Insight Comics. Author Kevin J. Anderson recently sat down for an interview to talk about the graphic novel, and described what it was like to collaborate with Neil Peart:
I've known Neil for about 28 years now, so this has been a long time coming. He is an incredible perfectionist, and I was a little worried when we started, but he was terrific to work with. We climbed a mountain together in Colorado and brainstormed the initial backbone of the first novel, and we sent countless emails back and forth developing the characters and storyline. For Clockwork Lives, I would send him the rough draft of each story as I wrote it, plus the frame story chapters. It was exhilarating for both of us.
Sneak peeks of several panels from the graphic novel are available online, including a pdf download of several panels from the book here, a preview of the first 12 pages here, and several other panels available via the Amazon listing. Geekdad's Skip Owens recently reviewed the graphic novel and had this to say:
... being a Rush fan is another reason to read Clockwork Lives. Not only are there lyrics and themes from various Rush songs throughout the book but there is even a cameo appearance from the band! But even if you aren't a fan of Rush or the original Clockwork Angels book the quality of the stories alone in this book should be enough for you to want to read it. ...
The 176-page, full-color, hardcover book is beautifully-illustrated with a cover design from Hugh Syme, and can be ordered via Amazon at this location.
Canadian band Max Webster's career-spanning box set The Party released in Canada this past Fall and is now available in the US via Pledge Music. The band were early Anthem label mates of Rush and toured with them throughout the late '70s and early '80s until they split up in 1981. They are best-known to Rush fans for the track Battle Scar from 1980's Universal Juveniles, which featured a guest appearance by Rush. From the press release:
... The Party features all five studio albums, Max Webster, High Class In Borrowed Shoes, Mutiny Up My Sleeve, A Million Vacations, Universal Juveniles and Live Magnetic Air, the Kim Mitchell EP, and The Bootleg, which features unreleased studio and live tracks. The set is available in vinyl and CD sets, and the vinyl set also includes a thirty-two page booklet, filled with rare photos, quotes and memorabilia, a vintage Max Webster poster, a Universal Juveniles fan club ID card and an introductory foreword by Q107's John Derringer. ...
The Party is available for purchase via Pledge Music and also as an import via Amazon.
Canada celebrated its 151st birthday this past Sunday, July 1st, and a number of Canadian publications posted articles celebrating the music of Canada, including Rush of course. The Daily Courier posted their list of The 50 best Canadian rock/pop/country/hiphop singles ever, and Rush's Tom Sawyer made the cut at #12. The Province posted an article where they play the game you know you're Canadian when ..., and one of the items listed refers to Rush:
... you no longer regard Rush as affected and pretentious but craftsmen who, in the great Canadian tradition, have remained true to themselves over the years. And Tom Sawyer is a legitimately great track.
Kelowna Now posted an article with their list of 15 of Canada's top musical treasures, one of which was Rush:
An Ontario rock band with one of the most unforgettable sounds, the group's superior musicianship has gained them international success and their tenacity has kept them in our musical library since the late 60's. Equipped with one of the world's best drummers and lyricist Neil Peart, and bassist, keyboardist and lead singer, Geddy Lee, Rush have all the talent needed to create the kind of extraterrestrial rock and roll that make Canadians proud to call them ours.
Foo Fighters frontman Dave Grohl took some time out from touring to sit down with Rolling Stone for an interview last week. At one point he was asked, given that Neil peart is now retired, what would he do if Geddy Lee and Alex Lifeson asked him to play drums for Rush on a tour. Here's his reply:
I would say, "I'm not physically or musically capable, but thanks for the offer." Neil Peart, that's a whole other animal, another species of drummer. I know the arrangements, but I'm like Meg White to Neil Peart. And she's one of my favorite drummers! She's my daughter's favorite drummer, too. My daughter plays drums to two types of music: White Stripes and AC/DC. I'm like, "That's exactly what you need to be doing."
Here's video of Dave Grohl, Taylor Hawkins and Nick Raskulinecz performing 2112 Overture from Rush' 2013 Rock Hall induction:
That's all for this week. Have a great weekend!!