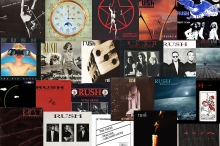 Ultimate Classic Rock has done what Rush fans have been doing on message boards and social media for years now, and performed the extremely subjective exercise of ranking every single Rush song from worst to best - in their opinion at least. The list was revealed less than 24 hours ago and has already caused a flurry of debate among Rush fans online. No surprise there - ask a dozen Rush fans to compile their own worst to best rankings and you'll end up with a dozen wildly different lists. From the article:
The difficulty - and nerdy thrill - of ranking Rush's catalog is that you're essentially pitting several distinct bands against each other: the bluesy Led Zeppelin disciples, the conceptual prog-rock explorers, the arena-packing prog-pop stars of the early '80s and the metallic, middle-aged alt-rockers, among other variations. Compounding the problem is that Rush, unlike some of their prog contemporaries (we won't name names), managed to stay relevant - and musically compelling - as they aged. Sure, there have been embarrassing moments, and we're fully prepared to make fun of each one, but even Rush's worst LPs (like Roll the Bones and Test for Echo) have their redeeming qualities. The Canadian trio could have bowed out of the limelight several times (after the prog boom fizzled in the late '70s, during the grunge movement of the early '90s), crumbling to commercial pressure or cultural shifts. Instead, they maintained a workmanlike approach to their music - constantly tweaking and experimenting. For every failure (the strained Oriental atmosphere of "Tai Shan"), there are 10 victories. Across roughly four decades, the band - bassist-singer Geddy Lee, guitarist Alex Lifeson and (for most of their run) drummer-lyricist Neil Peart - have recorded 19 studio LPs and 167 original songs. And we're focusing on that sprawling catalog for this Worst to Best list. That means we're leaving off compilation-only live cuts ("I've Been Runnin'," "The Loser"), concert drum solo recordings ("The Rhythm Method") and the band's 2004 covers EP, Feedback, a tribute to their formative '60s influences. ...
Now on to the rankings. Not surprisingly, Rush's Moving Pictures album yielded four of the list's top 10 spots including the top 3; Red Barchetta at #3, Limelight at #2, and - of course - Tom Sawyer at the top of the rankings:
"Tom Sawyer" is the ultimate Rush song in several ways. It's their most famous piece, occupying a prime piece of classic-rock radio real estate for almost four decades. It's their cleanest, most seamless fusion of prog and hard rock, boasting some of their tightest ensemble playing and a guitar riff catchier than "Smells Like Teen Spirit." Like the entirety of 1981's Moving Pictures, it's also a fascinating crossroads between '70s and '80s Rush, arriving a few years after the knotty conceptual sprawl of Hemispheres and a few years before Lee became obsessed with synthesizers. The piece originated from one of numerous jam sessions during a particular frigid winter rehearsal at a Toronto farm; Peart, meanwhile, developed his lyrics of rebellion from a poem he received from lyricist Pye Dubois based on Mark Twain's 1876 novel The Adventures of Tom Sawyer. The result is the Rush masterpiece - a compact, four-and-a-half-minute summation of everything they represented."'Tom Sawyer' is a real trademark song for us," Lifeson told Louder Sound in 2014. "Musically, it's very powerful, and lyrically, it has a spirit that resonates with a lot of people. It's kind of an anthem."
On the other end of the spectrum, Rush's debut album took the bottom 2 spots with In the Mood at #167 and Need Some Love at #166. The author also seems to have a general dislike for the band's Roll the Bones and Test For Echo albums with 5 songs from each in the bottom 20. The rankings are also obviously skewed towards the band's older material. Outside of the band's debut album, the bottom 40 songs on the list are all from albums released after 1984, and the top 23 songs are all from Signals and before. The highest ranked post-Signals song is The Pass from 1989's Presto. The list's biggest surprise in my mind was the inclusion of the Fly by Night acoustic track Rivendell at #32. You can check out the entire list at this location. So what does everyone think? Agree? Disagree? Don't care?