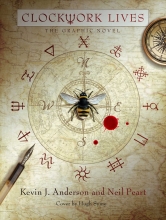 The graphic novel representation of Kevin J. Anderson and Neil Peart's 2015 novel Clockwork Lives - the follow-up to Clockwork Angels - will be getting released as a graphic novel via Insight Comics later this month. Insight Comics recently sat down with Anderson for an interview to talk about the graphic novel, and described what it was like to collaborate with Neil Peart:
I've known Neil for about 28 years now, so this has been a long time coming. He is an incredible perfectionist, and I was a little worried when we started, but he was terrific to work with. We climbed a mountain together in Colorado and brainstormed the initial backbone of the first novel, and we sent countless emails back and forth developing the characters and storyline. For Clockwork Lives, I would send him the rough draft of each story as I wrote it, plus the frame story chapters. It was exhilarating for both of us.
You can read the entire interview online here. Insight Comics has provided a sneak peek of several panels from the graphic novel, including a pdf download of several panels from the book here, a preview of the first 12 pages here, and several other panels available via the Amazon listing. John over at Cygnus-X1.net wrote a review of the graphic novel earlier this week, saying the following:
... it is that playful creation of both the characters and the scenery that will be of particular interest to Rush fans. The graphic novel is filled with nods, both obvious and subtle, to the Canadian group. The aforementioned Cygnus Tavern brought a broad smile to my face, for obvious reasons. While the clever use of lyrical phrases from numerous Rush songs were always a treat to encounter. After reading through the graphic novel, I went back and studied the artwork more closely, which uncovered many more Rush references. Again, some obvious like the appearance of all three band members in The Percussor's Tale, to the less obvious appearance of the Snakes & Arrows curved arrow sign sitting next to the Fly By Night owl in The Seeker's Tale. Returning to the novel during a future reading will doubtless reveal other Rush nuggets. ...
Eric at Power Windows also wrote this short review of the book. The 176-page, full-color, hardcover book is beautifully-illustrated with a cover design from Hugh Syme, and is currently slated for release on June 26th. It can be pre-ordered at this location.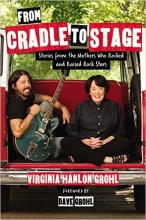 Foo Fighters frontman Dave Grohl's mother Virginia Hanlon Grohl released her book From Cradle to Stage: Stories from the Mothers Who Rocked and Raised Rock Stars back in April of last year. The book contains a chapter on Geddy Lee's mother Mary Weinrib, where Mary talks about what influenced Geddy to choose a musical career, and the prevalence of music in their family home. Live Nation Production announced earlier this week that they'll be developing a docuseries based on the book in partnership with Endeavor Content, and executive produced by Heather Parry of Live Nation Productions, Virginia Hanlon Grohl, Michael Rapino of Live Nation and Dave Grohl. Endeavor Content will handle worldwide sales, but no network has yet been attached to the project. Although nothing's been confirmed yet, it seems quite likely that Mary Weinrib and perhaps even Geddy himself will make an appearance in the series at some point. You can learn more about the book at this location and order your copy at this location.

Back in 2014 a few diehard Rush fans who were inspired by Rush's many charitable donations over the years, put together the 501(c)3 charitable organization Overtime Angels with the goal of helping individuals in need that might not be able to receive help from large charitable organizations. The organization will be hosting their second annual RushCamp event/fundraiser this coming Labor Day weekend at Independent Lake Camp in the northern tip of the Pocono Mountains near Scranton, PA. The camp will run over Labor Day weekend from Aug 30 to Sep 2, 2018, and feature music from Brandon Dyke, David Barrett, and Rush tribute bands Permanent Waves and Mystic Rhythms; an appearance via Skype by Donna Halper; and much more. Details and ticket information is available at overtimeangels.org.
David S. Hogsette penned a review of Mark Joseph's new book Rock Gets Religion this past week, and makes mention of Rush in his opening paragraph (thanks Will C):
Start the song already! It's driving me crazy!" yelled my father from the living room after he lost patience with the gradually building, repetitive intro to Rush's "Cygnus X-1 Book One: The Voyage." He raised my brother and me in a strict, Christian home. He never quite understood our love of rock music, and experimental, progressive rock was off-the-charts alien to him. "It's just noise!" he would constantly say. Sometimes, after hearing crazed lyrics and wild guitar riffs screaming from our rooms over a frenzied drum beat, he would channel his inner Southern Baptist voice and dismissively declare, with pained, sincere concern for our very souls, "That's the devil's music." ...
Satirical news site The Hard Times posted an article this past week titled Prog Community Demands a Disney Princess Who's Into Rush:
... "I mean, come on - it's 2018," lamented PRDL head Buster Malme in the middle soliloquy movement of the epic 20-minute vinyl press release. "Disney movies have ripped off Rush for years. Tell me that Beauty and the Beast isn't just a watered down 'Witch Hunt' - or that the inside cover of 2112 hasn't been inspiring Disney princess fashion for decades!" ...
Artist Lindsay Lee (aka @ApherosX11) took up the challenge of creating this requested "Rush fan Disney Princess", posting this drawing to Twitter earlier today. Well done Lindsay!
RockPasta.com posted their list of the 10 Most Underrated Guitarists this past week and Alex Lifeson made the cut at #10:
Alex never really got the credit as a guitarist he deserved. Seems like it's really hard to stand out and shine when you are in a band playing alongside with Geddy Lee and Neil Peart. Alex surely was very creative in his works, none of the any 80's guys ever wrote on the scale of "2112" or "YYZ". Rush has been pretty successful for the past years, everybody talks of how great Geddy's voice and how virtuoso Neil Peart is, but no one ever talks about how good of a guitar player Alex is. He deserves far more credit.
The BMO Harris Bradley Center in Milwaukee recently closed its doors permanently and will be torn down later this year. Since its opening in 1988, the venue has accumulated a treasure trove of memorabilia and is currently auctioning it all off. One of the items up for bidding in a Fender bass guitar autographed by Rush back in 1996. For all the details and to place your bid, go to this location (thanks Jeff K).
Seven years ago tomorrow, on June 9, 2011, Neil Peart appeared on the Late Show with David Letterman as part of the program's Drum Week. Here's the video:
That's all for this week. Have a great weekend!