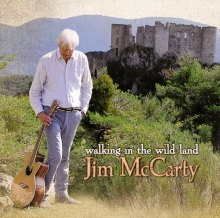 Back in August of 2016 we first learned that Alex Lifeson had been in the studio with former Rush producer Terry Brown putting guitar tracks down for Jim McCarty's (Yardbirds, Renaissance) next solo project. McCarty finally released the album, titled Walking in the Wild Land, back in March. It features 12 songs with Lifeson appearing on the 6th track, Soft In A Hard Place. From a recent review of the album:
... 'Soft In A Hard Place' has a beautifully fluid guitar solo and on checking the sleeve notes we discover it's provided by none other than Rush's Alex Lifeson. In a way that sums up the album as a whole, quietly understated but unselfconsciously delivering something that is both elegant and meaningful. ...
You can listen to the track below or on YouTube as this location, and order the album via Amazon here. Alex has 2 solos in the song; one at the 2:20 mark and another at the 4-minute mark.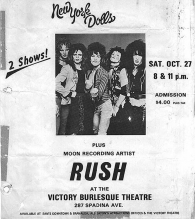 In addition to his various musical side projects, Alex Lifeson is keeping busy with writing as well. He's been contributing a "storytelling comic" titled The Meaning of Lifeson to Dave Bidini's West End Phoenix monthly community newspaper for Toronto's West End which launched this past October. In the May, 2018 issue of the publication, Alex shares his memories from an October, 1973 Rush show at the Victory Burlesque Theatre opening for the New York Dolls. From the story:
... From the first note the audience was spellbound by our performance and couldn't wait till the last one. Between those notes, they made useful suggestions regarding solo sex acts, our moms and turning off our amps.

Rush was doing well financially at this time, so I only had to hitchhike halfway home. I had my guitar with me and walked for 10 minutes in the cooling evening before a couple picked me up. I squeezed into the back and thanked them for stopping. They were pleasant enough and smart, so I figured they were college students. As we got to know each other more intimately, I asked what they had been up to lately.

"We were at the Dolls show at the Victory and it was great except for the horrible opening act," said the cheerful young man driving. "Yeah," said his charmingly cherubic girlfriend, "I wanted to chop that goddamn singer's head off...," and it was here that she turned to face me in the back, "with a dull piece of razor wire." Then she turned away and didn't feel like talking anymore. Me neither.

At the next light, I quietly jumped out the window and commenced the short 35-kilometre walk home in the soft drizzling October rain. Don't hitchhike, kids.
You can check out the full story at the West End Phoenix website here and find out how you can subscribe to the newspaper here. The publication will also be hosting a Subscription Telethon on Saturday, June 9th at the Gladstone Hotel.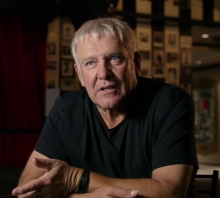 Canadian singer-songwriter and founding member of Bachman-Turner Overdrive, Randy Bachman, is the focus of a new documentary for the CBC's Documentary Channel in Canada titled Bachman. The documentary premiered at the Hot Docs Film Festival in Toronto earlier this month. The film showcases Bachman's life as an iconic Canadian musician from his early days, to his time with The Guess Who and Bachman-Turner Overdrive up to the present day. It features archival footage and new interviews with friends, family and fans including Rush's Alex Lifeson, along with Neil Young, Chris Jericho, Peter Frampton, Buffy Saint-Marie, Tal Bachman, Fred Turner, Paul Shaffer and others. The official trailer for the documentary can be seen at this location and features Alex Lifeson at about the 1-minute mark. For more information visit the Farpoint Films website here, and the film's Facebook page here. Frank Scheck of the Hollywood Reporter wrote this lukewarm review of the film earlier this week (thanks RushFanForever).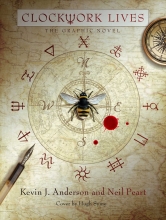 The graphic novel representation of Kevin J. Anderson and Neil Peart's 2015 novel Clockwork Lives - the follow-up to Clockwork Angels - will be getting released as a graphic novel via Insight Comics next month. Insight Comics has provided a sneak peek of several panels from the graphic novel, including a pdf download of several panels from the book here, a preview of the first 12 pages here, and several other panels available via the Amazon listing. The 176-page, full-color, hardcover book is beautifully-illustrated with a cover design from Hugh Syme, and is currently slated for release on June 26th. It can be pre-ordered at this location.
Fresh off their posthumous review of Rush's Grace Under Pressure earlier this month, the TimeOnMyBrain.com blog has posted a review of Rush's Grace Under Pressure Tour live release as part of their ongoing Ranking Rush series. You can check it out online at this location, and also read their review of Signals here.
The North Platte Telegraph published a list of 10 guitar gurus who hit all the right notes this past week and Alex Lifeson made the cut:
Rush does not, in fact, have more than one guitarist. That's just Alex Lifeson, playing those crunchy rock riffs and intense melodies all by himself and all at once. Listen to songs like "Freewill" and "Closer to the Heart," where he plays gnarly solos and fantastic hooks right next to each other.
This past Monday, May 14th marked the 16th anniversary of the release of Rush's Vapor Trails album. To mark the occasion, Bradley Birzer at Progarchy.com posted an excerpt from his 2015 book Neil Peart: Cultural Repercussions where he discusses the album and its significance in relation to Rush's rebirth following Neil Peart's personal tragedies of the late '90s. You can check it out online here. Today also marks the 44th anniversary of Rush's first US show, which occurred at a festival at the North Side Drive-In in Lansing, MI back on May 18, 1974.
Here's Jim McCarty's Soft in a Hard Place featuring Alex Lifeson on guitar.
That's all for this week. Have a great weekend everybody!!