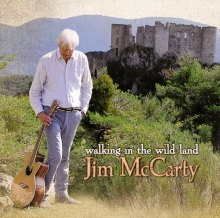 Back in August of 2016 we first learned that Alex Lifeson had been in the studio with former Rush producer Terry Brown putting guitar tracks down for Jim McCarty's (Yardbirds, Renaissance) next solo project. McCarty finally released the album, titled Walking in the Wild Land, back in March. It features 12 songs with Lifeson appearing on the 6th track, Soft In A Hard Place. From a recent review of the album:
... 'Soft In A Hard Place' has a beautifully fluid guitar solo and on checking the sleeve notes we discover it's provided by none other than Rush's Alex Lifeson. In a way that sums up the album as a whole, quietly understated but unselfconsciously delivering something that is both elegant and meaningful. ...
You can listen to the track below or on YouTube as this location, and order the album via Amazon here. Alex has 2 solos in the song; one at the 2:20 mark and another at the 4-minute mark. Thanks to John at Cygnus-X1.net for the heads up.