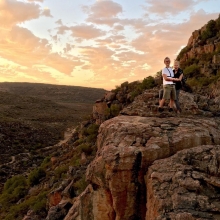 Earlier this week Geddy Lee posted a stunning photo of himself and his wife hiking in the Cederberg Mountains in South Africa as seen in this Instagram post.
Stopping just a little too close to the edge for my lovely while hiking the awesome landscape of the Cederberg Mountains in South Africa as sunset approaches... #BushmansKloof #areyoukiddinme ?
#cederbergs #SouthAfrica #magnificentlandscapes #theworldistheworldis
It had been a while since Geddy Lee had posted anything to his official Instagram page at @geddyimages. Back in early February he posted a photo from a vacation down under in Australia, where he paid a visit to the Royal Botanic Garden in Sydney to grab some photos of a Sulphur Crested Cockatoo as seen in this Instagram post. Geddy's upcoming Big Beautiful Book of Bass is due out this November.

Rush's Time Stand Still documentary has been certified Gold by the RIAA in the Video Longform category. The 2016 documentary follows Rush and their fans during the band's 2015 R40 Live tour, and was certified last month on March 28th. The film was awarded the Canadian Screen Award for Best Biography or Arts Documentary back in March. Gold certification indicates sales of 50,000 or more units. Back in December Rush's R40 40th Anniversary Collectors Box Set was certified Gold, nearly 3 years after its release. All of Rush's studio albums up through Test For Echo have been certified either Gold or Platinum, the last one being Roll the Bones, which was certified Platinum back in August of 2001.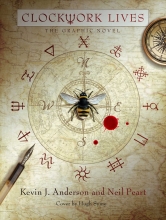 The graphic novel representation of Kevin J. Anderson and Neil Peart's 2015 novel Clockwork Lives - the follow-up to Clockwork Angels - will be getting released as a graphic novel via Insight Comics next month. In celebration of Free Comic Book Day tomorrow, Insight Comics is providing a sneak peek of several panels from the graphic novel. There's a pdf download of several panels from the book here, along with several other panels available via the Amazon listing. You can check out a picture of the graphic novel's cover, which was created by Hugh Syme, here. The 176-page book is currently slated for release on June 26th and can be pre-ordered at this location.
FYI Music News posted an article earlier this week on Rush's management company Ole and the recent expansion of their management team (thanks RushFanForever). The end of the article mentions that, "... 2018 will also see deluxe reissues and unreleased material from Rush ...", although no specifics are given. We've already seen a blue vinyl reissue of 2112, and are expecting a 40th anniversary box set edition of Hemispheres, so the unreleased material mentioned is likely referring to extras to be included in that box set.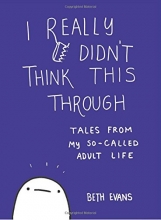 Popular Instagram cartoonist Beth Evans' (@BethDrawsThings) new book I Really Didn't Think This Through released this past Tuesday. The book is a compendium of her collected wisdom and stories from her social media posts, interwoven with her tremendously popular and loveable illustrations. Beth happens to be a huge Rush fan, and her book includes an entire chapter which explores her fandom titled The Pass. It recounts the familiar experience of how she was an outcast in high school and found solace in Rush's Subdivisions. The chapter includes a drawing of the band, and also tells about her dismay at never getting to see the group live due to her anxiety. Reviewer Zachary Houle (also a Rush fan) mentions the chapter in his review of the book. There's also a hilarious story earlier in the book where she tells the story of going on a date with a punk rocker, and, in an effort to get rid of him while driving him home, puts on Rush's Moving Pictures to drive him nuts. The book is now available to order via Amazon at this location.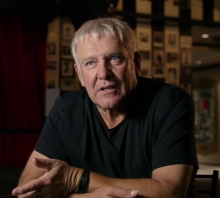 Canadian singer-songwriter and founding member of Bachman-Turner Overdrive, Randy Bachman, is the focus of a new documentary for the CBC's Documentary Channel in Canada titled Bachman. The documentary was premiered at the Hot Docs Film Festival in Toronto this past Wednesday, and will have one more screening tonight at 6:30 PM. The film showcases Bachman's life as an iconic Canadian musician from his early days, to his time with The Guess Who and Bachman-Turner Overdrive up to the present day. It features archival footage and new interviews with friends, family and fans including Rush's Alex Lifeson, along with Neil Young, Chris Jericho, Peter Frampton, Buffy Saint-Marie, Tal Bachman, Fred Turner, Paul Shaffer and others. The official trailer for the documentary can be seen at this location and features Alex Lifeson at about the 1-minute mark. For more information visit the Farpoint Films website here, and the film's Facebook page here.
Billboard recently sat down with the members of Living Colour to talk about the 30th anniversary of the band's 1988 breakthrough album Vivid. Guitarist Vernon Reid mentions Rush at one point (thanks Will C):
... At the time we were recording Vivid, I was listening to a lot of Zeppelin and also a lot of Rush. When you listen to "Desperate People," the rhythm of the bridge is a tribute to Rush, actually. If you go back and listen to "Tom Sawyer," that's where we got the vibe for that bridge. ...
In the lead up to tomorrow's airing of the 2018 Rock Hall induction ceremony on HBO, Vulture.com's Bill Wyman felt the need to rank all 214 of the current Rock Hall inductees (thanks Dom N). He ended up ranking Rush towards the bottom of the list at #210 and gives the following "explanation":
I take the point that both Peresman and Wenner made that the nominators work in good faith and the voting committee makes its decisions on its own. Still, it's hard not to see this as the hall's "We Need a Big Name to Sell Tickets for Our Annual Show in the Barclay's Center Award." (As far as I can tell from the hall's tax filings, the concert brings in about $3 million each year.) Rush are unique among galumphy prog-rock bands in that they lack a single song (you know, like "Roundabout," "Court of the Crimson King," "Freebird," "The Lamb Lies Down on Broadway") you could play for someone to try to convince them of the band's import. These guys were inducted, incidentally, by Dave Grohl of Foo Fighters and his drummer, Taylor Hawkins, who performed similar duties for Queen; don't be surprised if Foo Fighters are unexpectedly early inductees after they become eligible, in 2020.
In celebration of last month's 34th anniversary of the release of Grace Under Pressure, the TimeOnMyBrain.com blog posted a lengthy article and posthumous review of the album and how it stacks up against all the other albums in the extensive Rush catalog. You can check it out online here, and also read their review of Signals at this location.
This past Tuesday, May 1st marked the 11th anniversary of the 2007 release of Rush's Snakes & Arrows album. In celebration of the occasion, Rush posted this behind-the-scenes story about Neil Peart's drumming hats to their official Facebook page:
... Before the Snakes & Arrows Tour, Neil asked Patrick at Showtech if he could customize his drumming hats and stage tees for him. Naturally the answer was, "Yes, sir!". The hats were meticulously made by a very talented Toronto-area hatter, who took into account the very precise measurements of Neil's cranium. The tees were embellished with a foil printing technique of the ouroboros from the S&A album graphics. The production of these hats and tees fell inside of one week from the tour start, as the band was otherwise engaged in more important things, such as rehearsing!

Keeping track of these hats and stage tees on tour was not always easy, as after each show they needed to be properly laundered and accounted for. A fairly small rate of attrition was normal, for reasons of wear, loss, and theft (rare).

We lost a couple tees and hats in Milan, Italy, when the cleaners delivered them in terrible condition. They had laundered everything on extremely high heat, which crumpled the hats, and left the foil logos on the tees, well, scorched. We only had one more hat to last the remaining few shows. To be safe, it was washed each night in a hotel room sink!

The folks at FANTOONS have added a few new items to their line of official Rush merchandise, including a Rush logo maze t-shirt, a blue version of their Major Lee Bassball t-shirt, and several new limited-edition prints. You can check out these and all the rest of the FANTOONS merchandise via their Etsy store, and keep up on all the latest deals and new merch by following them on Facebook and Twitter. In honor of Star Wars Day (May the 4th be with you!), here's FANTOONS' Jedi Lee cartoon short:
That's all for this week. Have a great weekend!