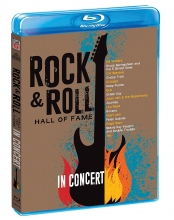 The Rock and Roll Hall of Fame: In Concert DVD/Blu-ray featuring highlights from the Rock Hall's induction ceremonies from 2014-2017 released earlier this week. The video includes last year's induction of YES by Geddy Lee and Alex Lifeson, along with YES' performance of Roundabout featuring Geddy Lee and the all-star jam which both Geddy and Alex participated in. The video is currently available to purchase as 2 Blu-ray discs or on 4 DVDs (Blu-ray, DVD). Inside Pulse reviewed the video set last week, giving it 4 out of 5 stars:
... The ability to get right to the music makes Rock & Roll Hall of Fame In Concert enjoyable. If I was forced to listen to the 8 hours of the E Street Band thanking everyone in New Jersey, I'd go nuts. But with a quick button push, we're back to the rock and none of the talk. It's a great sense of what you'd enjoy from a table at the induction ceremony and you don't have to eat the chicken.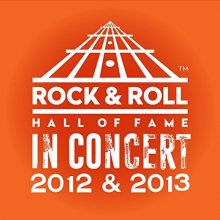 Coinciding with the video release, the Rock Hall has also released four digital albums consisting of induction ceremony highlights respectively spanning the ceremonies from 2010-11, 2012-13, 2014, and 2015 (available here). Highlights from Rush's 2013 induction ceremony are contained on the 2012-13 digital release, including 2112: Overture (with Dave Grohl, Taylor Hawkins & Nick Raskulinecz), Tom Sawyer, and The Spirit of Radio. The 2018 Rock Hall induction ceremony took place two Saturdays ago on April 14th in Cleveland, and TV personality Carrie Keagan hosted the first ever Rock Hall induction red carpet live stream at the event. Billboard interviewed Keagan prior to the ceremony and she had some nice things to say about Rush and their 2013 induction, which she attended (thanks RushFanForever):
... this will not be my first [induction ceremony]; I was there when Rush got inducted (in 2013). That was such an incredible moment; They had a three-minute standing ovation when they got announced, one of the coolest moments in rock 'n' roll history. I have a T-shirt that has (Alex Lifeson's) speech written on it, all the blah-blah-blah. It's my favorite thing.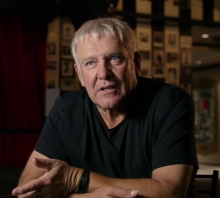 Canadian singer-songwriter and founding member of Bachman-Turner Overdrive, Randy Bachman, is the focus of an upcoming documentary for the CBC's Documentary Channel in Canada titled Bachman. The documentary will be premiered at the Hot Docs Film Festival in Toronto next week from May 2-4. The film showcases his life as an iconic Canadian musician from his early days, to his time with The Guess Who and Bachman-Turner Overdrive up to the present day. It features archival footage and new interviews with friends, family and fans including Rush's Alex Lifeson, along with Neil Young, Chris Jericho, Peter Frampton, Buffy Saint-Marie, Tal Bachman, Fred Turner, Paul Shaffer and others. The official trailer for the documentary can be seen at this location and features Alex Lifeson at about the 1-minute mark. For more information visit the Farpoint Films website here, and the film's Facebook page here.
Ever since Neil Peart announced his retirement from drumming a few years ago, numerous rumors of the band continuing with another drummer have been floated around and quickly debunked. Alex Lifeson and Geddy Lee have made it abundantly clear that they would not continue as Rush without Neil Peart. That isn't to say they wouldn't ever record new music with another drummer - they just wouldn't call it Rush. Lifeson essentially confirmed this in an interview earlier this year when he stated that, "It's been a little over two years since Rush last toured. We have no plans to tour or record any more. We're basically done. After 41 years, we felt it was enough." One name often brought up when considering drummers on par with Neil Peart that could potentially collaborate with Alex Lifeson and/or Geddy Lee is drummer Mike Portnoy. In a recent interview with Andy Burns for Biff Bam Bop!, Portnoy was asked if he has had any contact with any member of the band about playing music together at some point in the future:
... I don't think they ever will [play together as Rush without all three of them]. I honestly don't think they will. I think Rush will only ever be the three of them. Look, I get asked this a lot, and I, of course, would work with any of them in any capacity should they ever want to. And yeah, it would be an amazing thing. I've never collaborated with any of them. Neil and I have become very good friends through the years; that's a relationship that I'm so grateful for, and I've also gotten to know Alex really well. So, yeah, god, I mean, yeah, that would be amazing. I've collaborated with so many people, but I hadn't with any of those guys, so that would be amazing. But I wouldn't hold [my] breath - honestly, I really wouldn't. But they know where to find me. ...
Earlier this year Portnoy was asked about Alex Lifeson's aforementioned announcement that Rush was done in an interview with Chainsaw Symphony Radio and said the following:
... It's sad to see it end, but you've gotta respect that, because if they can't deliver, and if they are in physical pain and they can't deliver what fans wanna see, I respect that they would go out on top ... I would rather see a band like Rush go out on top and have all the good memories of what they're capable of. ...


The long-awaited film adaptation of Ernest Cline's critically-acclaimed, 2011 sci-fi book Ready Player One was released in theaters a few weeks ago. The book makes several references to '80s pop culture, with particular attention to cult films, classic arcade video games and music. It also contains several references to Rush including a particularly significant plot point involving the band's 2112 album, so Rush fans were hoping the film would include at least some of these references. Unfortunately, despite Rush's Tom Sawyer being prominently featured in the first trailer for the film, all the major Rush references from the book were excluded from the movie - there's not even any Rush in the soundtrack. The only Rush references in the film are a 2112 t-shirt worn by Lena Waithe's character along with a Fly by Night patch on her jacket, and a 2112 poster and album in Haliday's childhood room. RadioTimes posted an article earlier this week pointing out the differences between the book and the film, including the significant Rush reference that was cut.
Godsmack's Sully Erna was recently featured for Classic Rock's 10 Records That Changed My Life series, and one of his picks is Rush's Moving Pictures (thanks RushFanForever):
"This was life-changing for me. I quit school, I quit my family, I quit my friends, I quit everything at that point. Because all I wanted to do at that point was go home and study Neil Peart. He was the Mecca of drummers for me. I'll never forget when I heard Tom Sawyer for the first time. I remember what town I was in, I remember who I was with, and hearing the song on the radio. When that big chord hit at the end, and the drum fill played out, I was like, 'what the fuck am I hearing right now?' And the only time I went back to school after that was the steal the wood blocks from the music room, because I was trying to build this enormous drum kit to replicate everything he did on the album. Discovering Neil Peart was the biggest life-changing moment of all."
Loudwire.com posted their list of 10 Bands Inspired by J.R.R. Tolkien's 'Lord of the Rings' this past week and Rush was one of the bands included:
Rush drummer Neil Peart is a hardcore fan of literature, including the epic works of Tolkien. He first incorporated the influence of LOTRin 1975 with the song "Rivendell," named after the majestic Elven city that is home to Elrond. Just a year later, he wrote "The Necromancer" which references the nickname Gandolf bestowed upon Sauron in The Hobbit, providing a stark contrast to the themes of "Rivendell." The latter opus is split into three parts, likely to mimic the novel's trilogy format.
Tragedy struck this past Monday in Geddy Lee and Alex Lifeson's hometown Toronto neighborhood of Willowdale when ten people were killed and 15 injured after a white van struck pedestrians near the corner of Yonge and Finch. The driver, identified by police as Alek Minassian, was located and arrested without injury. Our hearts go out to the families of the victims of this horrific event. If you'd like to donate to a fund to support the victims, visit the Toronto Foundation's #TorontoStrong fund page.
Here's the video trailer for the Rock and Roll Hall of Fame: In Concert DVD/Blu-ray:
That's all for this week. Have a great weekend!