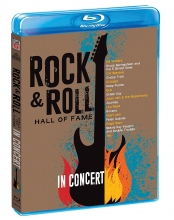 This coming Tuesday, April 24th, the Rock and Roll Hall of Fame will be releasing a DVD/Blu-ray of the last four Rock Hall induction ceremonies. The video will only encompass the ceremonies from 2014-2017, which unfortunately excludes Rush's 2013 induction, but does include last year's induction of YES by Geddy Lee and Alex Lifeson, along with YES' performance of Roundabout featuring Geddy Lee and the all-star jam which both Geddy and Alex participated in. The video is currently available for pre-order as 2 Blu-ray discs or on 4 DVDs (Blu-ray, DVD). Inside Pulse reviewed the video set this past week, giving it 4 out of 5 stars:
... The ability to get right to the music makes Rock & Roll Hall of Fame In Concert enjoyable. If I was forced to listen to the 8 hours of the E Street Band thanking everyone in New Jersey, I'd go nuts. But with a quick button push, we're back to the rock and none of the talk. It's a great sense of what you'd enjoy from a table at the induction ceremony and you don't have to eat the chicken.
Coinciding with the video release, the Rock Hall will also be releasing five digital albums consisting of induction ceremony highlights respectively spanning the ceremonies from 2010-11, 2012-13, 2014, 2015 and 2016-7 (each priced at $9.99). So highlights from Rush's 2013 induction ceremony should be included on the 2012-13 digital release. The 2018 Rock Hall induction ceremony took place this past Saturday, April 14th in Cleveland, honoring Bon Jovi, the Cars, Dire Straits, the Moody Blues, Nina Simone and Sister Rosetta Tharpe. This past Wednesday, April 18th was the 5th anniversary of the aforementioned 2013 induction of Rush into the Rock and Roll Hall of Fame.
In the latest episode of the SportsNet podcast A Swing and a Belt with Dan Shulman, Dan spoke with Negro Leagues Baseball Museum president Bob Kendrick who tells the story of Geddy Lee's donation of around 200 baseballs to the Museum back in 2008 as detailed in this post. The discussion begins at about the 16:15 mark of the podcast which you can listen to online here (thanks Jeffrey M).
Canada's Prime Minister Justin Trudeau recently phoned Costa Rica's President Elect Carlos Alvarado to congratulate him on winning the country's recent election. At one point in the conversation Alvarado states, "I'm a fan of ... the best band in the world that I admire the most, comes from Canada, it's Rush." You can listen to the conversation on YouTube at this location, with the Rush mention coming in at about the 3-minute mark. Thanks to Eric at Power Windows for the heads up.
Wayne Gladstone at McSweeney's Daily Humor website wrote an article back in 2007 titled Progressive-Rock Fans Are Terrible Trash-Talkers, where he lists off some funny, prog-rock themed insults, including these Rush-inspired ones (thanks Kelly D):
"Hey, buddy, what does your continued existence have in common with the trees in Rush's 'The Trees'? Neither should be taken literally."

"Kickin' your ass is gonna be a lot easier than the guitar part in 'YYZ.' No joke, some of that shit's in, like, 10/8. Man, Alex Lifeson is underrated."
The TimeOnMyBrain.com blog recently posted a lengthy article on Rush's Signals album, and how it stacks up against all the other albums in the extensive Rush catalog. You can check it out online here.
Rock Cellar Magazine posted their list of the Top 11 Songs About Fictional Characters this past week and Rush's Tom Sawyer made the cut at #9:
"Tom Sawyer" is probably the best-known tune of progressive rock band Rush. "'Tom Sawyer' is a real trademark song for us," guitarist Alex Lifeson told Classic Rock. "Musically it's very powerful, and lyrically it has a spirit that resonates with a lot of people. It's kind of an anthem."

Based on the Mark Twain classic, the lyrics for "Tom Sawyer" were first written by Pye Dubois of Canadian band Max Webster and given to Rush drummer Neil Peart, the band's principal lyricist. "Pye was a little mysterious - kind of a strange fellow!" said Lifeson. "He was very quirky, a bit of a nut, but he did write great lyrics. And around 1980 he sent a poem to Neil with an idea to collaborate on a song.

"Neil took that idea and massaged it, took out some of Pye's lines and added his thing to it," said Lifeson. The result, said Peart, was "a portrait of a modern-day rebel."
Yesterday Kanye West announced that his hotly anticipated follow-up to The Life of Pablo will release on June 1st, and that the album will contain only seven songs - an unusual thing these days. In the wake of this news, Billboard decided to list off 17 other classic albums that only contain 7 tracks, one of which is Rush's Moving Pictures:
For their eighth studio album, Rush opted to cut back on their complex, polyphonous songs for something much more radio-friendly -- and it paid off with gems like "Tom Sawyer" and "Limelight." And not only were the compositions cut down, but the tracklisting, just hitting the listener with seven great cuts and peacing out. Prog, meet pop.
Jay Mantis' RushCast podcast is back! In this latest episode, Jay talks to John from the Rush Graphs Twitter feed about Rush statistics. You can listen to and/or download the podcast here.
Eleven-year-old drummer Ashyln Price and fourteen-year-old drummer Katie Ream are contestants in the Hit Like a Girl contest for female drummers, and they both chose Rush's The Spirit of Radio for their contest submissions. You can check out Ashlyn's video here, and Katie's video here. Ashlyn's teacher is Gary McCracken - drummer for Rush label/tour mates Max Webster. From Ashlyn's video introduction:
... I chose Rush's 'The Spirit of Radio' for my contest submission. It's fun and energetic, super challenging, and just plain awesome! I worked hard to do this classic tune justice and I think I did a good job of showing off my hard-hitting skills. I posted the whole epic five minutes in one shot from two camera angles. I hope you enjoy watching.
As I'd mentioned above, this past Wednesday, April 18th was the 5th anniversary of Rush's Rock and Roll Hall of Fame induction. Here's the video of Rush accepting the award, including Alex Lifeson's now infamous blah speech:
That's all for this week. Have a great weekend!