UPDATE - 3/31@8:55AM: One other Rush reference that was hiding in plain sight was a Fly by Night patch on Lena Waithe's character's shirt (just under the Wonder Woman patch). And after seeing the film myself I noticed a 2112 album on the floor of Haliday's childhood room. There might be more that have been missed too that will likely come to light as more people see it.
UPDATE - 3/29@12:16PM: It also looks like there will not be any Rush on the soundtrack either, which releases digitally tomorrow, and on CD next week
UPDATE - 3/28@4:06PM: GeekDad's Dave Banks reviewed the film and mentions the complete lack of Rush references (outside the poster/t-shirt).
UPDATE - 3/28@11:02AM: I've received reports from a few people who have already seen the movie, and they all confirm that the only Rush references (or music, or anything really) are the t-shirt and the poster. :(
UPDATE - 3/24@10:08AM: There's a Ready Player One VR experience outside of the Vancouver Art Gallery as part of the Juno Awards celebration. According to this tweet from Rush, the exhibit includes a Rush poster along with Rush music:
Vancouver, step inside the Oasis at #604STACKS this Saturday. Experience VR, a Retro Arcade and non stop #Rush - #ReadyPlayerOne in theatres Mar 29 pic.twitter.com/QLA6WNejwy

- Rush (@rushtheband) March 24, 2018
----- snip -----


UPDATE - 3/18@10:04AM: Dozens of new still images from the film were released online yesterday, and it looks like there's a Rush 2112 poster in the movie too as seen in this screenshot (thanks Starscream2112). There's also a high-res shot of Lena Waithe's character wearing her Rush 2112 t-shirt.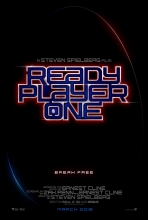 The long-awaited film adaptation of Ernest Cline's critically-acclaimed, 2011 sci-fi book Ready Player One premiered at SXSW yesterday. The book makes several references to '80s pop culture, with particular attention to cult films, classic arcade video games and music. The book contains several references to Rush including a particularly significant plot point involving the band's 2112 album, so Rush fans were hoping the film would include at least some of these references. Things looked promising after the first trailer for the film prominently featured Rush's Tom Sawyer, and the most recent trailer showed one of the characters wearing a Rush 2112 t-shirt. Unfortunately it looks like the 2112 t-shirt is all we'll get according to at least one early review of the film from the Hollywood Reporter:
A rollicking adventure through worlds both bleak and fantastic, Steven Spielberg's Ready Player One makes big changes to the specifics and structure of Ernest Cline's best-selling novel but keeps the spirit and level-up thrills intact. With Cline as a screenwriter alongside Zak Penn, it's not surprising that while some of the book's dorkier elements are excised - sorry, Rush fans! - their replacements display similar pop-culture obsessiveness while lending themselves more to the cinematic gifts of the man Cline surely dreamed would adapt the book. ...


The good news is that most of the film's review so far are pretty good, and despite the lack of Rush, it looks like it's worth seeing. The movie goes into wide release later this month on March 29th. You can watch the latest trailer for the film below or at this location, and learn more about it at the official website or on Facebook/Twitter.
Related Posts:
[Rush 2112 t-shirt spotted in latest trailer for Ernest Cline and Steven Spielberg's Ready Player One film]
[Rush's Tom Sawyer featured in trailer for Ernest Cline and Steven Spielberg's Ready Player One]
[Steven Spielberg to direct film adaptation of Ernest Cline's Ready Player One]