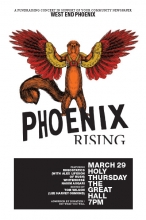 Dave Bidini's West End Phoenix monthly community newspaper for Toronto's West End launched this past October and Rush's Alex Lifeson contributes a "storytelling comic" titled The Meaning of Lifeson to the publication, which is illustrated by artist Casey McGlynn. The newspaper will be holding a concert fundraiser dubbed Phoenix Rising on Thursday, March 29th at The Great Hall on Queen Street in Toronto, and Alex Lifeson will be one of the participants. The event will be hosted by Tom Wilson (Lee Harvey Osmond) and also participating will be the Rheostatics, Whitehorse, Nasim Asgari and Special Guests. Admission is by donation, but the RSVP list is already full. However, you can get placed on the waiting list by visiting this link. To learn more about the event, and the West End Phoenix, visit the website at westendphoenix.com.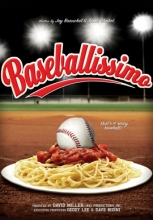 Speaking of Dave Bidini, back in June of 2010 we learned that Geddy Lee had optioned the film and TV rights to Dave Bidini's 2005 book Baseballissimo. Variety magazine then reported back in 2011 that development on the film was moving forward with Jay Baruchel and Jesse Chabot as co-writers. Back in 2013 the Hollywood Reporter announced that veteran director Jacob Tierney would direct the film with a script by Baruchel, David Miller producing and Geddy Lee and Bidini executive producing. The film began casting shortly thereafter and actor Anton Yelchin was slated for the lead role until his tragic passing in the summer of 2016. Since then original director Tierney has been replaced by Richie Mehta, and the news came out earlier this week that they've finally found a new lead actor in Grey's Anatomy star Giacomo Giannotti. From the Hollywood Reporter:
Grey's Anatomy star Giacomo Gianniotti has joined the indie comedy Baseballissimo, alongside Jay Baruchel, who also penned the script with writing partner Jesse Chabot. Richie Mehta is already attached to direct the baseball comedy, in which Gianniotti plays a rival pitcher to a rising minor-league talent who gets detoured on the way to major-league stardom by pitching for the Peones, a team in Italy, to get back to his family roots. Gianniotti, best known as Dr. Andrew DeLuca on ABC's Grey's Anatomy, has such film credits as the Jesse Owens biopic Race and the indie Acquainted, which he also co-produced. "He is such a true talent, and not to mention a baseball fan," David Miller, president of A71 Productions, said of Gianniotti. The project is being shopped to foreign buyers at the European Film Market in Berlin. ...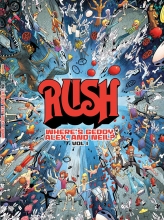 FANTOONS' new officially-licensed Rush book Where's Geddy, Alex & Neil? Volume 1 released a couple of months ago and is currently available for purchase via Amazon and at the FANTOONS Etsy store. Author and FANTOONS mastermind David Calcano was recently interviewed by Fanbase Press to discuss the book and FANTOONS' collaboration with Rush:
... We want to celebrate the band's history and legacy and hopefully introduce them to a new generation. And you may ask yourself, how a book where you need to find members of the band in cool, 2-page illustrations would do that... Well, I strongly believe that getting the name out there and creating gorgeous art and content will give them visibility and will create curiosity to check out the band and listen to their amazing music. It is really about them, you know? Their music inspires us to go above and beyond art-wise and story-wise to do this work. And the same goes with every band we work with. The beauty of this book is that ANYONE can play, and if someone is a die-hard fan, it is PACKED with references of every single of the first fourteen albums the band released. That's been my dream, always: to create a book that anyone can enjoy and gets the band out there... I want people to experience their wonderful music forever. ... Rush is always misunderstood as a serious band, and even though their music has deep and meaningful lyrics. Plus, Geddy Lee, Alex Lifeson, and Neil Peart are untouchable as musicians... they have an AMAZING sense of humor. We NEVER got a note to make them look cooler, or please do not make fun of X or Y. And believe me, we get those kind of notes often in the music business. Working with Rush is a dream. If they don't like something, you'll know, and for us as a studio it's extremely easy. There's no drama. I'd say we get a go-ahead 98% of the time with everything we create. That being said, it is because we are fans and we understand the band and how far we can go. That is extremely important to create something that resonates with them and their fanbase. ...
Calcano also reveals that they are preparing a Volume 2 due out later this year, and mentions the possibility of creating an app based on the books. As far as upcoming FANTOONS projects, here's what Calcano had to say:
... we are starting to do a home-grown animated documentary series about the making of overlooked albums! It's called Facts, Stories & Stuff about the Album. We'll grab records that are amazing but have never been covered too much and build cool merch around them to support the creation of the mini-docs. ...
Be sure to check out all the other officially-licensed Rush merchandise available from FANTOONS via their Etsy store, and follow them on Facebook and Twitter.

The debut issue of a new post-apocalyptic, comic book series titled 2112 from Israeli artist/illustrator Matan Kohn was released yesterday. It's not clear if there's any direct connection to the Rush album of the same name, but this initial issue titled Genesis is described with this summary: "a person awakens from a coma after about a hundred years, and discovers that everything around him has changed". Thanks to Eric at Power Windows for the heads up.
Lost in Vegas is a popular YouTube channel (nearly 300K subscribers) where the 2 hosts George and Ryan play a song that they are unfamiliar with, and react to it in real time, occasionally pausing to expand on their thoughts. While generally covering hip-hop and R&B songs, over the past year they've expanded into rock and metal, and even some progressive rock. A few months ago they checked out Rush's YYZ for the first time and absolutely LOVED it. The video garnered a lot of attention, so the guys decided to do another Rush song, choosing Working Man, and posted their reaction video last week:

2018 is well under way, and I'd like to take a moment to thank everyone who has donated to the site, purchased items through my Amazon links, or clicked on any of my sponsor ads so far this year. Every bit helps and I really appreciate it. If you'd like to make a donation yourself, you can do so at this link. Any donation of 3 bucks or more will get you a free RUSH IS A BAND bumper sticker. Also don't forget to follow RIAB on Facebook and Twitter, and keep sending in any Rush news tidbits you might come across. That's all for this week. Have a wonderful weekend everyone!!