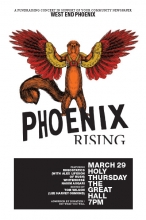 Dave Bidini's West End Phoenix monthly community newspaper for Toronto's West End launched this past October and Rush's Alex Lifeson contributes a "storytelling comic" titled The Meaning of Lifeson to the publication, which is illustrated by artist Casey McGlynn. The newspaper will be holding a concert fundraiser dubbed Phoenix Rising on Thursday, March 29th at The Great Hall on Queen Street in Toronto, and Alex Lifeson will be one of the participants. The event will be hosted by Tom Wilson (Lee Harvey Osmond) and also participating will be the Rheostatics, Whitehorse, Nasim Asgari and Special Guests. For ticket information visit this link, and to learn more about the West End Phoenix, visit the website at westendphoenix.com.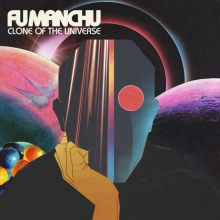 Speaking of Alex Lifeson, SoCal fuzz rockers Fu Manchu released their 12th studio album Clone Of The Universe last Friday, and Lifeson makes a guest appearance on the album's 18-minute, side-long centerpiece Il Mostro Atomico which you can listen to at this location or via most streaming services. Fu Manchu's Scott Hill recently spoke with Revolver magazine about how the collaboration came to pass:
... Our manager is friends with his manager, and they were talking. Without asking us, our manager was like, "Hey, would Alex want to play on their new record?" His manager asked him and got back to our manager, like, "Oh yeah, he totally will. Send him a song!" When he told us, we were all like, "Holy shit!" We immediately reverted back to the Rush fans we were in seventh grade! [Laughs] So we sent him the four-track, which was a little lower than normal demo quality and he was like, "This is great. What do you want me to do on it?" We were like, "Holy shit, he's asking us?!? Dude, do whatever you want, wherever you want!" So we got in the studio and recorded the song, and then we sent it to him in Canada; he sent us back a bunch of stuff, and it all just sounded insane. He was like, "Use whatever you want," so we picked this one section of stuff that he did; it's in the first part where the band drops out - he's playing a really effected guitar riff along with the bass and drums, and then the bass and drums drop out. He's doing stuff with a bunch of different effects, all these sci-fi sounds and pick slides, and we were just flipping out listening to it. We still can't believe it! [Laughs] ... He could have been doing leads over it, and we would have been like, "Fuck yeah!" But he really added to it; that riff that he played, that wasn't even in the song! I remember leaving the studio that night after we first got it back from him, and we were all like, "Fuck, this is insane!" ...
RollingStone.com describes Lifeson's contribution to the epic Il Mostro Atomico track below:
... Lifeson's contributions can be heard in the first half of "Il Mostro Atomico." The song (whose Italian title translates to "The Atomic Monster") starts out with one of the band's signature bottom-heavy, fuzzed-out grooves. At the 3:58 mark, Lifeson plays a loose, bluesy riff over a hypnotic pattern from Fu Manchu bassist Brad Davis and drummer Scott Reeder. Around 4:15, the Rush guitarist adds adds some tasteful effects, giving his part a spacey, echo-y sound. As the rhythm section drops out, the riff continues to mutate, leading into a trippy ambient swell around 5:10. The full band kicks in around 5:53, and Fu Manchu's lead guitarist, Bob Balch, takes over with a fluid psychedelic solo. From there, the mostly instrumental song moves on through various sections, touching on boogie-friendly psych (listen for a Lifeson pick scrape at 7:04; a couple minutes later, Hill enters on vocals, howling "Light the throttle"); space rock bathed in synth-like guitars; and a dubby, percussion-accented breakdown. ...
The band played a couple of shows in Southern Cal this past weekend to debut the album and ended their set with Il Mostro Atomico both nights. You can watch live video of the performance from their show Saturday night at The Casbah in San Diego at this location. They'll be hitting the road for a full tour early next month. For more information visit the Fu Manchu website at fu-manchu.com.
Chicago Now's Six Pack took a look at some of the best trios in rock for a feature this past week, including our favorite power trio at the top of the list:
1) Rush - You want a power trio, look no further than these Canadians. Rush has run the gamut from 20-minute epic song to progressive rock to synthesized rock to guitar-based rock. Regardless, Geddy Lee, Alex Lifeson and Neil Peart are the masters of what they do.

Top 6 songs - "Tom Sawyer," "The Spirit of the Radio," "Freewill," "Subdivisions," "Fly By Night," "Limelight."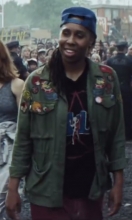 Ready Player One is the critically-acclaimed, 2011 sci-fi book from author, self-described seventies/eighties protonerd and Rush fan Ernest Cline. Ready Player One makes several references to '80s pop culture, with particular attention to cult films, classic arcade video games and music. The book contains several references to Rush including a particularly significant one involving the band's 2112 album. A film adaptation of the book directed by Steven Spielberg and with a script by Zak Penn and Cline is currently slated for release on March 29th. The latest trailer for the film was released yesterday and one of the characters is wearing a Rush 2112 t-shirt at about the 44-second mark as seen in this screenshot (if you blink you'll miss it). This, along with Tom Sawyer being prominently featured in the film's first trailer, bodes well for the possibility of seeing more Rush featured in the film, including the significant role played by 2112 (fingers crossed!). You can watch the latest trailer for the film below or at this location, and learn more about the movie at the official website or on Facebook/Twitter.
That's all for this week. Have a great weekend!