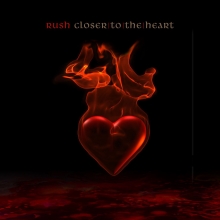 UPDATE - 11/24@4:56PM: John at Cygnus-X1.net has transcribed and scanned this and made it available online here.
In addition to celebrating the 40th anniversary of a A Farewell to Kings with a special box set release next week, Rush is also celebrating by participating in the Record Store Day Black Friday event today with the release of a 7-inch vinyl version of Closer to the Heart/Madrigal. From the Record Store Day website:
Canadian rock legends Rush have been making music for more than five decades. The songs on this RSD 7" are "Closer to the Heart" and "Madrigal," both released in 1977 on A Farewell to Kings. This single is being re-released for RSD Black Friday to celebrate the 40th anniversary of the LP. This 7" has a large center hole, and new art by longtime Rush album designer Hugh Syme. It also comes with a custom 7" adapter and is to be timed with the 40th anniversary of A Farewell to Kings box set re-issue.


The release is listed as an 'RSD First' Release of 5000 - which means it will likely be re-released at a later date and made available via the Rush Backstage Club. For a list of participating stores, check out the Record Store Day website here. Several fans have already made the trek to their local record store to purchase their copy, including Paul from The Canadian Music Scene who posted a couple photos to Facebook as seen here and here.