UPDATE - 11/24@6:25PM: Who's Got Yer Belly? from Bubbles and the Shit Rockers (featuring Alex Lifeson) now available for streaming here, and on YouTube.
----- snip -----
UPDATE - 11/24@4:56PM: John at Cygnus-X1.net has transcribed and scanned the Record Store Day Closer to the Heart 7" vinyl and made it available online here.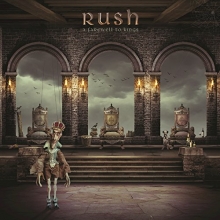 I hope all of my US readers had a happy Thanksgiving yesterday and are surviving the madness of Black Friday. Speaking of which, the Rush Backstage Club is running a Black Friday sale today through Monday, where they are offering 25% off all apparel items. They are also giving away a $20 gift certificate to anyone who pre-orders the A Farewell to Kings 40th anniversary box set Super Deluxe edition which releases next Friday, December 1st and is described here:
The A Farewell to Kings 40th Anniversary Super Deluxe version includes three CDs, one Blu-ray Audio disc and four high-quality 180-gram vinyl LPs.

The set encompasses the Abbey Road Mastering Studios 2015 remastered edition of the album for the first time on CD; a complete Rush concert recorded in February 1978 at London's Hammersmith Odeon, newly mixed by longtime Rush engineer and original A Farewell to Kings producer Terry Brown from the multi-track live tapes; four newly-recorded cover versions of songs from the original album by Dream Theater, Big Wreck, The Trews and Alain Johannes; and an instrumental studio outtake of the spacey sound effects the band has creatively titled "Cygnus X-2 Eh."

The Hammersmith show features, for the first-time ever, over 34 minutes of unreleased performances including a complete "2112" suite, "Lakeside Park," a drum solo and "Closer To The Heart." The Super Deluxe Edition's audio content on its CDs is duplicated on its vinyl discs. Meanwhile, the Blu-ray Audio disc contains a brand new 5.1 surround mix of the album by four-time Grammy® nominated surround sound producer Steven Wilson, along with three original 1977 promo videos from a newly found 2-inch quad video master significantly improving the video quality for "Closer To The Heart." The Super Deluxe package also includes an elaborate new 40th anniversary cover treatment by longtime Rush creative director Hugh Syme, who has also created a new piece of artwork for each of the album's six songs, and an extensive 12,000-word liner notes by Grammy®-winning rock historian Rob Bowman.

Finally, The Super Deluxe Edition includes several exclusive items, including a unique King's Ring, with custom velvet pouch and neck chain; two lithographs with original artwork by Hugh Syme; a special 12-inch turntable mat featuring distinctive artwork by Hugh Syme; and a reproduction of Rush's original 1978 A Farewell To Kings tour program. ...


There will also be a 3-CD set, and a 4-LP set available. Rush is running a contest where you can enter to win one of the Super Deluxe box sets. For all the details and to enter go to this location. The band has made streaming audio versions of the previously unreleased 1978 live versions of Closer to the Heart and Lakeside Park included in the box set available on YouTube and other streaming channels. You can listen to Closer to the Heart here, and Lakeside Park here. There's also a 1.5-minute promotional video highlighting the contents of the set which you can watch here. Rush is also celebrating the A Farewell to Kings 40th anniversary by participating in the Record Store Day Black Friday event today with the release of a 7-inch vinyl version of Closer to the Heart/Madrigal. From the Record Store Day website:
Canadian rock legends Rush have been making music for more than five decades. The songs on this RSD 7" are "Closer to the Heart" and "Madrigal," both released in 1977 on A Farewell to Kings. This single is being re-released for RSD Black Friday to celebrate the 40th anniversary of the LP. This 7" has a large center hole, and new art by longtime Rush album designer Hugh Syme. It also comes with a custom 7" adapter and is to be timed with the 40th anniversary of A Farewell to Kings box set re-issue.
The release is listed as an 'RSD First' Release of 5000 - which means it will likely be re-released at a later date and made available via the Rush Backstage Club. For a list of participating stores, check out the Record Store Day website here.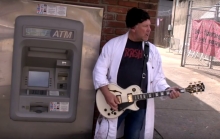 A couple of weeks ago the Trailer Park Boys released the trailer for their new Netflix series Out of the Park USA. The trailer revealed that Rush's Alex Lifeson would make an appearance in the series, which is now available for viewing on Netflix. Alex appears in episode 5 of the series which is titled Memphis. From the episode description:
Ricky has an unfortunate accident when the Boys get to Memphis. Then, they meet Rush guitarist Alex Lifeson, who helps Bubbles record a song.
In the episode, the Boys see a man standing on the sidewalk in front of an ATM in Memphis wearing a lab coat, a RASH t-shirt, a really bad toupee and playing/singing Tom Sawyer very badly on a guitar (a signature Alex Lifeson Gibson Les Paul) as seen in this screenshot. Bubbles recognizes him as Alex Lifeson so they approach him and greet each other. They ask him why he's in disguise and hanging out on the street corner and Alex says, "it's a long story, but if you've got a few minutes I'll be happy to tell you." Alex then convinces them to go get a bite to eat with him so he can tell his story, and they grab a table at the Kooky Canuck. Alex orders a HUGE cheeseburger as seen here, and then tells his sad story about being lost and hitting rock bottom after things with Rush ended. I won't spoil the story, but Alex eventually helps the Boys get a guitar and some time in a recording studio and then records a song with Bubbles. The song is titled, Who's Got Your Belly? as Mike Smith had teased in a a Twitter post earlier this year. The song was also featured in the show's trailer here.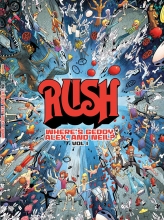 The folks at FANTOONS announced the release of a new officially-licensed Rush book earlier this week titled Where's Geddy, Alex & Neil? This 38-page hardcover book is inspired by the popular Where's Waldo? books and will release sometime in mid December for $21.12. From the announcement:
This hardcover RUSH book is a LOT of FUN. We've crafted scenarios inspired by ALL Rush albums (studio & live) between the Rush (1st LP) until Hold Your Fire, packed with references and different levels of difficult, for everyone to have fun finding the greatest power trio on earth (whether they are Rush fans or not, everyone can play)

The book is 12.5 x 9.5 inches! 38 pages and 14 Rush worlds: Rush, Fly by Night, Caress of Steel, 2112, Permanent Waves, Moving Pictures, and many more!

People will be able to find Geddy Lee, Alex Lifeson and Neil Peart in their different 'fashions' through this crazy worlds that we've created for everyone to enjoy. ...
The book is currently available for pre-order at this location and there's also a making of video available for viewing on the FANTOONS Facebook page. Be sure to check out all the other officially-licensed Rush merchandise available from FANTOONS via their Etsy store, including Christmas cards and their new Holiday Enamel Pins.
Canadian rock duo Death from Above (consisting of Bassist Jesse Keeler and drummer/vocalist Sebastien Grainger) were recently interviewed by Q104.3's Jonathan Clarke to talk about their new album Outrage! Is Now along with their current tour in support of the album. At about the 5:35 mark in the interview they start talking about a recent dining experience they had with Rush's Geddy Lee while in London:
... "We told jokes, we shut down a restaurant together," Keeler says proudly. "We had a very nice time together."

"We've had this experience before," Grainer says. "Not with Geddy Lee, but with other famous musicians. And the second you're at a table with another famous musician, there's no hierarchy...That's how I feel. I mean, we're just having a conversation."

Grainer says they covered all the topics you'd expect: "gear, baseball, whatever else." ...
They are later asked if they listened to Geddy Lee/Rush growing up and Grainger answers at about the 9:10 mark:
... It's impossible to avoid Rush - not only in Canada - but when we started touring the states we would be driving in the middle of the night through ... some state, and whatever Rush song you wanted to hear - you'd just keep changing the station on the dial, and you'll [eventually] hear it ...
You can listen/watch to the entire interview on YouTube at this location.
Judy Greenlees at TV Overmind penned a tribute to the keyboard abilities of Geddy Lee earlier this week titled Keyboard Legend Geddy Lee: Rush's Many-Layered Musical Genius.
AC/DC founding member and rhythm guitarist Malcolm Young passed away last weekend at the age of 64 after battling dementia for several years. Alex Lifeson commented on Young's passing via a post on the official Rush Facebook page:
"Finally, peace comes to Malcolm. His guitar playing will endure for generations to come and that is a worthy legacy." - Alex Lifeson
Rush played a short string of shows with AC/DC opening back in November of 1977 on the A Farewell to Kings tour. RIP Malcolm Young.
Here's the trailer for Out of the Park USA featuring Alex Lifeson at about the 45-second mark:
The folks at RushCon have organized a Rush fan Secret Santa that fans can sign up for via this Google docs form. The deadline for entry is November 28th with matches being sent out on December 3rd. They will also have an online gift opening party that folks can participate in if they wish. For details and updates be sure to follow RushCon on Facebook and Twitter. That's all for this week. Have a great weekend everyone!!