This past Saturday evening at Toronto's Massey Hall the Canadian Songwriters Hall of Fame inducted four new members; Beau Dommage, Stéphane Venne, Bruce Cockburn and Neil Young. Alex Lifeson was in attendance at the gala and made a surprise appearance with Canadian rock band Arkells as a guest musician on a performance of Neil Young's Cinnamon Girl towards the end of the show. Arkells posted a 1-minute video of the performance to Twitter, along with this photo of Alex posing with the band. Rush was inducted into the Canadian Songwriters Hall of Fame back in 2010.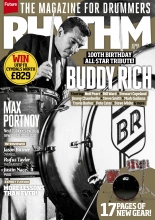 The October 2017 issue of Rhythm magazine went on sale earlier this week and the cover feature is a tribute to drumming legend Buddy Rich for what would have been his 100th birthday tomorrow. Rhythm enlisted the help of a number of famous drummers to pay tribute to Buddy, including Bill Ward, Stewart Copeland, Jimmy Chamberlin, Steve Smith, Mark Guiliana, Travis Barker and - of course - Neil Peart, who emerged from his retirement (from writing at least) to pen a one-page tribute to Buddy specifically for this issue of Rhythm. That makes this the first piece of writing that Neil Peart has published in over a year. Hopefully this a sign of more to come from Neil in the near future - at least as far as writing projects go. Here's an excerpt from Neil's tribute piece on page 40 of the magazine:
... [Gene Krupa] said Buddy Rich was 'the greatest drummer ever to have drawn breath'. "Those are fightin' words, no question, and that was maybe 50 years ago, but I believe Gene was correct. It's not just Buddy's natural musicality, soloist's instinct, and the ears of a dancer. He had those, all right, but chief among his gifts was... those hands. ... Yes, there are plenty of people who can swing and rock those sticks, no question - but here we have a blend of a great gift, a life devoted unstintingly to its perfection, and audiences to appreciate it along the way. We shall not pass that way again."
For information on how to get a copy of the magazine, visit this location. John at Cygnus-X1.net has also made a transcription of Neil's tribute available here.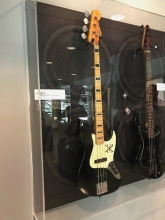 The Rock and Roll Hall of Fame in Cleveland has unveiled a new wall-to-wall guitar exhibit that features 15 guitars from a mix of music legends and modern stars, including Rush's Geddy Lee. Geddy's 1972 Hybrid Fender Jazz Bass that he donated to the Museum prior to the band's 2013 Rock Hall induction is one of the 15 guitars featured as seen here. This guitar had been previously displayed as part of the 2013 Rock Hall inductees exhibit back in 2013-4. The placard that goes with the display reads as follows:
This bass guitar uses the neck from Geddy Lee's 1972 Fender Jazz bass which he refers to as "#1". When attached to its original body, Lee used it to record "Tom Sawyer" as well as well as many other tracks on Counterparts and Snakes and Arrows. The body is from a Fender Geddy Lee Signature model and features a one-of-a-kind custom painted and engraved pickguard. Lee was inducted into the Rock & Roll Hall of Fame in 2013 as a member of Rush.
On a related note, Geddy Lee has been busily working on a bass guitar book project this past year, and the Quill and Quire is reporting that Harper Design publisher Marta Schooler has acquired world rights to the book which will be titled Geddy Lee's Big Beautiful Book Of Bass. There's no release date for the book as of yet, but they are aiming to get it out by Christmas of this year.
Dave Bidini's West End Phoenix monthly community newspaper for Toronto's West End is set to release its debut issue next month and Alex Lifeson will be contributing a "storytelling comic" to the publication. Some more details regarding the publication and its release were revealed via press release this past week:
After a successful subscription drive resulting in more than 1200 subscribers and hundreds of patrons, the West End Phoenix, Toronto's newest non-profit, ad-free community newspaper, will be home delivered (and mailed across the country and around the world) on Saturday October 14, 2017. Publisher Dave Bidini will officially celebrate the birth of the West End Phoenix on October 12, 2017 at the Gladstone Hotel Ballroom, the paper's home for the past five months. The public is invited to attend the event after 8pm, which will feature words by Bidini, Michael Winter and others; a silent auction including works by Jim Lahey and Jeff Lemire; and performances by the Woodshed Orchestra and Oldies 990. Subscribers who sign on before October 5, 2017 will still be in time to get the inaugural issue home-delivered or mailed out around the date of publication. The 20-page broadsheet West End Phoenix includes work by Jeff Lemire, Alicia Elliott,Vicky Mochama, Katrina Onstad, Alex Lifeson, Claudia Dey, Jeff Harris, Phoebe Wang and dozens of others. Go to westendphoenix.com for more information. The West End Phoenix will be devoted to telling the stories of a diverse, compelling and quickly evolving catchment, from the Junction Triangle to Parkdale, Christie Pits to Baby Point.
Earlier this year, Geddy Lee and Alex Lifeson had the honor of inducting YES into the Rock and Roll Hall of Fame. As part of the ceremony, members of the many different incarnations of YES performed their classic Roundabout with Geddy Lee sitting in for the late Chris Squire on bass. There are currently two different versions of YES in existence, both of which have been touring this past summer. One incarnation includes original YES singer Jon Anderson, along with keyboardist Rick Wakeman and guitarist Trevor Rabin. Rabin was recently interviewed by Ultimate Classic Rock to talk about the band's tour, and the possibility of recording some new YES music in the near future. When asked about the band's Rock Hall induction reunion performance, Rabin said the following (thanks RushFanForever):
... We had a very, very short rehearsal, but for Jon, Rick and myself, a really enjoyable thing was playing with Geddy Lee. He's a lovely bass player, and it was interesting hearing his take on "Roundabout." ... we'd met before, but I'm not sure if Jon or Rick had met him, but I had met him before. He's just a really nice person as well, which makes it a lot easier. You never know if someone is going to be a complete ego lunatic or not, and he certainly wasn't. He was just the nicest guy and he was great to work with. He just plowed into it, because he was very quiet, but then once he started he playing, it was like this animal was released. ...
Rush discoverer and unofficial big sister Donna Halper was a recent guest on Montreal's CHOM 97.7 and spoke at length about her career in the radio business and the story of how she helped to launch Rush's career. You can listen to the podcast online here.
Last Friday Ultimate-Guitar.com posted their list of the 25 Greatest Guitar Solos of the '70s and 2 Rush songs made the cut including La Villa Strangiato at #24 and Working Man at #19. Freewill was also included as an honorable mention.
Satirical online news site The Hard Times posted a story earlier this week titled Geddy Lee Crashes Giant Owl Into CN Tower. The headline pretty much explains the joke, so I'll just leave it at that.
Dale Turner at Guitar World posted an article this past week where he examines a few of Alex Lifeson's more famous 12-string and nylon-string acoustic guitar riffs.
Rolling Stone recently sat down with Stone Temple Pilot brothers Dean and Robert DeLeo and drummer Eric Kretz to share the stories behind every song on their smash debut album Core, which celebrates the 25th anniversary of its release today. When discussing the track Sin, Robert DeLeo had this to say:
When I look back at "Sin" now, it's a bit Rush-inspired, guitar-wise. I'm a huge fan of Alex Lifeson; he was one of my first guitar idols.
Rolling Stone's Andy Greene posted an article yesterday on Rush's history of performing their epic 20-minute plus 2112 live, and how they usually play some condensed version. The sole exception was on the Test for Echo tour when they performed the entire 7-part suite to close out their first set as seen here. A pro-shot video of a portion of one of those shows was included as a bonus on the band's 2014 R40 40th anniversary box set.
Here's Alex Lifeson performing Neil Young's Cinnamon Girl with Arkells at last weekend's Canadian Songwriters Hall of Fame Gala:
ALEX LIFESON + ARKELLS + @AARONGOLDSTEIN playing Neil Young for Neil Young seated 20 feet away. #cinnamongirl pic.twitter.com/lo0C3suVzx

- ARKELLS (@arkellsmusic) September 25, 2017
Today marks the 41st anniversary of the 1976 release of Rush's first live album All the World's a Stage, and September (the exact date is unknown) also marked the 42nd anniversary of the 1975 release of Caress of Steel. Our thoughts and prayers go out to those in Puerto Rico who were victims of the flooding and devastation caused by Hurricanes Irma and Maria. For information on how you can help, please read this article from FEMA. Have a great weekend everybody!!