UPDATE - 11/2@8:29PM: Music Radar has posted Neil's tribute online here.
UPDATE - 9/27@1:17PM: John at Cygnus-X1.net has made a transcription of Neil's tribute available here.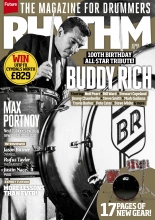 The October 2017 issue of Rhythm magazine went on sale earlier this week and the cover feature is a tribute to drumming legend Buddy Rich for what would have been his 100th birthday this coming Saturday, September 30th. Rhythm enlisted the help of a number of famous drummers to pay tribute to Buddy, including Bill Ward, Stewart Copeland, Jimmy Chamberlin, Steve Smith, Mark Guiliana, Travis Barker and - of course - Neil Peart. According to Rhythm editor Chris Burke, Neil's one-page tribute to Buddy was written specifically for this issue, which means it's the first piece of writing that Neil Peart has published in over a year. In the editorial intro on page 3, Burke says, "... rather than simply answer our questions, Neil decided to write a piece himself in praise of the great Buddy rich, especially for rhythm!..." Hopefully this a sign of more to come from Neil in the near future - at least as far as writing projects go. Here's an excerpt from Neil's tribute piece on page 40 of the magazine:
... [Gene Krupa] said Buddy Rich was 'the greatest drummer ever to have drawn breath'. "Those are fightin' words, no question, and that was maybe 50 years ago, but I believe Gene was correct. It's not just Buddy's natural musicality, soloist's instinct, and the ears of a dancer. He had those, all right, but chief among his gifts was... those hands. ... Yes, there are plenty of people who can swing and rock those sticks, no question - but here we have a blend of a great gift, a life devoted unstintingly to its perfection, and audiences to appreciate it along the way. We shall not pass that way again."
For information on how to get a copy of the magazine, visit this location.