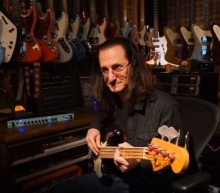 Tech 21 introduced their Geddy Lee Signature SansAmp (the GED-2112) at the NAMM show back in January, and made it available for purchase earlier this year. The GED-2112 has a list price of around $499 and you can learn more about it via the Tech 21 website which also includes this nifty quote from Geddy himself:
The GED-2112 is really a continuation of my long-time approach to bass tone. A 'deep clean' tone coupled with the 'edgy crunch' I get from the SansAmp RPM now all in one box. With selectable A/B inputs, and separate balanced and unbalanced direct outputs, this box is the foundation for great bass tone in any setup. Plus it's green!
Tech 21 sat down with Geddy in his home studio earlier this summer to discuss the GED-2112 and have posted part 1 of the interview on their YouTube channel here. Thanks to RushFanForever and John at Cygnus-X1.net for the heads up.