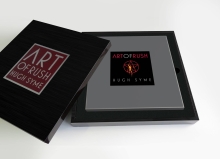 Earlier this week the Rush Backstage Club released a limited edition Art of Rush European Edition. Packaged in a luxury, hand-crafted woodbox, this edition comes hand-signed by the band and Hugh Syme and every book is hand-numbered. It has been titled the European Edition due to feedback from fans in Europe, who were faced with the hurdle of high shipping charges on the original Art of Rush Limited Edition releases. To accommodate these fans they are offering local shipping rates for all customers ordering from the UK/Europe. 350 units were made available at a price of $995 USD each. For all the details and to purchase a copy, visit this location. Initially released back in 2015, Art of Rush is a 272 page coffee table book which celebrates the 40 year relationship of Rush and their longtime artist and illustrator Hugh Syme. The US classic version is also available for purchase from the Rush Backstage Club here.
This past Tuesday, September 12th was Neil Peart's 65th birthday. Rush friend and confidant Donna Halper sent out birthday greetings to Neil in a blog post earlier this week, and also spoke a bit about Neil's decision to retire from drumming:
...[Neil] wasn't unhappy playing drums for a living (in fact he was devoted to it); his skills were not diminishing (although he was increasingly in pain each time he played); and he probably could have continued on for a while longer, if that's what he wanted to do. But he knew it was time, and he wanted to leave on his own terms. And so he did. I would be lying if I said I've talked with him recently, but I do know several friends of his, and I am told he is very happy with his decision. He and Alex and Geddy still keep in touch, but by all accounts, he has no regrets about being a "retired drummer." Fans desperately want him to return to drumming (and return to Rush) but that is not what he wants, nor what's best for his health. It's a wise person who understands when it's time for a change. And whether the change is voluntary or not, it's a wise person who embraces whatever the next phase in their life happens to be.
Donna was also kind enough to respond to some reader comments in my original post from earlier this week.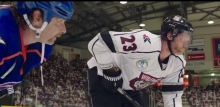 There's a brief Rush reference in the recently released hockey comedy film Goon: Last of the Enforcers. In one of the final scenes, the Halifax Highlanders are playing their last game of the season and just before face-off the character Ross (Liev Schreiber) says to the opposing player, "Hey big fella, do you like Kim Mitchell? [other player gives him a blank stare] That's what I thought. Alright, we're f*ckin going. ... I'll bet you don't like Rush either!" The two then break out in a fight. The scene takes place at around the 1:24:00 mark (thanks Art M). The film is a sequel to the 2012 film Goon, which also contained a few Rush references including Rush's Working Man getting played towards the beginning of the film during a montage sequence where the main character is learning how to skate.
The Classic Albums Live tribute project is currently featuring Rush's 2112 and will be playing a number of shows in the coming weeks/months including a couple in New Jersey later this month, and a string of several shows across Canada through next April. For a complete schedule check out their website here (thanks Jamie C).
Canadian Country Music artist and Juno award winner Dean Brody recently hosted CBC Music's My Playlist and chose Rush's Tom Sawyer as one of his featured playlist tracks as seen here (thanks RushFanForever).
Alan Cross at the Journal of Musical Things blog posted a story this past week which references a recent scientific study that found that "...only women in the fertile phase of the reproductive cycle prefer composers of complex melodies to composers of simple ones as short-term sexual partners ..." The author interprets this as the following (thanks John R):
I read this as dudes have a better chance of getting laid in a one-night stand by playing Rush to women in the week before their periods. Rush as a tool of seduction and a prelude to sex? Who knew?
Tequila Cowboy in Lansing, MI will be hosting a Silver Dollar Saloon Reunion Tribute show on Saturday, September 23rd. The Silver Dollar Saloon (also known as The Brewery) was a popular Lansing rock club back in the 70s and 80s, and Rush played a gig there in 1974 as described in this Lansing City Pulse article:
... Rush played the Brewery in November '74 - after Neil Peart joined the band only four months earlier. I stood near the band during a show that seemed like a rehearsal and watched repeated missed cues and song endings - all to the amusement of bassist Geddy Lee and a struggling Peart. Even with hiccups, seeing the Canadian trio's show in a Lansing dance bar was an unforgettable treat. ...
Here's the video promo for the Art of Rush European Edition:
That's all for this week. Have a great weekend!