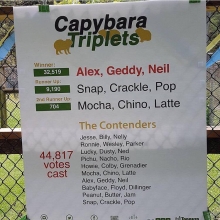 This past Saturday Toronto's High Park Zoo announced that its trio of capybara pups would be named Alex, Geddy and Neil after the members of Rush (video of the announcement here). The pups are the offspring of the Zoo's infamous capybara couple, who gained fame when they broke free from the High Park Zoo last spring. The pups were born earlier this year and several weeks ago the Friends of the High Park Zoo opened up an online poll to enlist the public's help in naming them, with one of the options being "Alex, Geddy and Neil". From the Toronto Star:
... The High Park Zoo's elder capybaras, named Bonnie and Clyde after the infamous American bank robbers from the 1930s, became celebrities when they escaped last May and eluded zoo staff and animal detectives for weeks. Their daring escape led to dozens of sightings. One of the capybaras, which resemble oversized tail-less beavers, was eventually caught June 12 and the other remained free until June 28. The zoo has said the couple credits their "long time apart" for kindling the passion that led to the birth of the three pups in February. The zoo held a naming contest for their three pups, with the winning names attracting 32,519 votes online, the zoo announced Saturday. The zoo said 44,817 votes were cast in total. Runners-up included "Snap, Crackle and Pop", and "Mocha, Chino and Latte." The zoo received over 12,600 name suggestions for the capybabies. The shortlist, narrowed down to 10 trios, was announced at the end of May.
Here was Geddy Lee's reaction to the news:
"Thanks to all who voted to give us this special honour," he said, through his publicist. "By the way, which one is me? In the picture I saw none of them were wearing glasses."
And Alex Lifeson also had something to say:
... Lifeson, who is in Europe, told Billboard in an email, "Ahhh, so this is what happened when their mom and dad ran away! It is really a very cool honour to have these triplets named after us and many thanks to all who voted." ...
The Zoo is also accepting donations to shore up the living conditions of the capybaras, which you can find out more about here.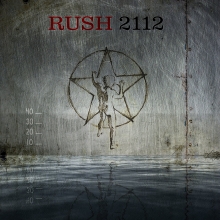 TeamRock.com announced the nominees for their 2017 Progressive Music Awards earlier this week, and Rush's 2112 40th anniversary box set - released this past December - has been nominated in the Reissue of the Year category. You can cast your vote for Rush online at this location. The 2017 Progressive Music Awards will return to the Underglobe, beneath Shakespeare's Globe Theatre on London's Southbank, on Thursday September 14th. For all the details and to vote in all the other categories visit 2017.prog.awards.teamrock.com. On a related note, Sunrise Records is running a Rush 2112 40th anniversary contest via their Facebook page where the prizes include five custom Fender 2112 Geddy Lee jazz basses, four custom 2112 DW performance snare drums, twenty theater lobby posters, and twenty Rush 2112 drum skins. For all the details and to enter the contest go to this location (open to Canadian residents only).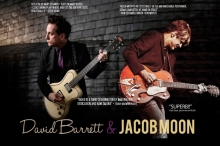 Jacob Moon and David Barrett have achieved their fundraising goal in an effort to organize a FREE concert of Rush and Rush-inspired music at the Lee Lifeson Art Park on Wednesday, July 19th. The pair launched a GoFundMe page a few weeks ago and after surpassing their original goal of $2112 and ensuring that the concert will happen, are now attempting to raise some more funds in order to enhance the experience:
One little victory! We have surpassed our goal! We have you to thank for the incredible outpouring of support you all have shown here, and David and I want to thank you from the bottom of our hearts for making our music dream possible.

If we get to our next goal of $2500 then we can afford to have a proper stage and even better sound. At $3000 we will be able to devote a healthy budget towards Facebook ads to promote the concert beyond the handful that currently know about it. ...
And in a later update they had even more good news:
This just in! David Barrett has been in talks with veteran Rush producer Terry Brown to mix our version of 'Time Stand Still'(!!). If we can get to $3000, then we will have the wherewithal to hire this incredible recording genius, and you will get to hear the result. So let's see if we can get it there in the next two weeks! Which reminds me that I've gotta get back to my work on arranging that tune...
So far they've raised over $2200 and you can help them reach their goal of $3000 at this location. Canadian singer-songwriter Jacob Moon garnered the attention of Rush and their fans when he posted a YouTube video of himself performing an impressive rooftop solo rendition of Rush's Subdivisions several years ago. The video quickly went viral, and Rush later asked Jacob to perform the song at their Canadian Songwriters Hall of Fame induction ceremony back in March of 2010. Since then Moon has covered some other Rush songs including a rendition of Something for Nothing that was on the recent 2112 40th anniversary reissue, and also performed at the opening of the Lee Lifeson Art Park in Willowdale last fall. Musician David Barret of the David Barrett Trio is friends with Alex Lifeson, who helped produce the band's first 2 albums and the Trio often covers Rush and are a regular act at Lifeson's Toronto club The Orbit Room.
Canada is celebrating its 150th birthday tomorrow, July 1st on Canada Day and to commemorate the occasion, Boom 97.3 spoke with several Canadian celebs and musicians to talk about their fellow Canadian artists. Rush is the subject of the discussion from about the 1:35-2:20 mark of this video interview where Boom 97.3 DJ Stu Jeffries and Mark Holmes (Platinum Blonde) talk about why they love Rush. Sirius XM Canada is celebrating Canada's 150th birthday by compiling a list of the 150 Greatest Canadian Songs of All Time. You have one more day to cast your vote by going to 150.siriusxm.ca and voting for your three favorite Canadian (all Rush of course!) songs. Sirius XM Canada will then reveal the top 150 songs on Sirius XM tomorrow for Canada Day. On a related note, Global News came up with their list of 50 legendary Canadian songs to celebrate Canada's 150th and Rush's Tom Sawyer made the cut at #11:
Talk about a stadium anthem! Tom Sawyer is one of Rush's biggest tunes, and is widely considered one of the greatest rock songs of all time. Recorded in 1981, the synthesizer is a big player in Tom Sawyer, and heralded the beginning of the '80s rush (pun intended) to synthesized music.
Tom Sawyer also made the Toronto Sun's celebratory playlist of the 150 best Canadian songs, the Chronicle Herald's Canada 150 playlist, and gets a mention in this article from Medicine Hat News. Thanks to RushFanForever for the heads up on all the Canada 150th celebration news.
Online satirical news site Nevada County Scooper posted an article earlier this week titled Rush's Geddy Lee Gigs as One Man Band at Area Mall which imagines Ged as a one man band performing outside a mall in Sarnia, Ontario.
Here's some video of the High Park Zoo announcement of Rush winning the naming of the capybabies poll:
That's all for this week. Happy Canada Day (and 150th birthday) to all of my Canadian readers, and a happy Fourth of July to all of my fellow American readers. Have a great weekend everybody!