German drummer, composer and multi-instrumentalist Marco Minnemann announced the upcoming July 29th release of his new album BOREGO via his Facebook page this morning. Rush's Alex Lifeson is one of the guest musicians on the album along with Joe Satriani and others:
It is my utmost pleasure to announce my new album, BORREGO. An album inspired by the hauntingly beautiful Anza Borrego desert landscape and its stories. The album also features ALEX LIFESON from RUSH on guitar, who also co-wrote one of the center pieces of the album and delivered amazing and beautiful guitar arrangements on 3 of the tracks. And then, JOE SATRIANI, who performed stunning guitars on 4 of the songs. I feel very honored and grateful for having these legendary artists with me on this release. Other fantastic contributors are Elizabeth Carey on violin, Brigitte Roka and Donna Zed on vocals. And Tony Levin on bass for one of the CD bonus cuts. Watch this space for more clips and news. ...
To learn more visit marcominnemann.com, and you can watch a video preview of the album on YouTube.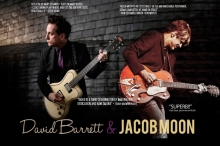 Canadian singer-songwriter Jacob Moon garnered the attention of Rush and their fans when he posted a YouTube video of himself performing an impressive rooftop solo rendition of Rush's Subdivisions several years ago. The video quickly went viral, and Rush later asked Jacob to perform the song at their Canadian Songwriters Hall of Fame induction ceremony back in March of 2010. Since then Moon has covered some other Rush songs including a rendition of Something for Nothing that was on the recent 2112 40th anniversary reissue, and also performed at the opening of the Lee Lifeson Art Park in Willowdale last fall. Musician David Barret of the David Barrett Trio is friends with Alex Lifeson, who helped produce the band's first 2 albums and the Trio often covers Rush and are a regular act at Lifeson's Toronto club The Orbit Room. Moon and Barrett have recently teamed up to try and organize a FREE concert of Rush and Rush-inspired music at the Lee Lifeson Art Park on Wednesday, July 19th, but they need some help from fans to make this happen and have started a GoFundMe campaign to generate the funds necessary:
... Since that day of [the Lee Lifeson Art Park] opening, the Artpark has been largely silent. There is no plan for regular music there, and we're pretty sure no one has played a Rush song there since.

That's where we need YOU!

It seemed a crime to me and my friend David Barrett (David Barrett Trio) that no one was carrying the torch for this music at this special place, designed to honor Geds and Lerxst. I perform several Rush songs in my set regularly, and we would love to take up the challenge to add a few more, along with songs from our original catalogs and a few related covers.

We would like to come and perform a duo concert at the Lee Lifeson Artpark in Toronto on Wed July 19 at 7pm. The idea is to make it FREE admission to the public where you can come and bring your friends. Plus we will be including a live stream feed, so our international fans can enjoy the show, even if they can't make it to Toronto.

We are going to use the funds to cover costs associated with recording a new dup version of 'Time Stand Still' by Rush (one of the perks listed to the right of your screen), as well as costs associated with production, rehearsal, promotion, permit fees and personnel so that we can bring this special event free of charge to all.

Thank you for your support in making this event possible. Our dream is to make it an annual gathering of fans and locals. You are keeping the music alive, and you have our gratitude and our commitment to bring you a night to remember!

If we happen to raise more than we had hoped to for this concert, we will invest it into better sound and visuals for the concert, as well as a bigger push to the community. Also if we receive enough extra funding, it will help us produce more recorded music for you to enjoy. ...
They are currently around 3/4 of the way to their goal of $2112 (clever!) to make this concert happen, so go help them out!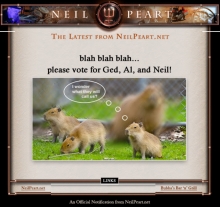 Toronto's High Park Zoo celebrated the birth of a trio of capybara pups earlier this year and a few weeks ago the Friends of the High Park Zoo opened up an online poll to enlist the public's help in naming them. One of the possible name combinations given in the poll is "Alex, Geddy, Neil". The poll closed this past Monday and the winner will be revealed tomorrow at Noon according to the High Park Zoo website:
Voting has now closed. The results will be revealed and the most popular names will be given to our capybabies at a celebration at High Park Zoo on Saturday, June 24 at noon. Please join us for refreshments! Stay tuned for exciting updates - the results will also be posted online! ...
The zoo is also accepting donations to shore up the living conditions of the capybaras, which you can find out more about here.
The Chicago Daily Herald posted a throwback Thursday photo gallery of life in the Chicago Suburbs of June, 1977 - 40 years ago. Two of the photos depict a visit that Rush made to Hersey High School in Arlington Heights as described in this Circus Magazine article from August, 1977. The band had a lull in their tour schedule from mid-June to mid-August that year, so it must have been around mid-late June of 1977 (they returned from a European leg in mid-June). One photo shows the trio sitting in the front row of the auditorium looking bored with some sleepy students sitting around them. The other is of Geddy walking from their car into the high school. Thanks to RushFanForever for the heads up.
British progressive rocker Andy Tillison (The Tangent) recently penned an article for Progarchy.com titled Rush and The Tangent: Influences and Speed - the fourth in a series where Tillison profiles albums that have influenced his band The Tangent. In this installment Tillison chooses Rush's Moving Pictures although talks in more general terms about Rush's influence rather than focusing solely on that album:
... Rush are their own blend of styles and inspirations, their own unique Prog recipe that used ingredients of Zep, Sabbath, Yes, occasionally Genesis, Purple and ELP. They plough their own furrow - use their own rules and have stayed resoloutely together in the same lineup since their second album. For this they have my admiration and respect. Like Van Der Graaf Generator they would include references to academic philosophy and literature in their work and this had the wonderful effect of several thousand biker types throwing their fists at the sky to an idea that might have had its roots in Nietzsche. Rush aim high. Always did. ...
Canada is celebrating its 150th birthday this year and to commemorate the occasion, the Calgary Herald asked 15 Canadian artists to list off their top 10 Canadian tunes, generating a celebratory Canadian playlist of 150 songs (thanks RushFanForever). Jazz drummer Nick Fraser's list was the only one to include a Rush song - Natural Science. In his introduction he says, "Of course, like most Canadian drummers, I wouldn't be who I am without Neil Peart." On a related note, Sirius XM Canada is celebrating Canada's 150th birthday by compiling a list of the 150 Greatest Canadian Songs of All Time. You can cast your vote by going to 150.siriusxm.ca and voting for your three favorite Canadian (all Rush of course!) songs. Sirius XM Canada will then reveal the top 150 songs on Canada Day this coming July 1st. Indie88.com is also running a poll to determine the Greatest Canadian Song of All Time and 2 Rush songs are in the running: 2112 and The Spirit of Radio. You can go vote at this location.
Longtime booking agent and current president of Artist Group International Marsha Vlasic was recently interviewed for Larry LeBlanc's In the Hot Seat at Celebrity Access Wire. Vlassic worked with Rush back in their early days and is credited in the liner notes of the band's debut album as Marsha Weiss (the name she used in her business at that time). It's an interesting read and Rush gets a few mentions in it. You can check it out online here (thanks RushFanForever).
Airline pilot Jed K relayed a great Rush 2112/YYZ story to me last week. Apparently while flying over Michigan recently, he heard an Air Canada 2112 call on the radio. After the controller answered, the pilot said, "Now that's a cool callsign!" They replied, "Thanks!" and added, "We're also going to YYZ!". :)
The opening video for game 5 of the NHL Stanley Cup Finals between the Penguins and Predators earlier this month featured Rush's Limelight as seen in this YouTube video (thanks RushFanForever).
The Classic Albums Live tribute project is currently featuring Rush's 2112 and debuted their show at Massey Hall in Toronto a couple of weeks ago - almost exactly 41 years after Rush performed there and recorded the shows for their first live album All the World's a Stage (those shows were on June 11,12,13, 1976). David Barrett of the David Barrett Trio was one of the participating musicians and used the same guitar that Alex Lifeson played at those very shows 41 years ago. You can check out a photo gallery of the concert here and check out some video of the performance below. Classic Albums Live performed 3 2112 shows in Florida this past weekend and will be playing more shows later in the year. For a complete tour schedule check out their website here.
That's all for this week. Have a great weekend!!