UPDATE - 6/29@9:27AM: Here's the latest update:
This just in! David Barrett has been in talks with veteran Rush producer Terry Brown to mix our version of 'Time Stand Still'(!!). If we can get to $3000, then we will have the wherewithal to hire this incredible recording genius, and you will get to hear the result. So let's see if we can get it there in the next two weeks! Which reminds me that I've gotta get back to my work on arranging that tune...
----- snip -----
UPDATE - 6/27@10:01AM: The initial goal of $2112 has been reached so the concert is on! They are looking to raise some more funds if possible to enhance the experience:
One little victory! We have surpassed our goal! We have you to thank for the incredible outpouring of support you all have shown here, and David and I want to thank you from the bottom of our hearts for making our music dream possible.

If we get to our next goal of $2500 then we can afford to have a proper stage and even better sound. At $3000 we will be able to devote a healthy budget towards Facebook ads to promote the concert beyond the handful that currently know about it. ...
----- snip -----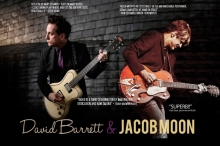 Canadian singer-songwriter Jacob Moon garnered the attention of Rush and their fans when he posted a YouTube video of himself performing an impressive rooftop solo rendition of Rush's Subdivisions several years ago. The video quickly went viral, and Rush later asked Jacob to perform the song at their Canadian Songwriters Hall of Fame induction ceremony back in March of 2010. Since then Moon has covered some other Rush songs including a rendition of Something for Nothing that was on the recent 2112 40th anniversary reissue, and also performed at the opening of the Lee Lifeson Art Park in Willowdale last fall. Musician David Barret of the David Barrett Trio is friends with Alex Lifeson, who helped produce the band's first 2 albums and the Trio often covers Rush and are a regular act at Lifeson's Toronto club The Orbit Room. Moon and Barrett have recently teamed up to try and organize a FREE concert of Rush and Rush-inspired music at the Lee Lifeson Art Park on Wednesday, July 19th, but they need some help from fans to make this happen and have started a GoFundMe campaign to generate the funds necessary:
... Since that day of [the Lee Lifeson Art Park] opening, the Artpark has been largely silent. There is no plan for regular music there, and we're pretty sure no one has played a Rush song there since.

That's where we need YOU!

It seemed a crime to me and my friend David Barrett (David Barrett Trio) that no one was carrying the torch for this music at this special place, designed to honor Geds and Lerxst. I perform several Rush songs in my set regularly, and we would love to take up the challenge to add a few more, along with songs from our original catalogs and a few related covers.

We would like to come and perform a duo concert at the Lee Lifeson Artpark in Toronto on Wed July 19 at 7pm. The idea is to make it FREE admission to the public where you can come and bring your friends. Plus we will be including a live stream feed, so our international fans can enjoy the show, even if they can't make it to Toronto.

We are going to use the funds to cover costs associated with recording a new dup version of 'Time Stand Still' by Rush (one of the perks listed to the right of your screen), as well as costs associated with production, rehearsal, promotion, permit fees and personnel so that we can bring this special event free of charge to all.

Thank you for your support in making this event possible. Our dream is to make it an annual gathering of fans and locals. You are keeping the music alive, and you have our gratitude and our commitment to bring you a night to remember!

If we happen to raise more than we had hoped to for this concert, we will invest it into better sound and visuals for the concert, as well as a bigger push to the community. Also if we receive enough extra funding, it will help us produce more recorded music for you to enjoy. ...
They are currently trying to raise $2000 to make this concert happen, so go help them out!