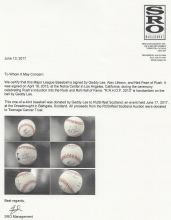 This year's Rushfest Scotland Scottish Rush fan convention will take place tomorrow, June 17th in Bathgate, Scotland and all funds raised will go to support the Teenage cancer Trust. Geddy Lee has graciously donated a baseball signed by all three members of Rush to help them raise money for the charity, and you can enter for a chance to win this unique item by donating at least 5 GBP (8 USD, 10CAD, 6.5 EUR). The ball was signed back in 2013 when Rush was inducted into the Rock Hall. You can check out the letter of authenticity including some pics of the ball here. The draw will be made by Geddy's brother Allan Weinrib via Skype at the Rushfest Scotland event. For all the details and to enter visit this website, and for more details on RushFest Scotland, visit their Facebook page.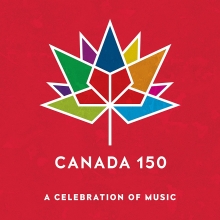 Canada is celebrating its 150th birthday this year and to commemorate the occasion, Universal Music Canada is releasing a new compilation of Canadian music titled Canada 150: A Celebration of Music. The 6-CD set comes packaged in a 60-page, 10x14" hardcover book and includes 2 Rush tracks - Tom Sawyer and Lakeside Park. There's also a single CD Canada 150: Icon edition that includes 11 of the most globally recognizable Canadian hits, one of which is Tom Sawyer. The compilation will release on the eve of Canada's 150th birthday this coming June 30th in Canada, and it will also be available via import in the US on July 7th. On a related note, Sirius XM Canada is celebrating Canada's 150th birthday by compiling a list of the 150 Greatest Canadian Songs of All Time. You can cast your vote by going to 150.siriusxm.ca and voting for your three favorite Canadian songs - all of which should obviously be Rush songs! :) Sirius XM Canada will then reveal the top 150 songs on Canada Day this coming July 1st.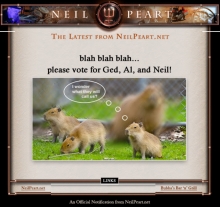 Toronto's High Park Zoo celebrated the birth of a trio of capybara pups earlier this year and a few weeks ago the Friends of the High Park Zoo opened up an online poll to enlist the public's help in naming them. One of the possible name combinations given in the poll is "Alex, Geddy, Neil". After a flurry of voting over the past few weeks, Alex, Geddy, Neil is currently in a tight race with Snap, Crackle, Pop for the top spot. Things got so contentious that the poll organizers decided to stop showing the results, so we currently don't even know who's in the lead. Neil Peart's official website even sent out a newsletter update to subscribers urging folks to vote as seen here. It looks like the poll is limited to one vote per device, so crank up all of your various devices and go vote for Rush! The voting period closes this coming Monday, June 19th. The zoo is also accepting donations to shore up the living conditions of the capybaras, which you can find out more about here.
The Classic Albums Live tribute project is currently featuring Rush's 2112 and debuted their show at Massey Hall in Toronto this past weekend - almost exactly 41 years after Rush performed there and recorded the shows for their first live album All the World's a Stage (those shows were on June 11,12,13, 1976). David Barrett of the David Barrett Trio was one of the participating musicians and used the very same guitar that Alex Lifeson played at those very shows 41 years ago. You can check out a photo gallery of the concert here. Classic Albums Live performed 2112 last night in Lakeland, FL and will be doing 2 more performances in the Sunshine state this weekend along with some more shows later in the year. For a complete tour schedule check out their website here.
Kelefa Sanneh wrote a lengthy piece for New Yorker magazine this past week titled The Persistence of Prog Rock where he dissects the origins of progressive rock music with particular attention paid to David Weigel's new book The Show that Never Ends (which was recently reviewed by NPR and The New Republic). Here's what the article had to say about Rush (thanks Charlie A):
... In the seventies, prog-inspired American bands like Kansas and Styx had conquered arenas, and by the end of the decade there was Rush, a Yes-obsessed trio of Canadians who received even worse reviews than their British forebears. One reason was their avowed love of Ayn Rand; an influential and absurd review in New Musical Express, a British magazine, accused them of preaching "proto-fascism." Another reason was that, by the late seventies, progressive rock was about the most unhip music in existence. "The fans showing up to hear Rush were the wrong kind of fans-the mockable ones, with mockable taste in music," Weigel writes, holding up this judgment for ridicule without quite dissenting from it. (No doubt he was sorely tempted to use the term "deplorables.") By the time Rush emerged, progressive rock had entered its never-ending defensive phase; uncoolness is now part of the genre's identity, and even a devoted fan like Weigel may not be entirely sure whether he wants that to change. ...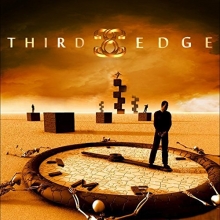 Reno-based indie rock band The Third Edge recently released their latest album T.I.M.E., which was inspired by and serves as a continuation of the story in Rush's 2112. From the band's website:
In the year 2132 on a distant refugee planet governed by totalitarian priests, a once-orphaned boy discovers his biological father was murdered by the very priests who raised him. The execution prevented a potential revolution after discovering the free-thinking power of earth music, and the possibility of revealing a galactic-wide conspiracy over the millennia to overtake all life-producing planets. The young man then seeks revenge on the priests. ...
The band was recently interviewed by ThisIsReno.com and explained how the album's concept came to fruition:
"T.I.M.E." took on a life of its own while we were writing it. At first, we thought we just had a bunch of random song ideas. But after a while, we realized that when you put them in a certain order that they actually started to tell a story that we never initially intended. Soon, it became a concept album about the son of the 'Anonymous' character of Rush's epic "2112" album from 1976. ...
You can learn more about the band via their website and check out T.I.M.E. on Amazon, iTunes, and/or Spotify.
This past Monday, June 12th marked the 5th anniversary of the release of Rush's last (final?) album - Clockwork Angels. John at Cygnus-X1.net posted a great retrospective review of the album to commemorate the album's 5th anniversary which you can check out here. Here's Rush performing the album's closing track The Garden from the Clockwork Angels Tour concert video:
That's all for this week. Have a great weekend!!