In the latest episode of the Digital Men podcast (Episode 52: The Man Who Lit The Lighted Stage), longtime Rush lighting director Howard Ungerleider is interviewed for over 90 minutes and talks about how he got involved with Rush, what he loves and hates about being on the road, tells some backstage stories about Alex Lifeson and gives his opinion on whether or not Rush will ever hit the road again. Here's what he had to say on that subject:
I don't think so. They may play in the studio together. But I don't see it. I don't really see it happening. I mean, you may ask their manager who says, "absolutely". But you know Ged and Al - they enjoy playing. They'll go and they'll do something. It won't be much, but it may be something different. I don't think [Ged and Al] are finished. Neil's had a rough go. He's had a lot of medical issues that prevent him [from touring]. When you're really good at what you do - like a hockey player or any kind of sports figure - and you're at the top of your game, and then you get injured. You can go back out there, but you're not gonna give it your best. And when all your life you try to give it your best, you don't want to settle for something that's gonna be anything less than that. It's the choice of, "I have to opt out". That's what the song "Losing It" is about. Check the lyrics. You get to a certain time when you have to say, I'm not gonna make a fool of myself by trying to attempt to do something I'm not capable of doing anymore. I think that what [Neil]'s capable of doing, what he feels is "less" is probably 10 times better than what anyone else could do. At the same time it's self satisfaction - you don't wanna give any less than you're noted for. There are a lot of people out there that go out on that stage and they're not very good. People say just bad things, and you think why are you even doing it. And that's his feeling - I'm not gonna embarrass myself by trying to do something that I know is going to be very difficult. And you gotta respect that.
You can listen to the entire 90-minute podcast at this location, and be sure to catch new episodes of the Digital Men podcast every Sunday evening.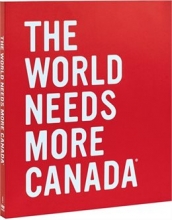 Canada is celebrating its 150th birthday this year and Sirius XM Canada is commemorating the occasion by compiling a list of the 150 Greatest Canadian Songs of All Time. You can cast your vote by going to 150.siriusxm.ca and voting for your three favorite Canadian songs - all of which should obviously be Rush songs! :) Sirius XM Canada will then reveal the top 150 songs on Canada Day this coming July 1st. Also in celebration of Canada's 150th birthday, a new book by Heather Reisman titled The World Needs More Canada will release next month on June 15th. This coffee-table book features anecdotes, insights, and candid photography from an eclectic mix of over 100 Canadian storytellers and visionaries including Geddy Lee. On page 21 of the book Geddy describes his most Canadian memory:
"My most 'Canadian' memory is going to a recording session with Bob and Doug McKenzie to sing the chorus to Take Off from The Great White North while my wife, Nancy, my eight-month old son, Julian and I were wearing toques."
The excerpt also includes a photo of Geddy with Bob and Doug from Geddy's personal photo collection. You can pre-order a copy of the book online here. Thanks to RushFanForever for the info.
Speaking of Geddy Lee and new books, we learned last month that Geddy Lee himself has been working on a book about bass guitars, which explains all of the vintage bass photos he's been posting to his Instagram page over the last several months. Just this past week he posted a photo of a group of vintage Precision jazz basses as seen here:
"Mr. P...we're ready for your closeup"
Throwing some love at the 50's and 60's Precisions today.... Love 'em!
#FenderPBass #vintagebassguitars
#bassporn #HappyVictoriaDay #customcoloursrule
#PrecisionFest2017
There's no word yet on when we might see the book released, but it looks like the publisher will be Harper Collins or one of its subsidiaries. Geddy also posted a few photos yesterday for throwback Thursday of a 2014 trip he took to Italy to visit well-known winemaker Angelo Gaja.
Geddy Lee and his love of Texas barbecue are mentioned in this recent article at the Texas BBQ Posse site (thanks John M):
... Last weekend, I rode with Michael Meadows, a long-time Posse member and the former head of the Dallas Zoo. Never knew before that he was a moonlighting rock singer. He will perform with The MalFUNKtions at the Lone Star Roadhouse in Dallas May 19. Michael also told me about an earlier band, a long time ago, composed of friends at Highland Park High School. Called Mercury, they covered songs by groups such as Rush and its lead singer Geddy Lee. ... The Posse's Meadows says he's concentrating now on stuff people can dance to, such as Secret Agent Man. But I did manage to find some old Mercury cuts online, and I gotta admit that teen-aged Michael Meadows did a mean Ged. I sent a link of Mercury's version of The Trees to the biggest Rush fan I know, Barry Vigoda, formerly with The Dallas Morning News, now ESPN. A good portion of Barry's spare time, with only slight exaggeration, is spent going to Rush concerts, as well as shows by Rush tribute bands. "Really good," Barry messaged back about Mercury. "Band was a little fast, but vocals are really close." Good job, Michael! We'll get a singalong going on the our next tour together. And here's where Blackie's Scattershooting technique delivers a nice synchronicity. On a trip to Austin in 2013, Geddy Lee revealed his love of Texas barbecue in a Tweet: "Thanks to J.Mueller. . .Best BBQ Ever!!!" John Mueller Meat Co., a top 10 joint in 2013, is gone now. So, I wonder what Geddy will say about TM's new Top 50 list?
PGA.com posted an article yesterday highlighting PGA golfer Rocco Mediate and his longtime friendship with Alex Lifeson (thanks Eric at Power Windows):
In 1992, Rocco Mediate was preparing to play in the 74th PGA Championship at Bellerive Country Club in St. Louis, when he learned his favorite band Rush would be in town at the same time. So, he sent an invite to the members of Rush to join him for a round of golf at Bellerive. Guitarist Alex Lifeson accepted the offer, and the two played a round close to the time of the PGA Championship. ... The golf bug struck a sweet chord with Lifeson. Since then, Mediate and Lifeson went on to appear together in one of the first episodes of "Playing Lessons from the Pros" on Golf Channel. During his touring days with Rush, Lifeson was known to play golf regularly and reportedly had a handicap in the single digits. In 2006, Lifeson became a co-owner of the Tom Fazio-designed Coppinwood Golf Course near Toronto. When Mediate played the Canadian Open in 2010, he sported a Rush hat during a round and was also seen wearing Coppinwood apparel. Despite his low handicap, Lifeson characteristically uses self-deprecating humor to describe his golf game. "I remember how thoughtful and considerate Rocco was," said Lifeson in 2013. "He spent a great deal of time with me, a truly novice golfer, on the range hitting a million 7-irons. The thing is, he still spends time with me on the range, so either he's a dear friend or I'm a pretty lousy golfer...or maybe both! ...
Toronto's iconic Hard Rock Cafe unfortunately closed its doors this past weekend after nearly 40 years at Yonge and Dundas. The location was home to a number of Canadian rock artifacts, including an Alex Lifeson Gibson guitar and a Geddy Lee Fender Jazz bass.

Our friends over at FANTOONS will be at Phoenix Comicon all this weekend where they'll be premiering their new 2112 flip book. Just stop by booth 1768 to check out the flip books and mention the secret word Slobovich to get a free goodie. They've also created this fun little video for the occasion:
That's all for this week. Have a great Memorial Day weekend everybody!!