Dynamic Soundgarden front-man and grunge pioneer Chris Cornell tragically passed away Wednesday night at the age of 52 from an apparent suicide (although that's still under debate). Rush and Cornell shared a mutual admiration for each other's music (Cornell called Rush one of his favorite bands of all time), and Rush posted the following statement to their Facebook page yesterday morning in reaction to the news:
This is shocking and terribly sad news....Chris Cornell was not only an amazing musician but also a generous spirit that will be sorely missed. Soundgarden, Temple of the Dog, Audioslave, solo. What a voice. What a body of work. Our thoughts are with his family, bandmates, friends and fans....Truly heartbreaking.
RIP Chris
Cornell was in attendance at Rush's 2013 Rock Hall induction where he had the honor of inducting Heart. Cornell took the stage with Rush, Heart and others for the all-star Super Jam of Crossroads at the end of the show as seen in this video. RIP.

There was a Rush reference on Tuesday night's episode of the NBC sitcom Great News (Season 1, Episode 7 - The Red Door). Towards the end of the episode Carol (Andrea Martin) stows a wax statue of Chuck on the roof of the news building, which causes all of Chuck's co-workers to think he's trying to commit suicide. They proceed to try to talk him down and the real Chuck overhears all the nice things they are saying about him. Carol turns to Chuck and says, "All those people care about you." Chuck then says, "I feel like Tom Sawyer.". To which Carol replies, "Like you're at your own funeral?". Chuck answers, "No - like I'm an amazing song by Rush!. The reference occurs at about the 18-minute mark and you can watch the episode online here.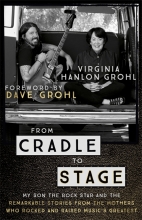 The new book from Foo Fighters frontman Dave Grohl's mother Virginia Hanlon Grohl released last month. It's titled From Cradle to Stage: Stories from the Mothers Who Rocked and Raised Rock Stars and contains a chapter on Geddy Lee's mother Mary Weinrib. Geddy plugged the book earlier this week in an Instagram post which included a photo of Mary and Dave Grohl:
Hey! My mom's in a book! There is a chapter about her life in Ginny Grohl's cool new book "From Cradle to Stage" ... Man...she loves the Rock and Roll hang... even at 92!
You can order your copy at this location (this location for UK readers).
Dave Banks posted a great article over at GeekDad this past week where he profiles FANTOONS and all of the great official Rush merchandise they have to offer. In case you don't already know, FANTOONS has been wowing us with their incredibly creative Rush fan art, prints, books, t-shirts and more for the past few years. You can check out all of their unique, officially-licensed Rush merch over at their Etsy Store.

A few of the organizers of Rush RatCon - an independent Rush fan gathering that took place from 2009-2015 - will be hosting a Rush Camp over Labor Day weekend. The event will take place at Independent Lake Camp in the northern tip of the Pocono Mountains near Scranton, PA, and include 2 nights accommodations in a shared cabin, buffet-style meals, swimming, boating and a ton of Rush music and activities. There will be a silent charity auction with some special Rush inspired items, fun giveaways and performances by Rush tribute bands. Just this past week they announced that David Barrett (David Barrett Trio aka DB3) and Michael Sadler (Saga) will be performing on the Friday evening of the Camp. DB3 is a Toronto-based instrumental trio that had their first two albums produced by Alex Lifeson and are currently working with former Rush producer Terry Brown. They recently recruited Sadler to provide some vocals. For all the details and to register, visit the website here and check out the flyer. Special ticket pricing ends on May 31 at 21:12 (9:12PM), after which the price for the weekend will increase from $259 to $299.

Reader Julio R recently paid a visit to the Hard Rock Cafe in Tampa, FL and snapped a photo of their elaborate Rush display, which includes Alex Lifeson's Hughes & Kettner amps from the Time Machine tour, an Alex Lifeson guitar, a Geddy Lee bass, a Geddy Lee keyboard and a Neil Peart jacket. You can check out a photo of the display here.
Here's Chris Cornell with Rush, Heart and others performing Crossroads for the all-star Super Jam at the end of the 2013 Rock Hall induction ceremony:
That's all for this week. Have a great weekend everyone!