UPDATE - 5/14@9:48AM: The Rock Hall has now uploaded the entire Rockin' the Free World Super Jam video on their official YouTube channel here (thanks RushFanForever).
----- snip -----
Geddy Lee was very busy on his official Instagram page this past week, where he posted a few photos from last month's Rock Hall induction ceremony, along with this photo of 4 of his Golden bass guitars from his collection:
Sunshine today!! So I'm pullin' out some "Olden Goldies" to have some fun with .. Shoreline Gold and Firemist Gold in all their various timeworn glory... #spottheshoreline #vintagebassguitar #FenderBass #bassporn #customcolours
#nomorerain
One of the Rock Hall induction images shows Geddy playing with YES at the ceremony with this caption:
My great, great pleasure to induct and then get to play with one of my all time favourite bands...YES...at the RRHOF Induction! LONG overdue and so well deserved...
📸: Jamie McCarthy/WireImage
#YES #ChrisSquire #Roundabout #rrhof2017 #rrhof
Another shows Ged and Al backstage goofing around with Pearl Jams' Jeff Ament, and one other photo that Geddy posted yesterday has Ged gushing over one of Steve Howe's guitars:
Ok.. so backstage at the RRHOF I took some time to totally geek out with Steve Howe's awesome guitars .. and I was handed this one! THE Gibson ES-345 he used to record Close to the Edge...replete with his own mods.....whaaat? so effin cool!... #SteveHowe #ClosetotheEdge #GibsonES345 #areyoukiddinme ? #vintageguitar #yes #rrhof #tbt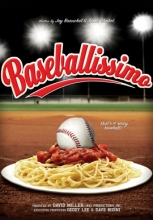 Speaking of Geddy, back in June of 2010 we learned that Geddy Lee had optioned the film and TV rights to Dave Bidini's 2005 book Baseballissimo. Variety magazine then reported back in 2011 that development on the film was moving forward with Jay Baruchel and Jesse Chabot as co-writers. Back in 2013 the Hollywood Reporter announced that veteran director Jacob Tierney would direct the film with a script by Baruchel, David Miller producing and Geddy Lee and Bidini executive producing. The film began casting shortly thereafter and actor Anton Yelchin was slated for the lead role. Yelchin then tragically passed away last summer and the film has since undergone a shakeup, with director Tierney being replaced by Richie Mehta and the film looking for a new lead actor as explained in this article from the Hollywood Reporter earlier this week:
... [Richie] Mehta replaces fellow Canadian filmmaker Jacob Tierney as director of Baseballissimo while the project regroups after Star Trek actor Anton Yelchin was set for the lead role in the Canadian indie, only to die in a car accident in mid-2016. Yelchin was to have played Kyle Buffone, a rising minor-league baseball player who gets detoured on the way to major-league stardom by pitching for the Peones, a team in Italy. A71 Productions, which is co-producing Baseballissimo with Gefilter Productions, also produced Mehta's Siddarth and Amal. The film is based on the book of the same name by Dave Bidini and is being produced by David Miller and executive produced by Geddy Lee and Bidini. ... Baseballissimo will be shopped to buyers in Cannes by WME and A71.
Dave Bidini is a Canadian musician, author and founding member of the Rheostatics who is also good friends with Geddy. Canadian actor Jay Baruchel is best known for his starring roles in the films She's Out of My League, The Trotsky, and How to Train Your Dragon, but Rush fans probably best recognize him as the star of Rush's Clockwork Angels Tour intermission video The Appointment. You can learn more about the film at the A71 Productions website.


Although we're not even half way into 2017, a couple of Rush wall calendars for 2018 have already popped up online and are now available for pre-order. The first is a 12"x12", 18-month calendar from BrownTrout Publishers, which celebrates the 40th anniversary of the 1978 release of Rush's Hemispheres, and depicts the album's cover on the front. It is slated for a July 1st release and can be pre-ordered here. The second calendar is from Aquarius and features photos from the band's entire 40-year career as seen in this preview. It's slated for an August 15th release and you can pre-order it at this location.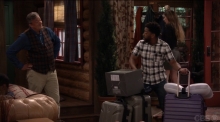 There was a Rush reference on this past Monday night's episode of the CBS sitcom The Great Indoors (Season 1, Episode 22 - The Company Retreat). The episode centers around a company retreat, and at one point Mason (played by Shaun Browns) enters the room with an overabundance of luggage for the retreat and Roland (Stephen Fry) says to him, "Do you always travel with the entire drum kit for Rush?" The reference occurs at about the 5:40-minute mark in the show and you can watch it online at this location.
A few of the organizers of Rush RatCon - an independent Rush fan gathering that took place from 2009-2015 - will be hosting a RushCamp over Labor Day weekend. The event will take place at Independent Lake Camp in the northern tip of the Pocono Mountains near Scranton, PA, and include 2 nights accommodations in a shared cabin, buffet-style meals, swimming, boating and a ton of Rush music and activities. There will be a silent charity auction with some special Rush inspired items, fun giveaways and performances by Rush tribute bands Cygnals and Solar Federation. For all the details and to register, visit the website here.
This past Monday, May 8th was the 2nd anniversary of the kick off of Rush's last (and final?) tour at the BOK Center in Tulsa. Rush fan and longtime RIAB reader Kelly D commemorated the occasion by writing this retrospective review of the show.
Here's a some video of the HBO broadcast of the Rockin' the Free World Super Jam at the end of the 2017 Rock & Roll Hall of Fame Induction Ceremony last month. Both Alex Lifeson and Geddy Lee participated in the jam and are featured in the video:
Another Rush milestone will occur this coming weekend, when Vapor Trails - Rush's comeback album - will celebrate the 15th anniversary of its May 14, 2002 release. That's all for this week. Have a great weekend!