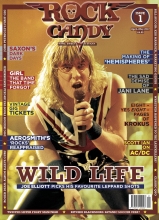 Rock Candy is a brand new, bi-monthly, 100-page rock publication produced and managed by a group of British rock journalists with decades of experience in music and mags, writing for legendary publications including Kerrang!, Metal Hammer and Raw. It's printed on real paper and celebrates the greatest era for rock - the 1970s and '80s. Their debut issue was recently released and contains a new interview with original Rush producer Terry Brown on the making of Rush's Hemispheres album. Here's Terry on some of the difficulties they encountered when recording the vocals on Hemispheres:
...[we] only needed two weeks to mix at Advision in London. We got to the last morning at Rockfield on the Hemispheres sessions, though, and we hadn't had time to do any vocals. So in the wee small hours we finally tackled one - and it wasn't a keeper. We thought, 'Okay, we've got some work to do here.' So we went to Advision with two weeks booked. Naively we thought we'd be able to record vocals and do the mix in that time. But this proved to be a much harder job than 'Farewell...' I remember that it was a real eye opener for everyone when we started doing vocals. It was like, 'Holy shit, this is really difficult.' In the end we used those entire 2 weeks to do vocals and had to take extra time to mix. The songs we'd recorded were a little high for Geddy and it was a lot of work for him. Doing the vocals was the most difficult period of the whole recording process. But Geddy rose to the occasion and worked his ass on. We ended up with some great vocals - and an album that still stands the test of time. ...
You can learn more about the magazine and how to get a copy via their website at rockcandymag.com.