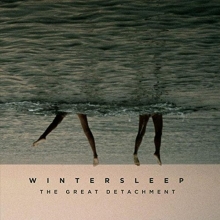 Canadian indie rock band Wintersleep's latest album The Great Detachment released last March via Dine Alone Records, and Rush's Geddy Lee makes a guest bass appearance on the track Territory. The album was nominated for a Juno Award earlier this week in the Adult Alternative Album of the Year category. Here's Wintersleep's Paul Murphy explaining to Rolling Stone how they managed to enlist Geddy:
... the band ran into trouble while fine-tuning the bass line on one of the tracks, "Territory." "It was cool but the song didn't feel as lively as it should in the end," Murphy explains. "Someone was like, 'What would Geddy Lee do?' jokingly, and Tony [Doogan, producer] was like, 'Oh, the best bass player in the world? He'd make it incredible. Why don't we just ask him?'"...
And so they did.
..."Wintersleep contacted me a while ago and asked me to play bass on this track," Lee told RS. "I had a listen and loved the song and the vibe of the band. I had a blast laying down a bunch of takes and sent them off to them. I'm happy to support a fellow Canadian band and wish them all the best with their new album." ... "Geddy's part was perfect because it had this great groove and locked into the vocal melody in the song from time to time, bringing more weight to the melody in important spots. It added a certain playful dimension to the equation because it's so dynamic. Also, Tony was able to strip the song down more in the mix in sections because the bass had such a neat character and fuller sound, which was huge for the song dynamically." ...
You can listen to the track on YouTube, and learn more about Wintersleep at their website here. The Juno Awards will take place March 27th through April 2nd in Ottawa.
The exhibit Rock 'n' Roll Icons - Photographs by Patrick Harbron is currently on display at the Albany Institute of History and Art through this coming Sunday, February 12th. SOCAN published a collection of photos of several Canadian rock icons from the exhibit to their website a couple of weeks ago which you can check out here. One of the photos featured is of Rush at Maple Leaf Gardens in Toronto, on Dec. 29, 1977 (thanks RushFanForever):
Photographed on the "Drive 'Til You Die" tour (supporting the Farewell to Kings album), at Maple Leaf Gardens in Toronto, on Dec. 29, 1977 ... In the summer of 1977 I wrote and photographed an article, for the Globe and Mail reviewing Farewell to Kings. At the time I was conflicted about whether to continue as a writer or become a photographer; when the Globe ran the piece with a huge photo, the decision was made. Toronto is our mutual hometown, and I met Rush after they recorded their first album. When I began as a young photographer they were one of the first bands I worked with. When I took this photograph, the band was enjoying their place as headliners in large venues, where they've remained. ...
The Red Hot Chili Peppers played a show in Toronto this past weekend and at one point in the set, decided to pay homage to Rush by playing a snippet of YYZ as seen in this video (thanks Redditor affonity).
Kepler Ten is a 3-piece progressive rock band from the UK, who also perform as the Rush tribute band R2. Kepler Ten have been working on original songs for the past couple of years and recently signed a deal with White Star Records, who will be releasing the band's debut album Delta V next Friday, February 17. TeamRock.com recently sat down with drummer Steve Hales for an interview where he talks about Rush's influence on the band:
"We never really think about Rush and other bands when we're writing music. I get a little too wound up in my own storyland to wonder if it echoes anything else." When we catch up with Steve Hales, co-founder and drummer of Kepler Ten, he's diplomatically keeping comparisons to the Canadian prog superstars at arm's length. As one of the founding members of the UK's premier Rush tribute act, R2, it would be all too easy to draw a line between his new project and his second life as the two-limbed maelstrom that is Neil Peart. It doesn't help either that the band's name sounds like a nod to Rush's extraterrestrial pursuits. ...
Tech 21 was on hand at the annual NAMM show last month in Anaheim, CA to show off their new Geddy Lee Signature SansAmp (the GED-2112), and Tech 21's John Bednar took some time out to speak with Premier Guitar magazine for a video interview that was posted to their YouTube channel a couple of weeks ago. In the video Bednar explains how they worked with Geddy to develop the SansAmp, and demonstrates all of its various settings and capabilities. Bednar also reveals that the GED-2112 has a list price of around $499 and should be available for purchase by April of this year. You can learn more about the GED-2112 via the Tech 21 website which also includes this nifty quote from Geddy himself:
The GED-2112 is really a continuation of my long-time approach to bass tone. A 'deep clean' tone coupled with the 'edgy crunch' I get from the SansAmp RPM now all in one box. With selectable A/B inputs, and separate balanced and unbalanced direct outputs, this box is the foundation for great bass tone in any setup. Plus it's green!
That's all for this week. Have a great weekend everyone!!