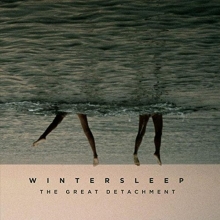 Canadian indie rock band Wintersleep's latest album The Great Detachment released last March via Dine Alone Records, and Rush's Geddy Lee makes a guest bass appearance on the track Territory. The album has just been nominated for a Juno Award in the Adult Alternative Album of the Year category. Here's Wintersleep's Paul Murphy explaining to Rolling Stone how they managed to enlist Geddy:
... the band ran into trouble while fine-tuning the bass line on one of the tracks, "Territory." "It was cool but the song didn't feel as lively as it should in the end," Murphy explains. "Someone was like, 'What would Geddy Lee do?' jokingly, and Tony [Doogan, producer] was like, 'Oh, the best bass player in the world? He'd make it incredible. Why don't we just ask him?'"...
And so they did.
..."Wintersleep contacted me a while ago and asked me to play bass on this track," Lee told RS. "I had a listen and loved the song and the vibe of the band. I had a blast laying down a bunch of takes and sent them off to them. I'm happy to support a fellow Canadian band and wish them all the best with their new album." ... "Geddy's part was perfect because it had this great groove and locked into the vocal melody in the song from time to time, bringing more weight to the melody in important spots. It added a certain playful dimension to the equation because it's so dynamic. Also, Tony was able to strip the song down more in the mix in sections because the bass had such a neat character and fuller sound, which was huge for the song dynamically." ...
You can listen to the track below or on YouTube, and learn more about Wintersleep at their website here. The Juno Awards will take place March 27th through April 2nd in Ottawa.