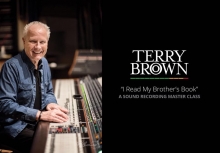 Former Rush producer Terry Brown will be hosting a full-day Sound Recording Master Class at Phase One Studio in Toronto on Saturday March 25th with the David Barrett Trio and Michael Sadler (Saga). From the Facebook event details:
This is a full day master class with legendary record producer Terry Brown. Terry will go through the entire recording process at Phase One studios in Toronto, with David Barrett Trio featuring Michael Sadler (Saga). The day will start with a meet and greet at 11am followed by microphone placement, bed tracks, overdubs, and finally the mixing process. All attendees will be in the control room with Terry and have a hands on experience as we finish a song from front to back. An informal Q&A session with Terry entitled "I Read My Brother's Book" will take place followed by a nightime reception with an in studio performance by David Barrett Trio and Michael Sadler. This event will be fully catered.
Terry Brown began working with the David Barrett Trio (aka DB3) last year. DB3 is a Toronto-based instrumental trio that had their first two albums produced by Alex Lifeson, and recently recruited Sadler to provide some vocals. Tickets for the workshop can be obtained via ticketscene.ca (thanks RushFanForever).