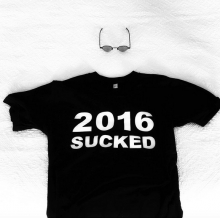 Geddy Lee was active on his official Instagram page over the Holidays this past week. On Christmas he posted the following photo of his two dogs along with this message:
Happy Holidays from Lucy and Stanley Wasserman...who have graciously agreed to pose for this photo, provided I open a fine bottle of burgundy for them....oh...alright...
#HappyHolidays
#HappyHanukah
#HappyXmas
#TheWassermansrock!
#dogsofinsta
And on New Year's Eve Geddy let us know exactly how he felt about 2016:
Just picked out my NYE outfit for tonite....good riddance... #2016sucked #toomanylostheroes #endlesslyrocking
#2017betterbebetter
#HNY2017
#feh
Thanks to RushFanForever for the heads up.