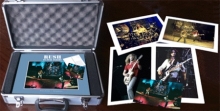 Independent UK publishing house Wymer UK Ltd. will be releasing a new collection of largely, previously unpublished photos of Rush next month titled Rush in Full Flight. From the product description:
... All the photos were taken between 1977-80 over 5 different gigs in Liverpool, Manchester and Coventry. Taking in the band's first UK tour in 1977, following the release of the double live All The World's A Stage album that paved the way for the Canadian trio to tour outside of North America for the first time. The bulk of the images come from the Hemispheres tour and concludes with images from the Permanent Waves tour.

Although many Rush photos from the UK around this time emanate from performances at London's Hammersmith Odeon, all the photos in this collection were taken at Manchester's Apollo Theatre, the Liverpool Empire and Coventry Theatre.

The book includes comments from the photographer plus additional text from rock author Jerry Bloom who wrote the 2005 publication Rush 1974 - 1981. The array of photos sees the band move and evolve during an extensive three year period. This full colour, hardback book sits neatly incased in foam within the aluminium flight case and is a beautiful addition to any Rush collection.

Rush In Full Flight offers a unique opportunity for Rush fans to own an exclusive item that fully reflects the band during a classic era and is bound to increase in value due to its limited nature. 

This strictly limited edition book comes with a set of 4 prints perfect for framing: One each of Geddy, Alex and Neil and one group photo. It also includes a pack of 10 postcards and 5 greeting cards all with the book's cover image on them. ...
Rush in Full Flight will be limited to 500 copies and is set to release on January 20th. You can pre-order your copy at this location.