UPDATE - 12/20@2:50PM: The contest is over! Rounder sent out an email newsletter with the following message earlier today:
Over 10,000 RUSH fans entered our "Geddy Leesa" contest,
but unfortunately there can only be one winner!
As a token of our appreciation, we want to offer you a special discount on Time Stand Still exclusively via the RUSH BACKSTAGE CLUB.
Enter the code "THEBAG2016" upon checkout for
10% off your order until December 24th!
----- snip -----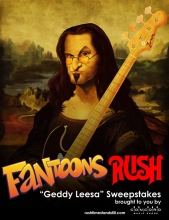 Rush and FANTOONS have just launched a new online contest/sweepstakes where one lucky winner will get a limited edition, FANTOONS Geddy Leesa print along with some other prizes. To enter the contest, fans just need to take this short quiz on how well they know Rush's new Rush: Time Stand Still documentary. The contest runs through 12AM on December 19th, and you get all the details and submit your entry at rushtimestandstill.com/fantoons. Good luck!