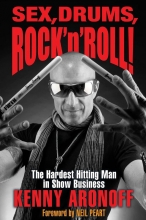 Legendary session drummer Kenny Aronoff has released a new book titled Sex, Drums, Rock 'n' Roll!: The Hardest Hitting Man in Show Business via Backbeat Books, which is now available to order online here. The book features a foreword by Neil Peart, which can be previewed online at this location. From the foreword:
... It is said that mastering any worthwhile skill, from athletics to drawing to playing a musical instrument, requires 10,000 hours of dedication. ... That takes a rare dedication, amounting to obsession, and a tremendous outpouring of energy-a gathering of words that starts to lead us toward a description of Kenny Aronoff. Energetic, dedicated, obsessed. Add in talented and well-schooled, musical and hard-rocking, and we are getting closer. ... I believe it was when Kenny was touring with Joe Cocker in the early 2000s that he rode with my longtime bus driver (from 1996 to 2015) Dave Burnette. It was Dave who told me that because Kenny was always flying somewhere on days off to do sessions with other artists, the crew called him "Can-He Earn-Enough?" But you know he was doing it for love-because he could, because he had the energy. There is a condition called "hyperthymia," humorously defined as "having so much energy, doing so many things, and getting so much done-that it annoys other people." Hold on to that thought for when you get to John Mellencamp's acid comment about Kenny and his "ambition." As if there is something wrong about wanting to play with everybody in the world-and then going out and doing it. As Dizzy Dean said, "It ain't braggin' if you can back it up." Kenny Aronoff can back it up. - NEIL PEART
You can order your copy ofSex, Drums, Rock 'n' Roll! here.