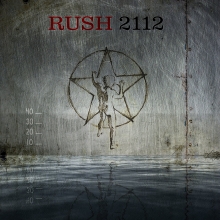 Rush will be releasing a 2112 40th anniversary Super Deluxe box set this coming December 16th, just in time for the Holidays. The standard edition is a 2CD+DVD set which includes a CD of 2112 remastered (again), another CD of some rock celebrity covers of the various songs on the album along with some live Massey Hall outtakes, and a DVD of the Live at Capitol Theatre 1976 show along with some other bonus videos. There's also a 3 LP version with the same content as the CDs along with a few bonus goodies. The Super Deluxe edition contains both the 2CD+DVD and 3 LP sets along with some additional bonus content. Geddy Lee and Alex Lifeson appeared on The Strombo Show on CBC Radio 2 this past Sunday to discuss the new box set and spin a couple of the included cover songs. They also spoke about the Rush: Time Stand Still documentary and Rush's future plans (or lack thereof). Here's what they had to say about the bittersweet feel of the band's (presumably) final tour:
Alex: "Anything that you do for the last time has a sense of longing and a bit of sadness, I think. After doing this, for Geddy and myself for 47-years - you took in every second of every show and scanned the whole crowd, put it in your memory banks.

Geddy: "There's also a bit of denial that gets you through it. You go - ah, this won't be the last one. We'll take a break and then we'll get back together and do another one... because you don't want it to end!

I think I've accepted that it's probably the last one as a tour. We'll see!"
When Strombo asked them whether they've been approached by other artists who want to work with them, here's what Geddy had to say:
... Yeah, I've had some approaches but I'm not ready to do anything yet ... make records with other people. ... I don't want to do something just to do it. It's got to be meaningful for me. It's gotta feel like it's meaningful. ... I know that I'll know it when it presents itself to me. ...
Strombo went on to ask if they have a "book of songs":
Ged: No.
Strombo: No songs left?
Ged: No songs.
Strombo: That's not true
Ged: really.
Al: I've got a bunch of stuff I've written over the years. But I think that when we write together that's a really special thing.
Strombo: Does that still happen?
Al: Well, we haven't.
Ged: Not yet but we probably will.
Al: We'll see.

You can listen to the entire, extended, 25-minute interview below or at this location, and listen to the entire 3-hour Strombo episode, including the complete Foo Fighters cover of 2112: Overture and a sample of Billy Talent's take on A Passage to Bangkok, here (at the 46 and 57:30 minute marks respectively).
You can get all the details regarding the contents of the 2112 40th anniversary edition via the official Rush.com press release and pre-order it on Amazon (2CD+DVD, 3 LP, Super Deluxe).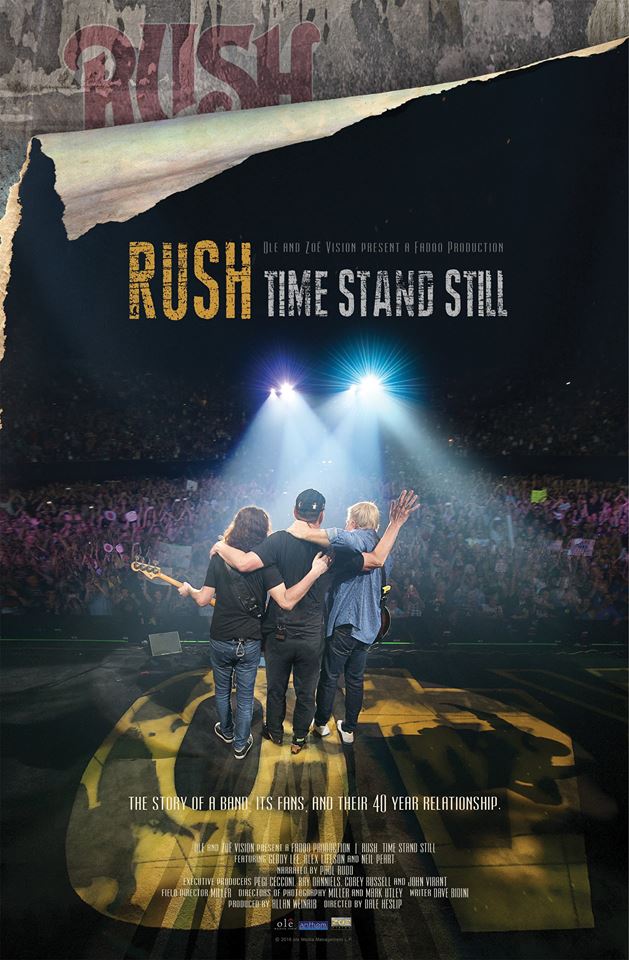 The new Rush R40 Live tour documentary Rush: Time Stand Still premiered last Thursday in theaters across North America, and - due to demand - yesterday Rush announced an encore screening of the film across the US this coming Thursday, November 17th. Check rushtimestandstill.com for theaters/showtimes in your area. A few lucky UK Rush fans will also have a chance to see an advance screening of the film at Planet Rock headquarters in London on November 17th. You can get all the details on the screening and how to enter a contest to win tickets in this post. The North America screening last week was prefaced by a short animated film produced by FANTOONS called The Early Days of Neil Peart which you can preview here. They then showed a 20-minute mini-documentary titled Rush: A Salute to Kings where Gene Simmons (KISS), Chad Smith (Red Hot Chili Peppers), Taylor Hawkins (Foo Fighters), Ann & Nancy Wilson (Heart), Scott Gorham (Thin Lizzy), and the band's producer Nick Raskulinecz shared their unique stories about Rush over the last 40 years. You can watch a 2-minute clip from this mini-doc where Chad Smith talks about how Rush's 2112 changed his life on YouTube at this location, and watch the trailer here. The film itself ran for just over an hour-and-a-half and was primarily a documentary about the band's R40 Live tour, with particular focus on it likely being the band's final tour, along with a good deal of attention paid to Rush's rabid and loyal fan base. Several trailers and clips from the documentary are available online at the Rush YouTube channel, including this clip that Rush posted earlier today featuring superfan Ray Wawrzyniak and his epic Rush collection. RushCon is featured prominently in the film, which included a number of clips from last year's conventions in Toronto and Los Angeles. The film also profiled Jillian Maryonovich - one of the fabulous group of women who run and organize RushCon as seen in this 3-minute clip, and featured in this CBC news story. This year's RushCon took place last week and kicked off with the official Canadian premiere of the documentary in Toronto at the Cineplex in Dundas Square, including an after-show Q&A with the filmmakers. Photos and video from the weekend's RushCon festivities can be seen on the RushCon Facebook page. Geddy Lee's brother and one of the film's producers - Allan Weinrib - hit the interview circuit to promote the film last week. He appeared on Breakfast Television (video here), and spoke with London's FM96 (audio here). Both Allan and director Dale Heslip also appeared on Q107 to discuss the film. Several reviews of the documentary are also now available from the following publications:
[Huffington Post]
[GeekDad]
[Drew's Reviews]
[HMV]
[Rolling Stone]
[Toronto Sun] (4 stars)
[Now Toronto]
[Montreal Gazette] (4 stars).
The DVD/Blu-ray of the film will release on November 18th and is now available for pre-order (DVD, Blu-ray). The DVD/Blu-ray will not include any of the pre-film content shown in theaters, but it will include 67 minutes of unreleased footage from the band's March 8th, 1990 show at the Palace in Auburn Hills on the Presto tour. You can pre-order your copy of Rush: Time Stand Still on DVD or Blu-ray.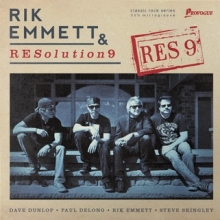 Alex Lifeson makes a guest appearance on Triumph guitarist Rik Emmett's new solo project RES9 (Rik Emmett Resolution 9), which releases in multiple formats today via Mascot Label Group. Lifeson plays the 12-string guitar on the track Human Race and also appears alongside Dream Theater's James LaBrie on End of the Line. You can listen to both of these tracks via the official lyric videos on YouTube (End of the Line, Human Race), and listen to samples of all of the album's eleven tracks here. The members of RESolution9 are from Rik's touring quartet and include Dave Dunlop on guitar, Steve Skingley on bass, and Paul DeLong on drums, with Dave and Steve co-producing the project. In addition to guest spots from Lifeson and LaBrie, Emmett's former Triumph bandmates bassist Mike Levine and drummer Gil Moore also appear on the album. Here's what Lifeson had to say about the project:
... [Lifeson] found it quite an honor to play with and for his lifelong friend. "When Rik asked me to play on his new album, I didn't hesitate for a second," Lifeson reports. "He's the consummate musician, a wonderful guitarist, and a terrific person, and it's always my pleasure to work with him any chance I can get. There is a rock purity in his songwriting and performance, and it's just so much fun to get together and throw ideas around. He's always so up and open for anything - even a notoriously uncooperative Rickenbacker 12-string!" Dunlop points out the way RESOLUTION9 meshed with Lifeson "stands as a great example of the collective efforts of the brotherhood." ...
A video trailer for the new album is also available and features several clips of Alex Lifeson in studio with Emmett. You can watch the video trailer on YouTube here, and order RES9 via Amazon.
Speaking of Alex Lifeson side projects, we learned earlier this week that Canadian electronic duo DVBBS are teaming up with Lifeson on a remake of Closer to the Heart which will be available for download sometime in early 2017. From BWW Music:
Canadian-born duo DVBBS (pronounced 'dubs') who are also brothers Chris and Alex Van den, Hoef, have taken the EDM scene by storm with their action-packed big room sound over the last few years. This year they have been busy touring, collaborating and making new music with some of the biggest artists in the music business. Their current collaboration has them in the studio with Canadian Rock Legends Rush working on famed song "Closer to the Heart". "When we first had dinner with Ray Daniels, Rush manager, we couldn't be any more excited hearing the stories", Chris said. "I grew up a drummer so Neil Peart was a legend to me and a strong influence my whole childhood and music career. They're the greatest Canadian band of all time so when we were given the chance to remake a song and implement new music and production with Alex Lifeson, you can imagine how excited we were. Can't wait to play people the song, and bridge the gap between generations says Alex." ...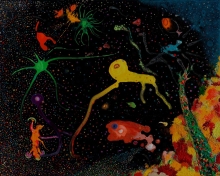 The Kidney Foundation of Canada's annual A Brush of Hope charity auction fundraiser took place over the last couple of weeks, and Alex Lifeson was once again one of the many Canadian celebrities to participate. Alex's painting for this year was titled Aquarium and ended up garnering a
winning bid of $8700 CAD, or about $6500 USD (thanks RushFanForever).
Reader's Digest published a humorous article a couple of weeks ago on How to Pick the Perfect Tattoo as explained by actor Bob Odenkirk (
Breaking Bad, Better Call Saul). At one point he suggests to make a list of things you love and provides a sample list which includes his favorite rock band (e.g., Rush) and favorite album/year (e.g., 2112). He then elaborates on those choices (thanks Charles Y):
... This same logic can be applied to the next two tattoo possibilities on your list: your favorite rock band and/or album. Your taste will change as you grow older. You may even stop listening to music completely as you turn fifty and become enamored of talk radio and the rantings of your favorite pundit, or when your "favorite" band reunites for "one last tour" and you pay too much to see them and they just sound like garbage, and Neil Peart looks like the angry neighbor who called the cops on you when you were a teenager. I promise you will get sick of your favorite music, no matter how much you like it. However, you can always get a tattoo of "Weird Al" Yankovic, as he's a "perennial"-and thanks to his ironic dimension, he remains relevant forever. ...
TeamRock.com posted an article earlier today celebrating all the various band t-shirts worn by Vyvyan Basterd on the British TV show The Young Ones, including his Rush t-shirt:
The cerebral Canadian proggers' 2112 'starman' motif seemed an unlikely fit for the orange-haired hooligan in 1982 episode Boring, but Neil Peart explained its meaning as "the abstract man against the masses," so maybe it's wholly appropriate. There was a recurring theme of the housemates 'getting it wrong' culturally, but Vyv's Rush love is a way cooler mismatch than Rick's disturbing Cliff Richard obsession.

Neil Peart's 1974 Chrome Slingerland drum kit (aka "Chromey") is on display at this year's PASIC in Indianapolis this weekend. Fans have the opportunity to sit at the kit, have their photo taken with it, and even play it! They are also running a raffle contest to win a Neil Peart Time Machine drum head signed by all 3 members of Rush. For all the details and to purchase raffle tickets, visit this location. All proceeds will benefit the Percussive Arts Society and cancer survivorship through DRUMSTRONG.org. For more details on PASIC16 visit pasic.org.
TeamRock.com posted an article earlier this week on the History Of Prog In 50 Albums, and one of the featured albums is 2112 (thanks RushFanForever):
Originally heavily influenced by Led Zep and Cream, Canadian trio Rush gained momentum when they recruited drummer extraordinaire Neil Peart for their second album. After some promising earlier works, 2112 is Rush's crucial 70s album. With a whole side of vinyl devoted to the wondrous seven-part title track - complete with the 'We have assumed control...' grand finale - the five shorter tracks, A Passage To Bangkok, The Twilight Zone, provided a neat contrast. The production of 2112 may sound a little dated now, but live still retains all of its original power.
Apple news and reviews site iLounge posted an article on displaying song lyrics on Apple TV a couple of weeks ago and used Rush's Moving Pictures as an example (thanks Mark R).
This past Tuesday's edition of the Free Form Rock Podcast was a 40-minute discussion of Rush's Counterparts album. You can listen to the podcast online here.
TeamRock.com posted a quiz earlier today which asks the question, how well do you know Moving Pictures? You can test your knowledge of Rush's most commercially successful album here.
On a sad note, influential Canadian singer-songwriter Leonard Cohen has passed away at the age of 82. Geddy Lee posted the following message to his Instagram page earlier today:
We lost a true artist and a Canadian legend. ..... A blaze of light, in every word...... Au Revoir Leonard....rest in peace.
Here's the latest clip from the Rush: Time Stand Still documentary - this one features fan Ray Wawrzyniak and his epic Rush collection:
That's all for this week. Happy Veteran's Day to all my former and active duty military readers - thank you for your service. Have a great weekend everyone!!