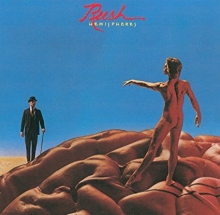 Today marks the 38th anniversary of the 1978 release of Rush's prog-rock masterpiece - Hemispheres. To commemorate the occasion TeamRock.com posted an article written by Porcupine Tree's Steven Wilson where he describes why he has so much love for this album:
... The first side is a difficult piece of music, to be honest with you - especially if you were so enamoured with Cygnus X-1 from A Farewell To Kings. There's not a lot in it - the first ten or twelve minutes is just two or three riffs circling around each other. And yet side two is so flawlessly perfect that you tend to forget side one; it overshadows side one. But I go back to it and enjoy it, and see it as a totally essential part of Rush's career trajectory.

The closing track La Villa Strangiato is perfect, I think. I've never known how to pronounce it, but it's the height of Rush as a technical rock band, and Alex Lifeson's solo has to be one of my top five guitar solos ever. And yet it never seems like they're showing off. The music always seems to be the main thing for them, rather than the technique. ...
You can read the entire article online at this location (thanks RushFanForever). Not only is today the anniversary of Hemispheres, but it's also the anniversary of the release of Exit ... Stage Left (1981) and Power Windows (1985).