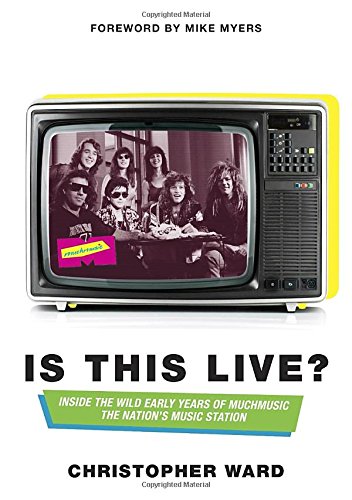 A new book from former Much Music VJ Christopher Ward was released yesterday titled Is This Live?: Inside the Wild Early Years of MuchMusic: The Nation's Music Station (thanks RushFanForever). In the book, Ward reflects on the launch of Canada's first music station back in 1984, and reminisces with several of the artists that helped make it happen, including Rush's Geddy Lee. Rush's music video for The Enemy Within was the first video ever played on the station back on August 31, 1984. Here's Geddy talking about music videos in the context of Rush from page 314-15 of the book:
Videos are a very difficult subject for us. It's obviously not a very pleasurable experience to do videos. Surprisingly, we've kept an open mind and we've worked with a lot of different directors ... we keep hoping for that masterpiece. The making of the video for "Time Stand Still" was such a long, involved process - those things are hard to justify, looking at it from a musician's point of view. Neil [Peart], especially. He just wants to play; he doesn't want to be an actor; he doesn't want to be a model. He wants the guy to film us playing; that's a severe limitation to put on a video director. They're going, "I have all these ideas for you guys to be running here and doing this." ... [The] Subdivisions [video] is not so bad, but the other night I was sitting in front of the tube watching Much and [the] "Vital Signs" [video] came on and it was like, "Oh my God," it was like looking at a picture of yourself from high school. It's very difficult to take some of those early videos.
Geddy also spoke a little about the similarities between athletes and musicians:
I've met a lot of athletes in the past few years, [because of] my attraction to baseball, their attraction to music. Very similar lives we lead, the kind of concentration, the kind of "live and die" in front of the public, the kind of itinerant lifestyle ... the being yanked out of your home life and thrown into a professional life that's separate but not separate. An athlete can't hide his mistakes as well as a musician can - I think it's a more humbling profession.
You can learn more about Is This Live? by visiting the website at this location, and read an interview where Ward talks about the book here. You can also order a copy of Is This Live? here.