UPDATE - 10/14@4:51PM: Note: the Rush Backstage Club has a number of different collector and merchandise bundles of the DVD/Blu-ray available here.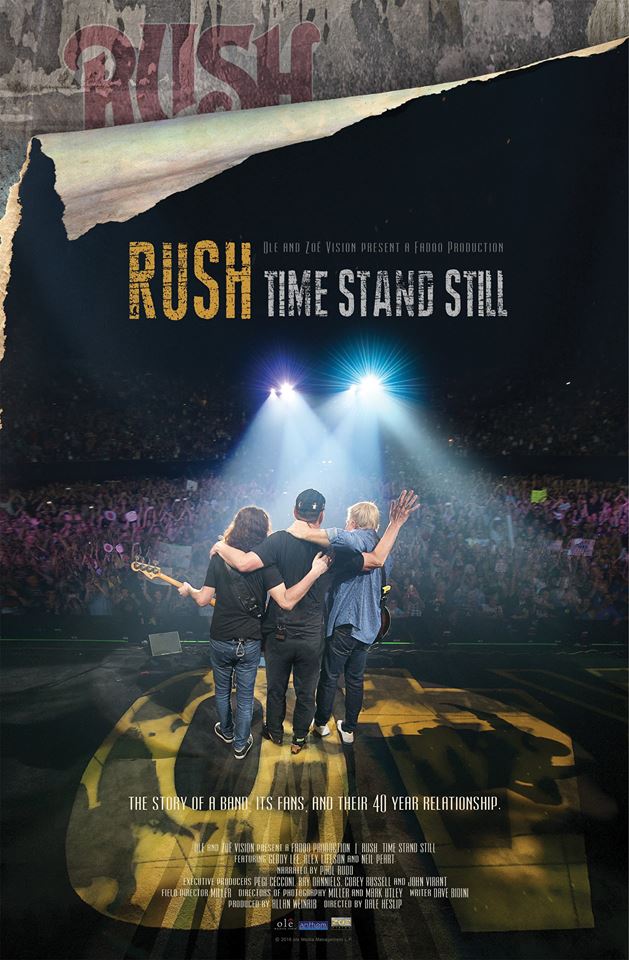 The long-anticipated Rush R40 Live tour documentary is titled Rush: Time Stand Still and will premiere in a special, one-night screening in theaters across North America on November 3rd. The DVD/Blu-ray of the film will release on November 18th and is now available for pre-order (DVD, Blu-ray). Here is the product description along with a tracklisting, including bonus content:
'Rush built their following the right way. No hype, no b@llsh!t, they did it from the ground up. Their legacy is incredible and their influence undeniable.' - Dave Grohl

This feature-length documentary film chronicles the final major tour for legendary rock band Rush. It is an intimate view 'under the hood' of a historic moment from the perspective of the band, their fans, crew, and management. Featuring interviews with the band throughout their sold-out 2015 40th Anniversary tour, the film also shows rarely seen backstage footage capturing the final moments of life on the road. Highlighted as well is the impact on the band's fans and the world that has been built around the beloved Canadian trio. This is the final touring chapter of a band that has meant so much to so many fans around the world. With narration by Paul Rudd. Running time: 1 hour 37 minutes of documentary footage with an additional 67 minutes of never-before-released bonus content.

'It's true that Rush doesn't mean today what it did in '76 or even '96. It may mean more.' - Rolling Stone

Track Listing:
When I Was a Kid
It's a Really Hard Life
A Huge Accomplishment
Building R40
Fan-Tastic
Hello Toronto
'Ride On' Neil
Your Weakest Point
Marathon Not a Sprint
At Road's End

BONUS CONTENT: (NEVER BEFORE RELEASED)

'Live from the Rabbit Hole'
-Subdivisions
-Superconductor
-Show Don't Tell
-The Pass
-Closer to the Heart
-Manhattan Project
-Scars
-War Paint
-Tom Sawyer
-2112: Overture / La Villa Strangiato / In The Mood

The Professor's Warmup
Judging by the title of the bonus content (Live from the Rabbit Hole) and the setlist, this is likely some pro-shot live footage from the Presto tour - possibly their March 8th, 1990 show at the Palace in Auburn Hills, for which there are several pro-shot/pro-edited bootlegs floating around. You can pre-order your copy of Rush: Time Stand Still on DVD or Blu-ray, and here are all the details on the November 3rd screening and how to get your tickets:
US THEATRE EVENT TICKETS: In partnership with Concord Music Group and ole, Fathom Events are set to bring an epic one-night premiere event Rush | Time Stand Still to over 430 theaters nationwide on Thursday, November 3, 2016 at 7:30 p.m. local time. Tickets for "Rush | Time Stand Still" can be purchased beginning Friday, October 7, online by visiting www.FathomEvents.com or at participating theater box offices. Fans throughout the U.S. will be able to enjoy the event in more than 430 select movie theaters through Fathom's Digital Broadcast Network. For a complete list of theater locations visit the Fathom Events website (theaters and participants are subject to change).

CANADA THEATRE EVENT TICKETS: In partnership with Anthem, ole and Univerasl Music Canada, the documentary will run at select Cineplex theatres starting November 3rd for the entire week. The general on-sale will begin this Friday, October 7 with more details to follow.
You can watch a 30-second trailer for the film below or on YouTube. Rush also released this short clip from the film where Geddy, Alex and Howard Ungerleider reminisce about touring with KISS back in the '70s and tell the story of The Bag. The screening will include first viewing of exclusive extras including a 20-minute mini-documentary titled Rush: A Salute to Kings where Gene Simmons (KISS), Chad Smith (Red Hot Chili Peppers), Taylor Hawkins (Foo Fighters), Ann & Nancy Wilson (Heart), Scott Gorham (Thin Lizzy), and the band's producer Nick Raskulinecz share their unique stories about Rush over the last 40 years. You can watch a trailer for the mini-doc at this location.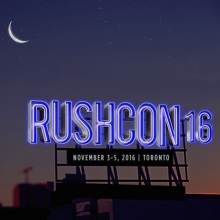 The 16th annual RushCon Rush fan gathering will take place November 3rd-5th in Toronto and include the official Canadian premiere screening of Rush: Time Stand Still at 7:30 PM on November 3rd, at Cineplex in Dundas Square, Toronto. The premiere party will include an after-show Q&A with the filmmakers and RushCon attendees will end the night at an exclusive VIP after-party. Other RushCon events will include a Making Memories Mixer at the Monarch Pub in the Eaton Chelsea Hotel on Friday night, a tour of Tortonto Rush landmarks including Anthem Records and the Lee Lifeson Art Park on Saturday, and a Rush tribute band show at the Hard Rock Cafe with Lotus Land on Saturday night. For more information and to purchase tickets visit the RushCon website and follow them on Facebook and Twitter.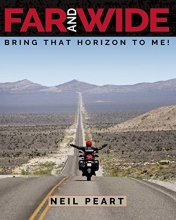 Neil Peart's latest book is titled Far and Wide: Bring that Horizon to Me! and chronicles Peart's travels on Rush's 2015 R40 Live tour. The book released last month and is available in both hardcover and for the Kindle. KidsOutAndAbout.com recently published an article titled Parenting Tips from Rush which references the book and some of the fun activities Neil does to stay connected to his 7-year-old daughter Olivia:
... Rush's lyrics often talk about connection--for you Rush fans out there, think later songs like "Emotion Detector" and "Ghost of a Chance" rather than, say, "By-Tor and the Snow Dog." Neil's profound connection with Olivia permeates his latest book, Far and Wide: Bring that Horizon to Me. In it, he writes about a fun thing he and Olivia do that I wish I'd thought of when my kids were preschoolers. It's simple and easy and free, but brilliant, and one I bet you've heard of: They draw.

Well, to be more precise, Olivia dictates, and Neil draws. Though he's no visual artist, he draws whatever Olivia can dream up in her fantastic little brain, and then she colors it. Here is a typical interchange from one of Neil's blog posts (you can see the drawing if you click there and then scroll waaay down):

What should I draw? "You should draw Olivia - she should be flying."
What kind of wings should she have? "She should have feather wings. She should have a crown, with stars on it. She should be holding a wand."

Neil and Olivia even have their daily drawing session on Skype when he's out of town. I think it's genius. Imagine what it can do for you if you have to travel away from your young kids: Instead of having a 5-minute call in which you ask your child what he did that day and tell him you love him but then run out of things to say, you can actually spend the time connecting and stoking his creativity. Draw what he tells you, take a photo, and email it home to be printed and colored. ...
You can order your copy of Far and Wide at this location.
JamBase posted an article this past week where they examine the 13th studio albums released by 10 notable acts, including Rush, whose 13th album was 1989's Presto:
In between Rush's synthesizer heavy albums such as 1982's Signals and 1985's Power Windows and their return to their hard rocking roots on Counterparts in 1993 and Test For Echo in 1996, the Canadian trio released Presto in 1989. Rush enlisted Rupert Hine to co-produce their 13th studio album, which was their first for Atlantic Records after spending most of their career with Mercury/PolyGram. That Rush didn't include any Presto tracks in the setlist for their career-spanning R40 40th Anniversary Tour says a lot. While "Show Don't Tell" scored them a hit on rock radio none of the 11 tunes on the album stand out anywhere near the best of the Rock And Roll Hall Of Famers' best output. Geddy Lee, Neil Peart and Alex Lifeson were at a musical crossroads over 15 years into their career and would return to form two years later with the more impressive Roll The Bones. Presto is one of the more forgettable of Rush's 20 studio albums.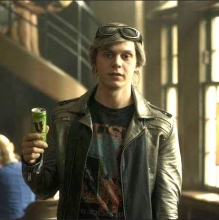 The film X-men Apocalypse released this past summer and contained several Rush references. The movie is set in 1983 and the character Quicksilver (played by Evan Peters) is shown wearing a vintage Moving Pictures t-shirt throughout much of the film. In addition to his t-shirt, both a Rush Signals poster and a Moving Pictures poster can be seen on the wall in his parent's basement (where he lives) as shown in this image (it's blurry, but you can make out the posters on the left). There's also a neat reference right at the end of the film where Quicksilver is wearing a cast on his leg and I Luv Rush is written on it. The DVD/Blu-ray for the film was recently released and Target is offering an exclusive DVD/Blu-ray bundled package which includes a yearbook with all of the characters in it. On Quicksilver's yearbook page is a quote from Rush's New World Man as seen here (thanks Alex D).
Opeth's Mikael Åkerfeldt and Fredrik Åkesson were recently interviewed by BraveWords.com to talk about their new album Sorceress. The pair are asked who they would include on an intro to prog list. Fredrik Åkesson includes Rush on his list, while Åkerfeldt likes Rush but wouldn't consider them on an intro to prog list. You can listen to the entire interview online here.
Dana McDonald is the morning host at WNCL (Cool 101.3) and recently penned an article for MilfordLive.com titled I Have Officially Become ... My Father where he recounts a story about reacting to his son's music the same way his father reacted to his music, which happened to be Rush's 2112:
... I asked my son how he found out about the song he was playing for me, and he said, "Everybody knows this song dad." I told him not to listen to it anymore, and definitely do not let your younger brothers, 10 and 7 years old, hear it. He told me to "chill out". The moment he said that, I flashed back to 1976.

I was in my room one afternoon about to carelessly hurry through my homework, when I opened up the lid on my Technics turntable, and gently placed my brand new copy of RUSH's album "2112" on the record player. If you do not know the album, it begins with a space aged sounding synthesizer riff, followed by screaming guitars, insane drumming, and singing so high pitched that it could shatter glass; .I love it. Well flash forward about 30 seconds when my father came charging down the hallway, threw open my bedroom door and said, "what the hell is this? This isn't music, it's just noise!!!" I told him it was the new album from my favorite band, and wasn't it great! He told me it wasn't even music, and that I was going to kill every animal in the neighborhood if I kept playing it. I told him to...you guessed it, "chill out." ...
Here is the trailer and video clip from the upcoming Rush: Time Stand Still documentary.
That's all for this week. Have a good weekend!!