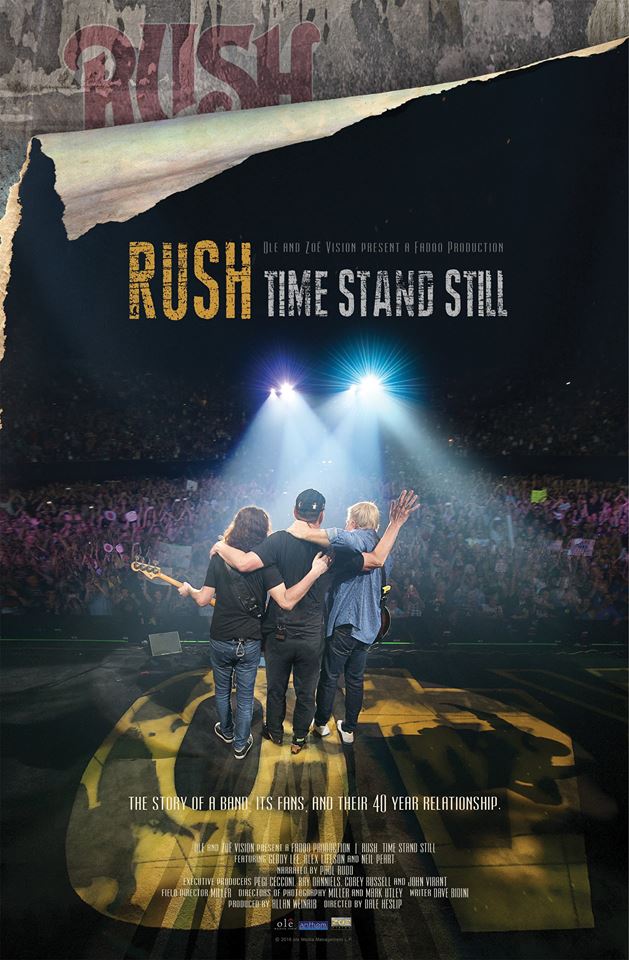 The big news from this past week was the announcement of the release of the long-anticipated Rush R40 Live tour documentary. The documentary is titled Rush: Time Stand Still and will be getting a special, one-night screening in theaters across North America on November 3rd, along with a DVD/Blu-ray release on November 18th. Here are all the details on the screening and how to get your tickets:
US THEATRE EVENT TICKETS: In partnership with Concord Music Group and ole, Fathom Events are set to bring an epic one-night premiere event Rush | Time Stand Still to over 430 theaters nationwide on Thursday, November 3, 2016 at 7:30 p.m. local time. Tickets for "Rush | Time Stand Still" can be purchased beginning Friday, October 7, online by visiting www.FathomEvents.com or at participating theater box offices. Fans throughout the U.S. will be able to enjoy the event in more than 430 select movie theaters through Fathom's Digital Broadcast Network. For a complete list of theater locations visit the Fathom Events website (theaters and participants are subject to change).

CANADA THEATRE EVENT TICKETS: In partnership with Anthem, ole and Univerasl Music Canada, the documentary will run at select Cineplex theatres starting November 3rd for the entire week. The general on-sale will begin this Friday, October 7 with more details to follow.
You can watch a 30-second trailer for the film below or on YouTube. Rush also released this short clip from the film where Geddy, Alex and Howard Ungerleider reminisce about touring with KISS back in the '70s and tell the story of The Bag. The screening will include first viewing of exclusive extras including a 20-minute mini-documentary titled Rush: A Salute to Kings where Gene Simmons (KISS), Chad Smith (Red Hot Chili Peppers), Taylor Hawkins (Foo Fighters), Ann & Nancy Wilson (Heart), Scott Gorham (Thin Lizzy), and the band's producer Nick Raskulinecz share their unique stories about Rush over the last 40 years. You can watch a trailer for the mini-doc below or at this location.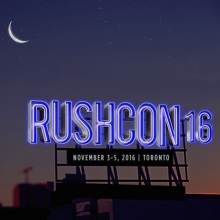 The 16th annual RushCon Rush fan gathering will take place November 3rd-5th in Toronto and include the official Canadian premiere screening of Rush: Time Stand Still at 7:30 PM on November 3rd, at Cineplex in Dundas Square, Toronto. The premiere party will include an after-show Q&A with the filmmakers and RushCon attendees will end the night at an exclusive VIP after-party. Other RushCon events will include a Making Memories Mixer at the Monarch Pub in the Eaton Chelsea Hotel on Friday night, a tour of Anthem and the Lee Lifeson Art Park on Saturday, and a Rush tribute band show at the Hard Rock Cafe with Lotus Land on Saturday night. For more information and to purchase tickets visit the RushCon website and follow them on Facebook and Twitter.
Speaking of Rush fan gatherings, this year's Rush Eucon will take place at The Box in Crewe this coming weekend. The 2-day event will feature 3 different Rush tribute bands: Rushed from Stoke, Clockwork Angels from Glasgow, and Bravado from Sheffield. Other highlights for the weekend include Rush Fans Got Talent, the legendary Rush Quiz and the famous Eucon raffle and auction. Proceeds from the event will go to support Jessie's Fund. For all the details visit the Rush Eucon Facebook page and follow them on Twitter.

The MLB playoffs got underway this past week and Geddy Lee's Blue Jays managed to eliminate the Baltimore Orioles in a one-game playoff Tuesday night in Toronto to snag the AL Wildcard spot. Geddy was - of course - at the game in his usual spot behind home plate as highlighted in this mlb.com article. The Jays are up against the Texas Rangers in the ALDS and will be coming back to Toronto for at least a game 3 this coming Sunday. I expect Geddy will be there too. On behalf of Geddy, "Go Jays!", and on behalf of myself, "Go Tribe!". :)
Former Rush producer Terry Brown along with his brother Phill - also an accomplished producer who has worked with Led Zeppelin, Talk Talk and Jimi Hendrix - will be the subject of two Q&A sessions at Metropolis Studios in London, England this coming weekend on October 8th and 9th. The event will be hosted by Prog/Classic Rock magazine's Jerry Ewing and Malcolm Dome. The two producer brothers will be talking about their 50-year careers in music, and their first ever collaboration as producers of Blurred Vision's next album, a follow-up to last year's Organized Insanity. Blurred Vision will also be performing at the event. For all the details visit the TeamRock.com website. Speaking of Terry Brown and his various projects, Terry is also now lending his production skills to The David Barret Trio, who had their first two albums produced by Alex Lifeson. The DB3 recently underwent a lineup change and has also solidified a collaborating partnership with Michael Sadler of Saga. The Trio released a new single earlier this week titled Gone Tomorrow which features lyrics and vocals from Sadler. You can watch the official video for the song here and purchase it on iTunes at this location.
Here are the trailers and video clips from the upcoming Rush: Time Stand Still documentary.
That's all for this week. Have a great weekend everyone!