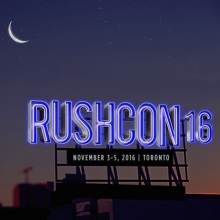 The folks at RushCon have announced the dates for this year's RushCon fan gathering. The event will take place November 3rd-5th in Toronto. From the official announcement:
Hello Rush Fans! You didn't SERIOUSLY think we would go a whole year without a con? We know summer is going fast (and the nights are growing colder), so we decided to throw RushCon 16 in the golden light of autumn.

We hope to see you all this November 3rd - 5th, 2016, In Toronto, Canada. (Yep, that's Thursday through Saturday this time.) We have a huge, major event to announce, along with some fun new things! All details will be announced over the next couple weeks. But now would be a good time to ask for time off, get your Rush shirts out of the attic, and prepare to have the best weekend of your life this November. Stay tuned!
For more information visit the RushCon website and follow them on Facebook and Twitter.