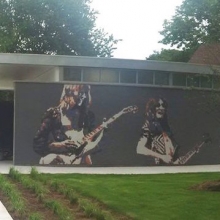 The news broke yesterday that Toronto Mayor John Tory will be presenting the key to the city to all three members of Rush in a special ceremony tomorrow afternoon at the newly-opened Lee Lifeson Art Park in the Toronto neighborhood of Willowdale, where Geddy and Alex grew up. From Rush.com:
Mayor John Tory will present the key to the city to the members of Rush - Geddy Lee, Alex Lifeson and Neil Peart. At the official opening of the new Lee Lifeson Art Park this Saturday at 1:00 p.m., Lee and Lifeson will join Mayor Tory for the presentation. "Rush has played a vital role in defining Toronto's musical identity and given so much to our city through their music, live performances and their generous support for charities," said Mayor Tory. "We are pleased to honour them with a key to the city and the launch of the new Lee Lifeson Art Park." ... The new park, part of the Willowdale Park footpath corridor, features new trees, grass, benches and unique music-themed art installations. To celebrate on Saturday, Jacob Moon will play a Rush classic in a small performance space made for acoustic concerts and George Stroumboulopoulos will interview Lifeson and Lee for the audience. Councillor John Filion, Ward 23 Willowdale initiated the creation of the art park, and the naming of it after Willowdale natives Lee and Lifeson. "I see this park as a place that encourages and celebrates the creative spirit," said Councillor Filion. ...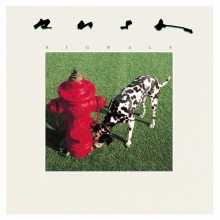 Rush's Signals album was released 34 years ago this past Friday, and to commemorate the occasion, TeamRock.com sat down with the album's producer Terry Brown for an interview to discuss what turned out to be his last album working with Rush.
"I didn't know that it would be my last album with the band. I was a little concerned about the direction they were heading in. The keyboard-orientated thing was becoming more of a focus for the group, and it was becoming more of a challenge to make the guitars work along with these massive keyboards. But I think it works, and I'm very happy with the end result of that record. ... I do believe Signals has held up great. I was a little concerned with the reggae aspect of it. It was a left turn for the band, but hey, you can't be right all the time."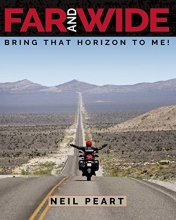 Neil Peart's latest book is titled Far and Wide: Bring that Horizon to Me! and chronicles Peart's travels on Rush's 2015 R40 Live tour. The book officially released earlier this week but has already been available for purchase since early this month. It is available in both hardcover and for the Kindle. Here's the description from Amazon.com:
Thirty-five concerts. 17,000 motorcycle miles. Three months. One lifetime.

In May 2015, the veteran Canadian rock trio Rush embarked on their fortieth anniversary tour, R40. For the band and their fans, R40 was a celebration and, perhaps, a farewell. But for Neil Peart, each tour is more than just a string of concerts, it's an opportunity to explore backroads near and far on his BMW motorcycle. So if this was to be the last tour and the last great adventure, he decided it would have to be the best one, onstage and off.

This third volume in Peart's illustrated travel series shares all-new tales that transport the reader across North America and through memories of fifty years of playing drums. From the scenic grandeur of the American West to a peaceful lake in Quebec's Laurentian Mountains to the mean streets of Midtown Los Angeles, each story is shared in an intimate narrative voice that has won the hearts of many readers.

Richly illustrated, thoughtful, and ever-engaging, Far and Wide is an elegant scrapbook of people and places, music and laughter, from a fascinating road - and a remarkable life.
Portions of the book are also available to preview on Google Books, and you can order your copy at this location. Speaking of Neil, Pratt celebrated his 64th birthday this past Monday, and Red Hot Chili Pepper drummer Chad Smith posted this video happy birthday message to Neil where he and bandmate Josh Klinghoffer play a snippet of The Spirit of Radio at a recent gig in Oslo.

One of the driveable cars featured in Xbox's upcoming Forza Horizon 3 racing game is the 1948 Ferrari 166MM Barchetta - the car that inspired Rush's Red Barchetta. Although the game doesn't officially release until later this month, some copies have already shipped and Eric at Power Windows obtained a screen shot of the car in the game with the description "Ferrari's Barchetta ('small boat') has been the subject of a famous classic rock song", and that "the roar of the V12 and its visually stunning shape will make practically any historic Ferrari fan long for, as the song goes, a better vanished time." The game releases on September 27th and you can purchase a copy at this location.
TeamRock.com recently interviewed guitarist Russ "Satchel" Parrish of the hair metal parody band Steel Panther for their 10 Records That Changed My Life feature, and one of the albums he chose was Rush's 2112:
A lot of people don't like Rush - they consider them more prog than metal. But 2112 is such a great record, you don't even know where one song stops and another begins at times. They broke a lot of rules, did what the f**k they wanted to do. Everybody in Rush is so good that they kind of overshadow each other! Alex Lifeson has been one of the biggest guitar influences on me, and he never ever gets the props - he's so underrated, and I think it's because of his haircut. If he still had the haircut he had at the time of 2112 he'd be more popular. He really is one of the best ever. He's not flashy but his parts are totally right for the songs at all times, and they're inventive and cool. Neil Peart is a great drummer, but also his lyrics have been an influence on me, not that you'd hear it in Steel Panther! He inspired me to read more Ayn Rand books, and that helps me go to sleep at night. We all read The Fountainhead before f**king bitches on the tourbus.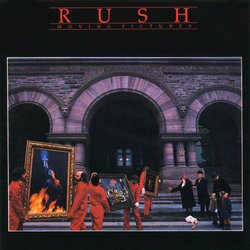 Alex Lifeson recently stopped by Toronto's Boom 97.3 for an interview as part of their Behind the Vinyl feature to play Rush's Limelight on vinyl and talk for about 5 minutes about the song and the Moving Pictures album, which celebrated its 35th anniversary earlier this year. You can watch the interview below or at this location. Alex was also featured in the station's Behind the Vinyl feature earlier this year to talk about Tom Sawyer as seen in this post.
That's all for this week. Have a great weekend!