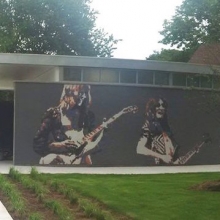 Back in the summer of 2014 the North York community council approved plans for a new, arts-themed park in the Toronto neighborhood of Willowdale named after 2 of its most famous former residents - Geddy Lee and Alex Lifeson. The Lee Lifeson Art Park began construction earlier this year and after several months of work is now open to the public. Earlier today an inaugural launch event at the Park was announced for Saturday, October 1st via the City of Toronto's Celebrate Toronto newsletter:
On October 1 from 1 to 5 pm, join Cultural Hotspot and North York Arts at the kick-off to the inaugural season of the Lee Lifeson Art Park in Willowdale. Create a community arts piece, join an Aztec dance workshop lead by performer Jesus Mora and fellow dancers, and watch the Live Arts Youth Showcase, featuring spoken word, music and dance. Visit toronto.ca/culturalhotspot for information
For all the details, visit the official event page here. Here's what Geddy Lee told the Toronto Star back in August, 2014 regarding the park:
... "I know my mom is very happy!" ... "We met with the park architects and were really impressed with the thought and plans they have for it," ... "[Willowdale] is where I met my best friend and bandmate," ... "We were humbly honoured by the suggestion to name the park after us." ... "On tour and during our travels, ... we get to visit and enjoy so many parks around the world and really appreciate having that communal green space that is so important to a vibrant city."
Thanks to Andrew W for the heads up.