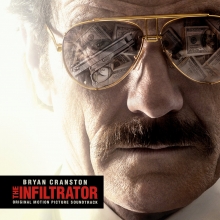 The Infiltrator is a new American crime drama based on the true story of U.S. Customs special agent Robert Mazur, who helped bust Pablo Escobar's money-laundering organization in the 1980s by using his alias "Bob Musella". The film officially released this past Wednesday and stars Bryan Cranston as Mazur, along with Diane Kruger, Benjamin Bratt, John Leguizamo and Amy Ryan. The film's soundtrack releases digitally today (CD available August 12) and includes a number of '80s hits including Rush's Tom Sawyer as seen here. The opening scene of the movie features the song being played over the first minute or so of the action. You can learn more about the film at imdb.com and watch the trailer here.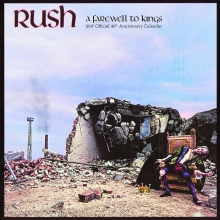 An official Rush 18-month, 12"x12" wall calendar will release on September 15th from BrownTrout Publishers and is now available for pre-order. The calendar celebrates the upcoming 40th anniversary of the release of Rush's A Farewell to Kings, which was released in September, 1977. The cover depicts the iconic album cover, with the internal images showing various photos of the band from the A Farewell to Kings era as seen here. You can pre-order your copy at this location.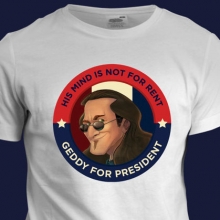 FANTOONS - creators of the Rush Toons book - debuted some of their official Rush merchandise at Phoenix Comicon last month and will have even more Rush goodies available at the San Diego Comic-Con this coming week (booth N10). For those who can't make it to San Diego, they have also set up an Etsy store where you can pre-order most of the merch, including some neat new prints and some cool election-themed t-shirts and buttons. For those of you who don't know, FANTOONS is an on-going comic strip based on Rush and some other great bands that was created by David Calcano back in 2012. If you follow rushisaband on Facebook and/or Twitter, you've likely run across some of the amazing Rush-themed comic art from FANTOONS that I've shared over the last few years. You can check out some samples of their work on Facebook and at fantoons.tv. Last year they released a 170-page Rush Toons book filled with comics and artwork featuring our favorite band Rush. I had the honor of writing the book's foreword and highly recommend it; it's a definite must have for any Rush fan. Here's a recent review of the Rush Toons book written by Todd Garbarini for Cinema Retro magazine.
Inspired by the new film Ice Age: Collision Course - in which Scrat the squirrel uncovers an abandoned alien ship while looking to bury his nut and accidentally gets sent into outer space - Exclaim! has created a list of their Eight Favourite Songs About Space, one of which is Rush's Countdown:
No strangers to incorporating themes of space and sci-fi into their earlier work, Rush's "Countdown" was written about the launch of the Space Shuttle Columbia at Cape Canaveral, Florida in 1981. Drummer Neil Peart's poetic lyrics describe the shuttle itself as "the star of this unearthly show," which is "venting vapours, like the breath of a sleeping white dragon." The crowd, who were able to witness the historic launch, exhibit an air of "excitement so thick you could cut it with a knife," while the song itself closes with snippets of dispatch from the shuttle launch radio.
Longtime AC/DC bassist Cliff Williams announced his intentions to retire after the band concludes their current tour. So Alternative Nation decided to create a fantasy list of the Top 10 Candidates To Replace Cliff Williams As AC/DC's Bassist. Coming in at #9 was Rush's Geddy Lee:
Geddy Lee's schedule is clear with Rush now going into semi-retirement, but like Butler, he is getting up there in age and may want to rest after decades on the road.
The unofficial 2014 Rush documentary Rush: The Rise of Kings will be the featured documentary shown on next week's episode (Tuesday, July 19) of AXS TV's Reel to Real program. The film traces the history of Rush from the bar rooms of Toronto in the late 1960s to the world's largest arenas in the late 70s and early 1980s. A 3-minute preview of the documentary can be seen here, and it's also available for purchase at this location.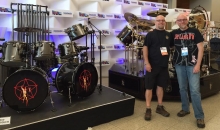 Sweetwater Music's 15th annual Gearfest took place last month in Fort Wayne, IN and consisted of two days of free workshops, gear demos, deals, giveaways, and more. DW Drums along with Neil Peart drum tech Lorne Wheaton were on hand with both of Neil Peart's R40 Live drum kits to answer questions, give tours, and provide photo ops for fans. The kits were one of the centerpieces of the event and were prominently on display near the entrance. Sweetwater posted a video a few days ago where Nick D'Virgilio talks with Lorne Wheaton for around six minutes about the kits, his background as a drum tech and what the future holds for the kits. You can watch the video below or at this location, and check out some photos taken by reader Ron Reed in this post.
That's all for this week. Have a great weekend everyone!