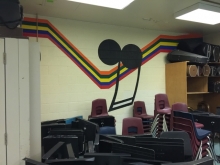 Most Rush fans know that Geddy Lee and Alex Lifeson grew up in the Willowdale neighborhood of Toronto and first met at Fisherville Junior High School. After that Lifeson went on to attend George Vanier S.S. (Secondary School) and then A.Y. Jackson S.S. while Lee was at nearby Newtonbrook S.S. Reader Tim Scammell also attended A.Y. Jackson school in the early '80s and earlier this week alerted me to a neat story involving Alex and his time at the school. While a student there, Alex apparently painted a mural on the wall of the band room that is still there to this day, complete with his signature (A. Zivojinovich). Tim recently took a trip back to his old school to check on the mural and snap a few pics. He posted the photos to his blog last weekend along with some background on the mural and a report on what he found:
... This is the band room wall mural which has been there since the 1970's and was painted by our boy Alex Lifeson of RUSH! What I was TRYING to do was to find an old photo that shows the bottom left corner with the name "A. Zivojinovich" (Alex's real name). I know it's there because I saw it when I went to the school. Unfortunately, only 1/2 of the mural is visible right now. The left side of the wall has 2 soundproof practice booths against it and I was unable to see behind them. When I was there last Thursday it was nearing the end of the day. I was able to get into the school but the band room was locked up and dark. The only people around were 3 people in the front office. Fortunately, the man is the principal. I told him that I went to the school over 30 years ago and was now living out of town.
Also, I am a HUGE RUSH fan. He was not aware of the story of the mural but was very interested to learn of it. It would be nice if he undertook to preserve it and present it so that the kids were aware of its value. I had heard rumours over the years that the wall had been torn down, repainted etc. but was very pleased to learn that these were in fact just rumours and that this fine remnant of Alex's time at A. Y. Jackson remains in great shape. I hope it stays that way. ...

Although he couldn't get a good recent photo of Alex's signature on the mural since it was obstructed, he did dig up an old photo from 1981 that shows at least part of the signature (the ZIVOJIN portion) as seen here. You can check out some more photos and read all about the mural on Tim's blog at this location.
ToneDeaf.com posted their list of Canada's 9 best rock bands this past weekend and Rush is - of course - on the list:
For a time it looked like Rush would lose their way in the fashion so many '70s prog bands did - falling victim to their own overleaping ambition in crafting lengthy songs with eclectic lyrics and experimental synths and time signatures.

But with Permanent Waves and Moving Pictures at the turn of the '80s, they steered themselves back towards rock's mainstream, settling on a happy medium merging the hard rock riffs and stunning musicianship of Led Zeppelin with the science-fiction and fantasy themes of Genesis and Jethro Tull.

The Toronto trio remain Canada's most successful musical export ever - with over 40 million albums sold and third only to the Beatles and the Rolling Stones for most consecutive gold or platinum records - and each member ranks among the most accomplished to ever play their instrument.
Drummer Marco Minnemann recently created a list of 7 Records Every Drummer Should Hear for Music Aficionado, and Rush's Moving Pictures is one of the albums he includes (thanks RushFanForever):
Neil Peart is not only a great lyricist, but he also forms such a cool chemistry within the Rush trio. "Tom Sawyer" is just one of the songs in the Rush catalog that contains so many memorable, beautifully thought-out fills. You can see thousands of people at the shows air drumming to it. That's certainly worth mentioning.
Loudwire.com posted a video list of the 10 Greatest Hard Rock and Metal Songs Over 10 Minutes Long earlier today and Rush's 2112 made the cut at #3.
We learned earlier this week that Alex Lifeson will be making a guest appearance on Triumph guitarist Rik Emmett's new solo project RES9 (Rik Emmett Resolution 9), due out later this year. From MelodicRock.com:
... The album ... will not be under Rik's name, rather the moniker RES9 (RIK EMMETT RESOLUTION 9) in it's expanded form. Recently Rik and the other members of TRIUMPH posted a picture of the trio working together in the studio on a song for Rik's album. I can now deliver the news that the trio are recording THREE new TRIUMPH songs for the project. But that's not all. There are some other very special guests on the RES9 project - Rush guitarist ALEX LIFESON and Dream Theater vocalist JAMES LABRIE! There is a lot of effort being put into this behind the scenes, stay tuned for more!
Emmett is a big Rush fan and had a lot of great things to say about Lifeson in this 2013 interview with Glide magazine. He also covered Rush's Red Barchetta for Sonic Reality's Sonic Elements prog rock project back in 2011. The pair were also participants in the Toronto-based musicians workshop GuitarWorkshop Plus back in 2006. Here's some video of Alex and Rik jamming with some of the workshop participants:
That's all for this week. Have a great weekend!