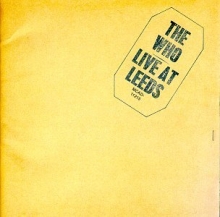 TeamRock.com is currently running a series of articles where they profile some of the more influential live albums in rock's history. One of the albums recently featured is The Who's Live At Leeds, which was released in 1970, and they asked Geddy Lee his thoughts about the album and its importance in rock history:
"I was a big Who fan. I still am. Like a lot of people, it started with My Generation for me. I used to go up to Sam The Record Man in town to get my music. That's where I got Live At Leeds one Saturday morning. And the bass in My Generation, I mean, John Entwistle, my god, he was such an absolute influence on me and his playing on Leeds is unsurpassable. I'm a big fan of Summertime Blues on that album, which we covered, to a large degree because of their version.

"I got to see The Who in Winnipeg, Manitoba of all places. They were incredible, but Moon was already gone by then. I never saw them with him, I'm very sad to say. No matter what they do, Pete Townshend's writing has always been at the very top of his craft, the quintessential combination of heavy and melodic. Even today, Live At Leeds sounds so alive, it's a real piece of that period of rock. It's like a bootleg, the artwork, the tone; that was their attitude I think. It was raw: 'Here it is'."
Back in the summer of 2014 the North York community council approved plans for a new, arts-themed park in the Toronto neighborhood of Willowdale named after 2 of its most famous former residents - Geddy Lee and Alex Lifeson. The Lee Lifeson Art Park is close to completion and should be open to the public later this summer. A member of Toronto band Zylyp lives near the park and snapped a couple photos which he posted to Facebook earlier this week. The photos show a partially-completed mural of Geddy and Alex on the side of a structure in the park. Here's what Geddy Lee told the Toronto Star back in August, 2014 regarding the park:
... "I know my mom is very happy!" ... "We met with the park architects and were really impressed with the thought and plans they have for it," ... "[Willowdale] is where I met my best friend and bandmate," ... "We were humbly honoured by the suggestion to name the park after us." ... "On tour and during our travels, ... we get to visit and enjoy so many parks around the world and really appreciate having that communal green space that is so important to a vibrant city."
The idea was first put forth at a consultation meeting held on April 22, 2014 by Councillor John Fillon and was then formally recommended by the Toronto parks committee on July 17th:
... Early designs for the area include art installations, a collaborative performance space and even a small bandshell for "acoustic concerts," according to [Filion], who first hatched the tribute plan two years ago. "I was standing around one night with a fellow music lover trying to think of somebody who had grown up in Willowdale who was a famous artist or musician," Filion said. "We both came up with the name Geddy Lee almost simultaneously." The councillor contacted Lee with the idea, and he immediately got on board - albeit with one condition. "He said he was interested and honoured, but also suggested it be named after Alex Lifeson, too," Filion said. ...
You can learn more about the park on Fillon's website here.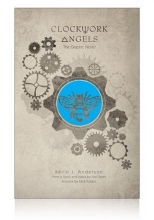 Earlier this week the Rush Backstage Club made available a signed, limited edition version of Clockwork Angels: The Graphic Novel, first released back in September of last year. Here are all the details from the Rush Backstage Club:
This limited edition version of Clockwork Angels The Graphic Novel includes a numbered bookplate autographed by Neil Peart, Kevin J Anderson and artist Nick Robles. The book comes packed inside a custom slip case and the book itself features a beautiful debossed gear cover with a blue foil stamp and matching satin ribbon bookmark. This release is limited to 500 copies. ...
It looks like they haven't sold out yet, so you can still order your copy online here.
The doors to the National Music Centre in Calgary - a 160,000 square-feet of space dedicated to Canadian music - will finally open to the public today in celebration of Canada Day. One of the items on display at the museum is Neil Peart's Commemorative Hockey Drum Kit that was created for Peart in DW's custom shop in 2009 and features airbrushed, lacquer graphics of 30 NHL logos and custom ice blue hardware. Peart used the kit to record a percussive-centric version of The Hockey Theme.

John at Cygnus-X1.net has launched a new section of his website that contains scans of the collector-focused, Scotland-based 1993 fanzine Tom Sawyer's Treasures'. The fanzine was short-lived and produced only three stand-alone issues before later merging with another fanzine of sorts - Eric Ross' Rush: A Discography. An early issue of the Discography is also included in the archive. You can check them all out on John's site here.
Data visualization website The 10 and 3 recently posted an analysis of the popularity of different Canadian music artists and determined that The Tragically Hip were by far the most successful Canadian band. Rush is only included towards the top in one of their metrics - the Longevity category - where they measure the number of years between a band's first and last number one Canadian album. Interestingly enough, Rush has had exactly two #1 albums in Canada, Signals and Clockwork Angels, separated by a chasm of 30 years. You can check out the full analysis here.
Speaking of Canada, today is Canada Day and in celebration the Jewish Telegraph Agency posted a list of Jews you didn't know were Canadian, and - of course - Geddy Lee is on it:
The singer of the legendary prog rock band Rush was born Gary Lee Weinrib to a pair of Polish Holocaust survivors who made it through the Dachau and Bergen-Belsen concentration camps. Just a few years after having his bar mitzvah in his native Toronto, Lee joined Rush - and the rest is classic rock history.
Keeping on the subject of Canada Day and Geddy Lee, here's Geddy singing O Canada before the 1993 All-Star Game in Baltimore on July 13, 1993. Happy Canada Day everybody!
That's all for this week. Have a great holiday weekend everyone!!